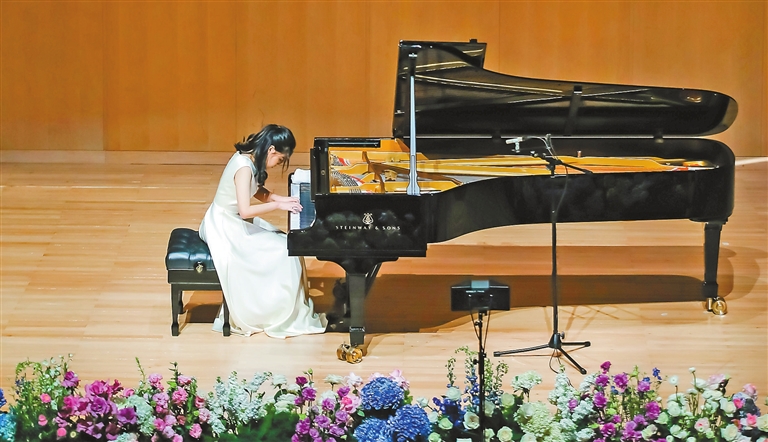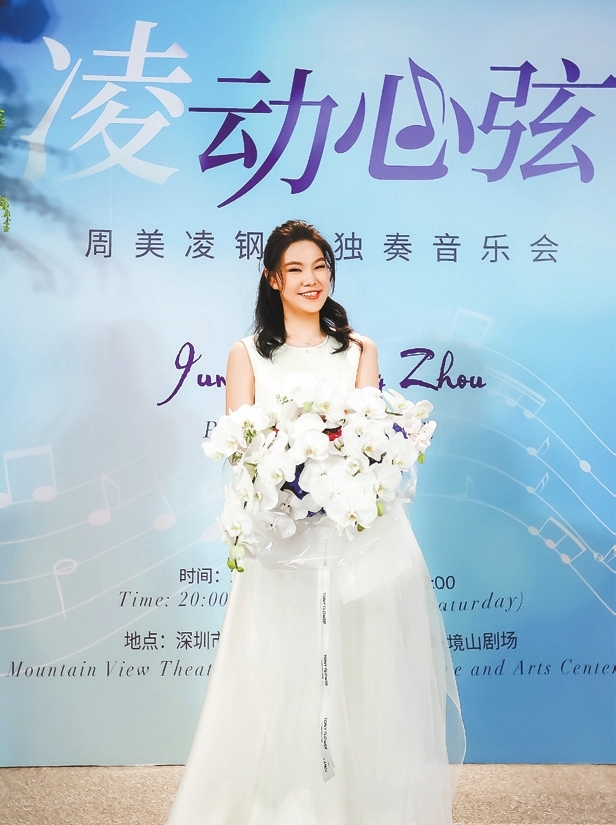 Debra Li
debra_lidan@163.com
SOME 300 attended an intimate piano concert Saturday evening at Mountain View Theater in the Sea World Culture and Arts Center in Shekou, Nanshan District.
The audience was taken away by June Zhou's skillful interpretation of many beloved works in her meticulous yet passionate performance.
Born and raised in Shenzhen, the 15-year-old's twinkling eyes glowed when the audience gave her passionate applause at the end of the show.
"It's been more than 11 years since I started to play the piano," said Zhou, a 10th-grader at BASIS International School Shenzhen. "This concert is kind of a test, and I'd like to present what I've achieved at this stage of my learning and share with the audience my understanding and interpretation of my beloved pieces."
She performed works of Beethoven, Debussy, Chopin and Mozart, quite demanding pieces even for those who have become professional pianists.
"Personally I'm a big fan of the works of the Romantic period, particularly the works of Chopin, but hope to balance the program out a little bit," Zhou told the Shenzhen Daily at an interview before the concert.
"That's why I also choose Beethoven's 'Sonata No. 5 in C Minor, Op. 10, No. 1' and Mozart's 'Piano Concerto No. 23 in A, K.488.'"
Beethoven wrote his "Sonata No. 5" in his early 20s, a unique piece that, unlike his other sonatas, included just three instead of the usual four movements. Zhou chose it to be the concert opener because "this work in C minor is very dramatic and tension-filled, just like his more famous Sonata No. 8 and Symphony No. 5, which are also in C minor."
"With this piece, I hope that my audience can be immediately thrust into the fantastic world of music," she said.
Zhou then performed Claude Debussy's "Suite Bergamasque," a four-movement suite that the composer began to work on in 1890 when only 28, but finished writing 15 years later. Its most readily recognizable segment is the third movement, the gentle and familiar "Clair de lune" ("Moonlight"), in contrast to the sprightly second and fourth movements. Totally intoxicated by the dreamy romantic mood of the music, Zhou gave a passionate interpretation of this piece, not an easy task even for an accomplished pianist.
The teenager also performed two familiar Chopin nocturnes and his "Scherzo No. 2 in B-flat Minor," a challenging piece Zhou has been practicing for more than a year. In the time leading up to the concert, she had been practicing five hours each day.
"This is a tough one for me, and I am fully aware of my limitations in my techniques and approach to the profound passions that come with it, but I'm happy that I can finally complete it in a presentable manner," she said. "Schumann once compared this scherzo to a Bryonic poem that overflows with tenderness, boldness, love and contempt."
Her favorite pianist is Krystian Zimerman, who could present Chopin's music with infinite expressive subtleties.
"Chopin is my hero at this phase of my life," Zhou said. "Although we live far apart in time and space, I can feel a resonance with him; tears would come to my eyes before I could even realize it when I progressed to some parts of his scherzo."
In the second half of the recital, Zhou performed Mozart's "Piano Concerto No. 23" alongside her instructor Zhu Lingbing. This lithe and gracious work in A major is in three movements, written for the piano and a small orchestra. Zhu, also on the piano, performed the orchestral reduction.
"Performing a concerto is definitely a new experience that also poses challenges," Zhou said. "I have to listen to the other piano all the time and try my best to produce a sound that is an organic whole."
Zhu, who has been teaching Zhou for six years, is pleased with her performance. "The kid has a blue aura and unique charm on the stage," the teacher said. She recalled one anecdote that occurred during the performance of the piano musical "Gui Tong" ("A Journey Home") in December 2019. Cast in a major role, Zhou presented a laudable performance despite having a high fever on the day of the show.
Zhou has won many prizes at piano competitions, including the second prize at the International Gloria Artis Music Competition in Vienna, the champion at the Asia-Pacific Young Artist International Instrumental Music Championship and the first prize among those under 15 at the Saint Petersburg International Music Competition.
Piano is like a fate for Zhou. Her mom recalled taking the kid to music instrument fairs and shops when she was very young, and every time the girl was attracted to the piano. She started playing the piano at an early age (a little more than 3). She learned quickly and was able to give public recitals of simple pieces at Shenzhen Book City even before she entered primary school.
However, her smooth journey with the piano was brought to a sudden pause when, at 6, she injured her left hand in an accidental collision with another kid on the crowded stairs of her school. Then most unfortunately she injured her right hand soon after that, during ballet training.
"I had to give up ballet since that accident, because this hobby put me at the risk of hurting my hands," Zhou said. "Piano is something I cannot give up."
After the yearlong hiatus, it took Zhou quite some time to get back in shape and find her confidence on the piano. "On more than one occasion, I couldn't fulfill the tasks assigned by my instructor after I resumed playing in Grade 2 of primary school," she recalled.
"When mom threatened to throw away my music sheets in one of those frustrating moments, I suddenly burst into tears, realizing what piano means to me. I just cannot give it up," the girl said.
A top student at school, Zhou said efficiency is her secret to balancing academic studies with piano practice. "I try to learn everything by heart in class and finish my homework before I leave school in the afternoon," she said, adding that the increasing pressure from schoolwork starting from 10th grade has forced her to stay up late sometimes.
"I enjoy playing the piano, and will pursue it as a lifelong passion; but I also want to learn a lot about other subjects. I want a colorful and fruitful life," Zhou said.
She expressed her gratitude to her instructor Zhu, who graduated from and later taught at the Franz Schubert Music Conservatory in Vienna before returning to China.
Zhu, born in a musician's family in Shenyang, Northeast China's Liaoning Province, not only taught her students the knowhow, but also cultivated in them a passion for and a profound understanding of music.
"My instructor is also a very loving person," Zhou said with admiration.
Zhu had taken in an autistic kid as her student, taught him patiently and changed his life. The boy has since been given opportunities to display his musical talent at public performances and get involved in the society.
"Music brings us joy, peace, excitement and sadness; in music we can resonate with others. Music can also heal an agonizing soul, enlighten people and bring out their potential, as I've seen in the case of that autistic boy," Zhou said.
"I've always been interested in psychology, and hope that I can combine my piano knowhow with this subject in the future, so that I can help others with music."
The ideal adult life for this teenage girl would be "having music, being of help to others and perhaps keeping a cat as a pet."