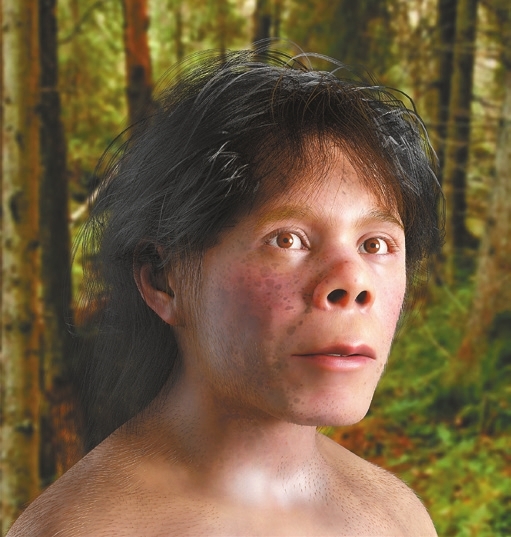 AN archaeological project conducted by China and Russia has made great advances by using 3D portrait restoration technology to successfully restore the appearance of a Neanderthal boy who lived around 300,000-40,000 years ago.
China's Jilin University and Russia's Moscow State University built a lab to carry out some bioarchaeology projects in July 2022. On the basis of traditional archaeological sculpture restoration methods, scientists from the two countries researched a skull fossil of a Neanderthal boy unearthed from a Paleolithic site to determine the ancient boy's eye, skin, hair color and other characteristics.
Based on the details they uncovered, the Chinese team later restored the boy's image. The resulting photo shows that the ancient boy, aged 8 or 9, had a sunken and slightly raised nose as well as a pair of brown eyes.
Alexandra P. Buzhilova, director of the Research Institute and Museum of Anthropology at Moscow State University in Russia, said that the fossil, found in southern Uzbekistan in 1938, is the first Neanderthal fossil discovered in Asia and the only complete Asian Neanderthal skull fossil preserved so far. The discovery shows that Neanderthals had spread eastward into Central Asia.
Experts believe that the restoration not only vividly shows the facial shape of prehistoric humans in Eurasia, but also provides new information for further research and display of the morphological characteristics of Neanderthals in Central Asia and their environmental adaptability.
Neanderthal fossils were first discovered in the Neanderthal Valley in Germany. A close relative of modern humans, this extinct human species was widely distributed in Eurasia. The causes of Neanderthal disappearance about 40,000 years ago remain highly contested in academia.
Zhang Quanchao, head of the bioarchaeological team at Jilin University, said that cooperation between China and Russia in archaeology will not just be limited to the study of Neanderthals, and that he hopes to promote more cultural exchanges and mutual learning with countries taking part in the Belt and Road Initiative.
Jia Xiaobing, a researcher at the Chinese Academy of Social Sciences' Institute of Archeology and the head of another joint archaeological project in Egypt, said that the world archaeology is inseparable from the Chinese archaeology as China's 5,000-year history is an important part of the world civilization. He also noted that international cooperation is a good opportunity for showing the rapid development in Chinese archaeology and promoting ancient Chinese civilization to the world. (Global Times)