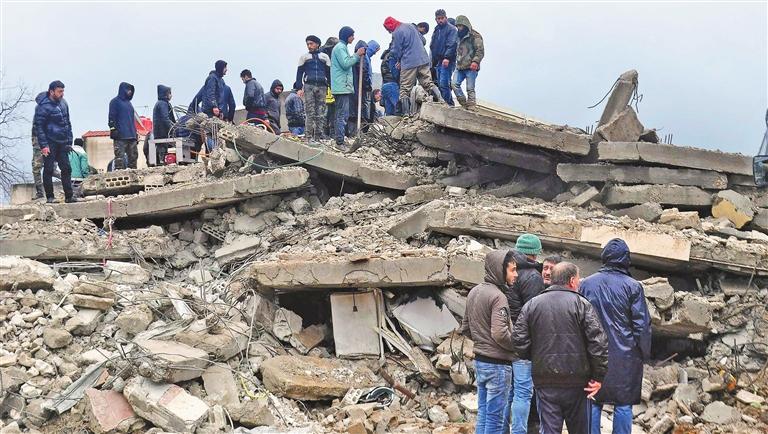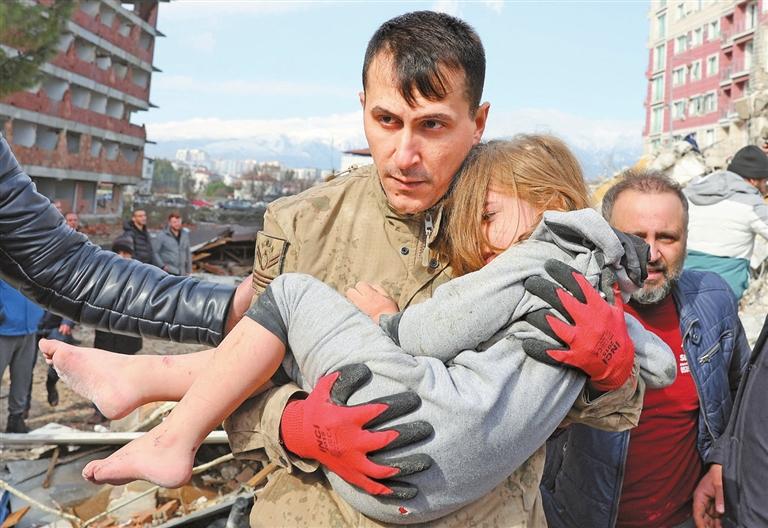 RESCUERS raced against time yesterday to rescue survivors from the rubble of thousands of buildings brought down by a strong earthquake and multiple aftershocks that struck eastern Türkiye and neighboring Syria, killing more than 4,000 people.
A magnitude-7.8 earthquake struck Türkiye's southern province of Kahramanmaras at 4:17 a.m. local time (0117 GMT). It was followed by a magnitude-6.4 quake a few minutes later in the Gaziantep and a magnitude-7.6 earthquake at 1:24 p.m. local time (1024 GMT) again in Kahramanmaras.
Countries around the world dispatched teams to assist in the rescue efforts, but a day after the earthquake struck the number of emergency crews on the ground remained few, with their efforts impeded by frigid temperatures and close to 200 aftershocks, which made the search through unstable structures perilous.
Türkiye's southern province of Hatay bordering Syria suffered the most loss of life in the earthquake with at least 520 casualties. Two hospital buildings in Hatay collapsed, Turkish Health Minister Fahrettin Koca said.
Local resident Nurgul Atay said she could hear her mother's voice beneath the rubble of a collapsed building in the city of Antakya, the capital of Hatay province, but that her and others' efforts to get into the ruins had been futile without any rescue crews and heavy equipment to help.
"If only we could lift the concrete slab we'd be able to reach her," she was quoted by The Associated Press as saying. "My mother is 70-years-old, she won't be able to withstand this for long."
Across Hatay province, just southwest of the earthquake's epicenter, officials say as many as 1,500 buildings were destroyed and many people reported relatives being trapped under the rubble with no aid or rescue teams arriving.
In areas where teams worked, occasional cheers broke out through the night as survivors were brought out of the rubble.
The quake sent residents of Damascus and Beirut rushing into the street and was felt as far away as Cairo.
In Hatay province, thousands of people sheltered in sports centers or fair halls, while others spent the night outside, huddled in blankets around fires. A navy ship docked Tuesday at the province's port of Iskenderun, where a hospital collapsed, to transport survivors in need of medical care to the nearby city of Mersin.
In the Turkish city of Gaziantep, a provincial capital about 33 kilometers from the epicenter, people took refuge in shopping malls, stadiums, mosques and community centers.
At least 2,921 people were killed in 10 Turkish provinces, with nearly 16,000 injured, according to Turkish authorities. Türkiye issued a level-4 alarm after the earthquake, which includes a call for international aid. Turkish President Recep Tayyip Erdogan declared seven days of national mourning. The Turkish education ministry has announced that schools across the country will be closed for seven days until Feb. 13.
Erdogan said Ankara received offers for help from some 45 countries in the aftermath of the quake.
NATO Secretary General Jens Stoltenberg said members of the alliance were mobilizing support for Türkiye. More than 20 countries have sent rescue teams and assistance to help Türkiye's rescue efforts.
Israel has said it will send search, rescue and medical teams to Türkiye and Syria. Syria does not recognize Israel and the two countries have remained at war, at least technically, since Israel was established in 1948. Israeli Prime Minister Benjamin Netanyahu said he had requests from and ordered aid airlifts to both countries.
China also offered to aid Syria. "China is ready to provide urgent humanitarian assistance to Syria according to their needs," Xu Wei, spokesman for the China International Development Cooperation Agency, told Xinhua.
The death toll in government-held areas of Syria climbed to 656 people, with some 1,400 injured, according to its health ministry. In the country's rebel-held northwest, groups that operate there said at least 450 people died, with many hundreds injured.
Authorities fear the death toll will keep climbing as the rescuers look for survivors among tangles of metal and concrete spread across the region beset by Syria's 12-year civil war and refugee crisis.
South Korean President Yoon Suk Yeol said he was preparing to swiftly dispatch a 60-person search and rescue team as well as medical supplies. Pakistan's government sent a flight carrying relief supplies and a 50-member search and rescue team early Tuesday, and said there will be daily aid flights to Syria and Türkiye from Wednesday. India said it would send two search and rescue teams, including specially trained dogs and medical personnel.
The quake piled more misery on a region that has seen tremendous suffering over the past decade. On the Syrian side, the affected area is divided between government-controlled territory and the country's last opposition-held enclave. Türkiye is home to millions of refugees from the Syrian civil war.
In the rebel-held enclave, hundreds of families remained trapped in rubble, the opposition emergency organization known as the White Helmets said in a statement. The area is packed with some 4 million people displaced from other parts of the country by the war. Many live in buildings already damaged by military bombardments.
Strained medical centers quickly filled with injured people, rescue workers said. Some facilities had to be emptied, including a maternity hospital, according to the SAMS medical organization.
More than 7,800 people were rescued across Türkiye's 10 provinces, according to Orhan Tatar, an official with the country's disaster management authority.
The U.S. Geological Survey measured Monday's quake at 7.8, with a depth of 18 kilometers.
Thousands of buildings were reported collapsed in a wide area extending from Syria's cities of Aleppo and Hama to Türkiye's Diyarbakir, more than 330 kilometers to the northeast.
"This is Türkiye's most powerful earthquake recorded since 1939," a situational report released Monday by the U.N. Office for the Coordination of Humanitarian Affairs (UNOCHA) said.
UNOCHA said emergency response teams from the United Nations Disaster Assessment and Coordination (UNDAC), the International Search and Rescue Advisory Group (INSARAG) and World Health Organization's Emergency Medical Teams (EMT) are being mobilized to assist in the humanitarian response.
In northwest Syria, 4.1 million people rely on humanitarian assistance, mostly women and children. A cholera outbreak is ongoing in Syrian communities, coupled with harsh winter weather. In the last quarter of 2022, there is a funding gap of 48%, with US$371 million pledged out of a required total of over US$800 million.
Several archeological sites in Syria were damaged by the quake, experts said. In Türkiye, the tremor badly damaged Gaziantep Castle, a historic site and tourist attraction.(SD-Xinhua)