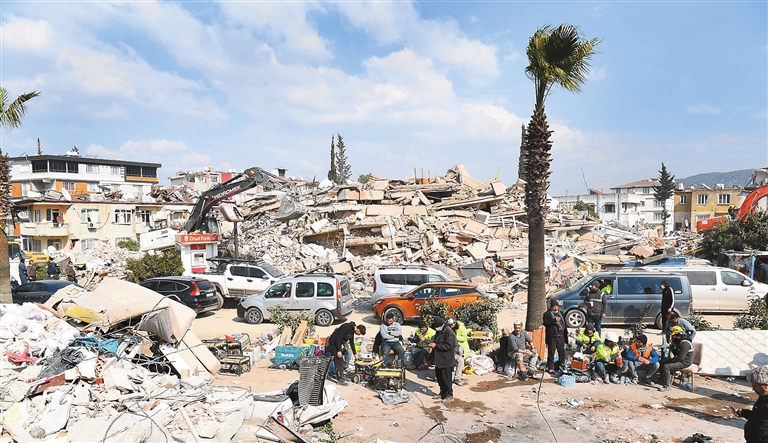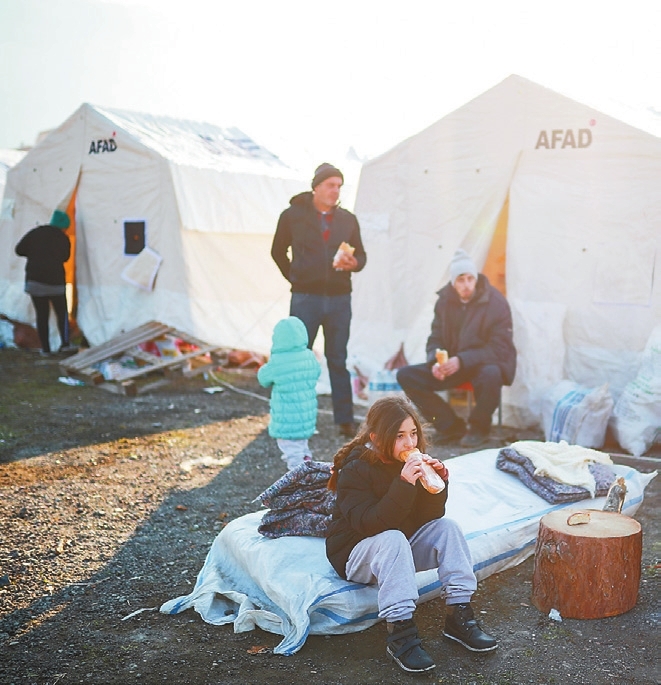 TURKISH authorities have arrested or detained a number of property developers as anger grows over the consequences of the devastating earthquakes and the government vows to take action against construction negligence and flaws.
The 7.8-magnitude quake that struck southeastern Türkiye near the border with Syria last Monday has now caused 31,643 deaths in Türkiye, according to the Turkish Emergency Coordination Center SAKOM on Monday. The number of dead in Syria stands at 4,574, state media said Sunday.
Last week's earthquake will likely become Türkiye's deadliest — a 1939 quake killed 32,962 people.
Emergency responders have been frantically working to reach residents trapped beneath the rubble in Turkey. In northwest Syria, rescue operations have now ended, the White Helmets volunteer organization said.
As families mourn the loss of loved ones, resentment has grown among those affected and many are now looking to assign blame for the extent of the disaster.
Crackdown on contractors
Amid growing public anger, authorities in Türkiye are investigating 163 people in connection with building collapses. Of those under investigation, eight have been arrested and 48 are in police custody, according to Türkiye's state-run news agency Anadolu.
Eight were arrested pending trial, whose responsibilities were determined by public prosecutors, Anadolu reported.
Turkish Minister of Justice Bekir Bozdag vowed last week that no one would escape punishment for the negligence that led to the collapse of buildings.
During a visit to Diyarbakir on Monday, Bozdag said the public prosecutor's offices in all earthquake-affected areas were conducting the judicial investigations.
Bozdag explained that "some of the buildings are 30 years old, some are older, some are 20, and some were built more recently, so our municipalities have this information." He added: "Audits are subject to the evaluation of this information, and our public prosecutors carry out investigations to determine who is involved in these constructions."
Türkiye's Ministry of Environment, Urbanization, and Climate Change said Monday that of 1.3 million housing units inspected since the earthquakes, more than 10% are damaged enough to need demolition. An assessment of the damage in all 13 affected provinces will be completed by the end of the week, the ministry said.
The Turkish Enterprise and Business Confederation, an industry trade association, estimated Monday that the earthquake damage will cost Ankara about US$84 billion.
According to Anadolu, prosecutors in the city of Malatya issued arrest warrants for 31 people Monday over ties to collapsed buildings. Nazmi Tosun, a construction supervisor and technical representative of Emre Apartment, which was destroyed in Gaziantep province, was arrested in Istanbul early Monday, Anadolu reported, citing the security forces.
Several contractors believed by officials to be responsible for several destroyed buildings in the city of Adiyaman were arrested Sunday at Istanbul airport while attempting to leave the country. Yavuz Karakus and his wife, who have built several buildings in Adiyaman, were taken into custody, with Anadolu reporting that the couple had US$16,000 and an additional 20,000 Turkish lira (approximately US$1,061) on them at the time. Karakus told reporters: "My conscience is clear. I built 44 houses. Four of them fell. I did everything according to codes."
Mehmet Yaşar Coşkun, a contractor responsible for Rönesans Residence, a block of high-rise luxury flats which collapsed in Hatay province, was intercepted by authorities at the airport Saturday while attempting to flee to Montenegro, according to Anadolu. He claimed that he did not know why his building collapsed and that his flight had nothing to do with the collapsed building. Another contractor, Mehmet Ertan Akay, whose Hatay residential building also fell, has been arrested by Istanbul police, Anadolu reported.
Another contractor, İbrahim Mustafa Uncuoğlu, was detained in Istanbul Saturday after his inspections of the collapsed Bahar Apartments, located in the earthquake's epicenter of Gaziantep, were found to be negligent, Anadolu reported, citing the Gaziantep Chief Public Prosecutor's Office. At least nine people died when that building crumbled.
Meanwhile, Hasan Alpargün, owner of a company that erected buildings that have since collapsed in the city of Adana, was detained in northern Cyprus on Saturday, Anadolu reported.
The clampdown on contractors comes amid increased scrutiny over the country's construction standards and building regulations.
Earthquakes are not uncommon in Türkiye, as the country straddles multiple tectonic plates. However, last week's quake was particularly destructive, with the United Nations aid chief Martin Griffiths describing it as the "worst event in 100 years in this region."
The country has strict rules that came into place following a devastating Izmit quake in 1999 in the Marmara region, which left more than 17,000 dead and around half a million homeless.
Manmade disaster?
After previous disasters, building codes were tightened to ensure that modern buildings would withstand large tremors. Yet many damaged buildings across the stricken region appeared to have been newly constructed. Residents and experts are now questioning if the government failed to take the necessary steps to enforce building regulations.
Yasemin Didem Aktas, structural engineer and lecturer at University College London, said that while the earthquake and its aftershocks constituted "a very powerful event that would challenge even code compliant buildings," the scale of damage indicates that buildings didn't meet safety standards.
"What we are seeing here is definitely telling us something is wrong in those buildings, and it can be that they weren't designed in line with the code in the first place, or the implementation wasn't done properly," Didem Aktas said. "We are also seeing in Türkiye quite commonly that post-occupancy modifications on buildings compromise their structural safety.
Several critics are also questioning the Turkish government's periodic approval of so-called "construction amnesties" — essentially legal exemptions that, for a fee, forgave developers for constructing projects without the necessary safety requirements.
The amnesties were designed to legalize older sub-standard buildings that had been erected without the proper permits.
The most recent construction amnesty was passed in 2018, when the government said more than 50% of buildings in the country were known to be against building code. The state identified that the vast majority of building violations occurred between 1950 and 2000.
Turkish President Recep Tayyip Erdogan has frequently put construction at the heart of his economic development policies during his two decades as president and prime minister. The government's amnesties over the years have often coincided with campaigning ahead of elections and have been seen by many as a way to garner votes.
Experts also say that contractors wouldn't have been able to proceed with their projects if their substandard work hadn't been potentially waved through by various local officials and suggested corruption was to blame.
Ajay Chhibber, an economist who was World Bank director for Türkiye when the 7.6-magnitude Izmit quake struck in 1999, said building amnesties were "a huge issue."
"They just go ahead and make the building. They don't follow the code. They know that at some point some politicians — because they're financing their political parties — they'll grant them an amnesty. That's a huge problem."
Meanwhile, Turkish Airlines said Monday that it had resumed flights from Hatay province in earthquake-hit region.
The airport had been closed since the earthquakes due to runway damage. The reopening could relieve overcrowding at Gaziantep airport, one of the few in the earthquake zone that was undamaged last week.(SD-Agencies)