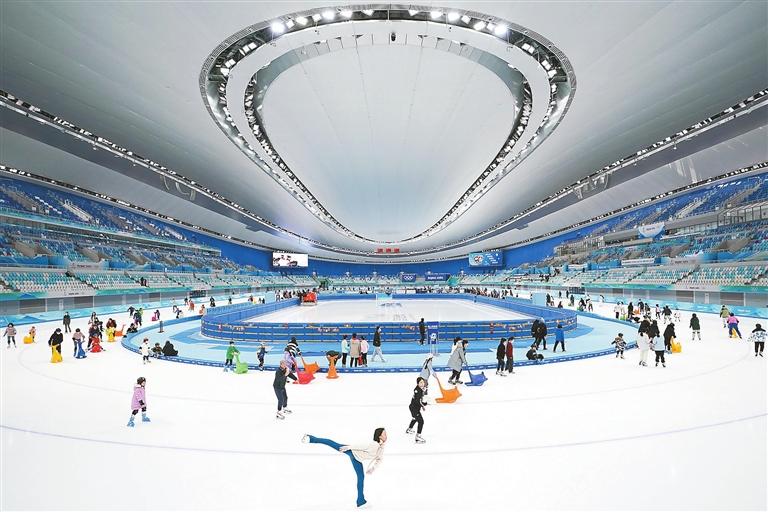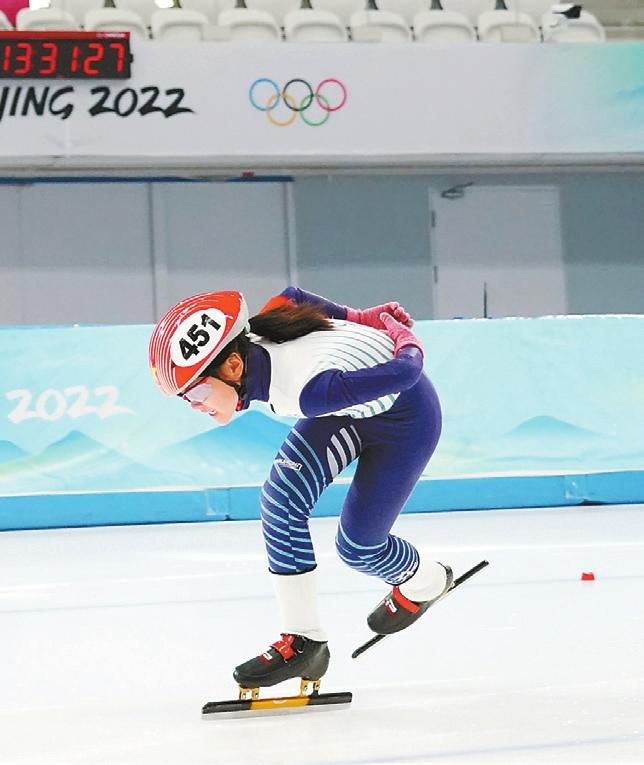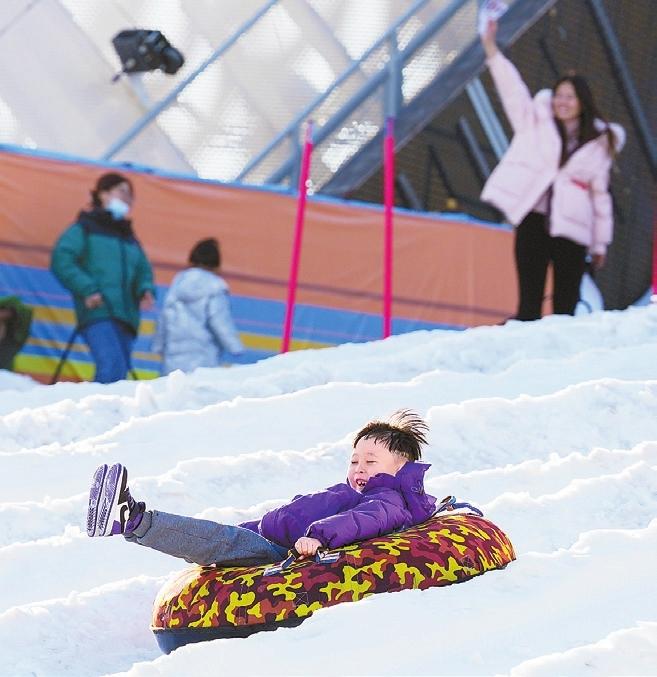 LI JIAHUA, an avid skier in Xuzhou, eastern China's Jiangsu Province, used to frequently travel to North China in winter to hit the ski slopes. But since an outdoor ski resort opened in his hometown last year, he can enjoy his favorite sport every weekend.
"The Beijing Winter Olympics allowed every Chinese to learn more about ice and snow sports. The legacy is just incredible. Regardless of where they live, more and more Chinese people are taking up winter sports," Li said.
A year after the 2022 Winter Olympics, all Beijing 2022 venues are used for elite-level sport and public fitness. China is riding the wave of the Games' success to become a winter sports power.
"The Olympic community in China demonstrated our new Olympic motto at its best: Faster, Higher, Stronger —Together," International Olympic Committee (IOC) president Thomas Bach said in a video message for the anniversary celebration of the Beijing 2022 Games.
"The impressive legacy of the Olympic Winter Games Beijing 2022 has set the path for the future," Bach added.
A sustainable path
At the National Speed Skating Oval, known as the Ice Ribbon, which saw multiple world records set in speed skating at Beijing 2022, 11-year-old Zhang Qianyu recently won a youth speed skating championship and signed her name on a wall of honor in the facility, just as big-name Olympians had done last year.
"I was so excited to skate at the Ice Ribbon and clinch a victory here. I am so proud of myself," Zhang said.
According to the Ice Ribbon's operation team, nearly 210,000 visits have been paid to the venue since it was opened to the public last July, testifying to China's commitment to continued use of all 2022 venues.
The National Aquatics Center, known as the "Ice Cube" during Beijing 2022, has also been used for both elite-level sport and tourism. With more than 3,000 visitors on day one of its opening, it even earned itself a nickname — "the hottest ice" in Beijing.
At Shougang Park, visitors can jump onto a large inner tube to slide down the lanes of the Big Air Shougang, an iconic Games venue converted from a steel mill. It is both an outdoor sporting resort and a vibrant cultural hub today.
The Genting Snow Park in Zhangjiakou, where 20 gold medals were up for grabs during the Games, has staged dozens of events during this winter season, including professional and amateur competitions, junior training programs and skiing festivals.
A lasting legacy
Christophe Dubi, the IOC's Olympic Games Executive Director, said that the most outstanding feature of the 2022 Games is how they touched the lives of millions of local people by helping them discover about and experience the fun of winter sports.
One year on, Chinese people's enthusiasm for winter sports shows no sign of abating. The ninth Public Ice and Snow Season kicked off across China at the end of 2022, with 1,500 winter sports activities scheduled to take place through April 2023.
In Harbin, Northeast China's Heilongjiang Province, people were seen skating and playing ice hockey on the frozen Songhua River, even though outdoor temperatures plummeted to -20 degrees Celsius.
"Ice and snow is everywhere; it's like a fairytale world," said 13-year-old Shen Leying from Shanghai, who signed up for a snowboarding training camp in Heilongjiang.
During this year's seven-day Spring Festival holiday, the bookings for bed-and-breakfast services near Beidahu ski resort in the northeastern Chinese city of Jilin skyrocketed 16 times compared with the figure for 2019.
Thanks to high-tech facilities such as portable artificial ice rinks, artificial intelligence skiing simulators, and dry-land roller ski training methods, winter sports have also reached China's southern provinces, where snow and ice are rarely seen.
In Guangdong, 364 athletes representing eight cities competed in ice hockey and figure skating competitions for the first time at the Guangdong Provincial Games.
A mushrooming interest in winter sports has directly driven consumption in related fields. Data from e-commerce platform JD.com shows a 114% year-on-year increase in the turnover of winter sports-related goods in 2022.
The number of ice and snow equipment manufacturing bases is also snowballing, as cities like Harbin and Jilin have rolled out preferential policies to attract and support equipment manufacturers.
According to a recent report by the Beijing 2022 Organizing Committee, the market value of China's winter sports industry is expected to surpass 1 trillion yuan (US$150 billion) in 2025.
A fledgling winter sports power
The 2022 Winter Olympics saw a record haul of both golds and all medals for China. With roughly three years to go before the 2026 Winter Games in Italy, Chinese athletes have begun to hone their skills.
Speed skater Ning Zhongyan claimed his first World Cup victory of the 2022-2023 season last November, winning the men's 1,000m in Heerenveen, the Netherlands. Despite failing to make the podium at Beijing 2022, he has set his eyes on the 2026 Games. "Give me some time; luck is not far away from me," he said.
Ma Qinghua, who placed 10th in the cross-country skiing women's 4x5km relay at Beijing 2022, trained in the Changbai Mountains for over two months during this winter season, while Qi Guangpu, who clinched the men's aerials gold at the Beijing Winter Games, is also likely to be up for his fifth Olympic journey in 2026.
More importantly, millions of the younger generations have been inspired by ski prodigies like Gu Ailing and Su Yiming.
"Their success at the Beijing 2022 Games has changed the perception of child upbringing, as more and more Chinese families are encouraging their children to take up winter sports at a very young age, instead of seeing sport only as a form of recreation," said Zhang Guihai, a researcher at an ice and snow industry research institute in Heilongjiang.
Su has recently announced his plan to help nurture young talent.
"I have applied to establish a personal public welfare fund, hoping to help and offer guidance to more teenagers in snowboarding and other sports events," Su wrote on social media Saturday, when he turned 19.
By the end of 2025, 5,000 schools across China are expected to include winter sports in their curriculum, according to a government plan.
"Sports venues and infrastructure are certainly the tangible legacies of the Games, but how the event has brought about changes in people is more significant. Engaging and educating children and young people about the Olympic Games and Olympic values go beyond sport," Dubi said.
(Xinhua)