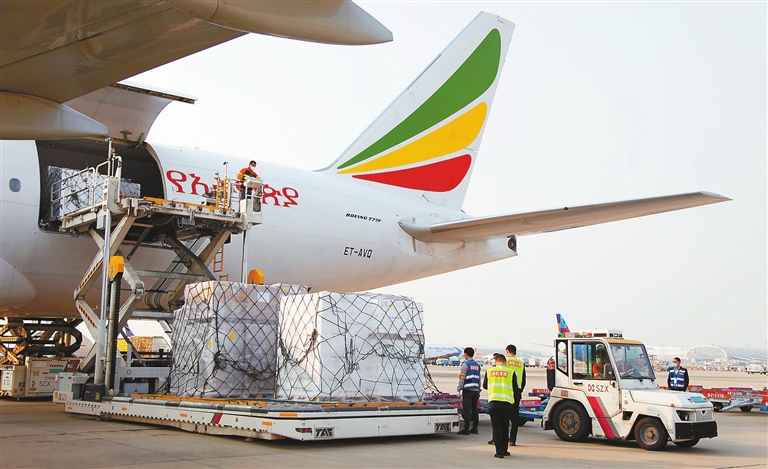 Han Ximin
1824295095@qq.com
THE cargo route between Shenzhen and Liege in Belgium, the third international cargo route that Shenzhen Bao'an International Airport has opened, was put into operation Friday.
Operated by Ethiopian Airlines, the two weekly flights will carry a total of 180 tons of freight per week from Shenzhen to Liege, the largest logistics hub of Belgium and one of the major logistics centers in Europe, during the initial stage of operation.
The operation of the route, the second cargo route that Ethiopian Airlines has opened in China this year, also brought the number of cargo transportation destinations from the Shenzhen airport to 57, including 35 cities overseas.
With the development of cross-border e-commerce businesses, the annual production value of Shenzhen's e-commerce industry had reached 500 billion yuan (US$71.87 billion).
In 2022, the cargo turnover of the Shenzhen airport was among the top 3 in China and top 20 in the world. The volume of the airport's cross-border e-commerce increased by 38.2% over that of 2021.
At present, there is a total of 28 home and foreign airline companies operating cargo routes out of the Shenzhen airport, serving local enterprises that expand to overseas markets.
"The Shenzhen airport is speeding up construction of cross-border e-commerce facilities and will increase its capacity to handle 160,000 tons of international cargo, mail and parcel in 2023," said Dong Zhengli, vice manager of Shenzhen Airport Logistics Development Co. Ltd.