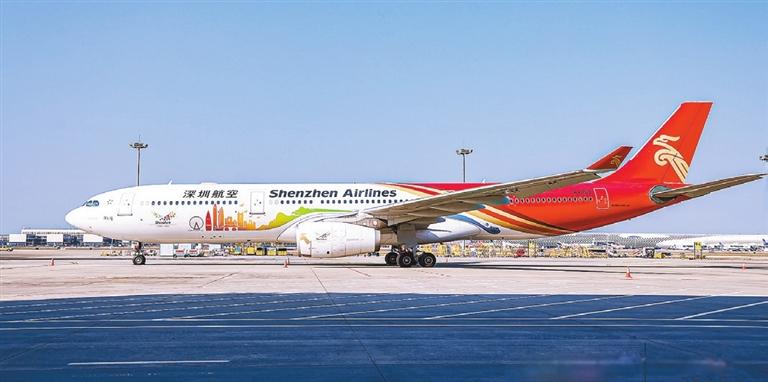 Chang Zhipeng
57589527@qq.com
A SHENZHEN Airlines Airbus A330 passenger plane decorated with multiple patterns showing the city's landmarks was unveiled at Shenzhen Bao'an International Airport yesterday morning to lure international tourists.
The plane, dubbed as "Aircraft Shenzhen," was jointly initiated by Shenzhen Airlines and the Shenzhen Municipal Culture, Radio, Television, Tourism and Sports Bureau.
The aircraft's maiden flight season will start soon, and passengers who take "Aircraft Shenzhen" will have the chance to receive various gifts such as cultural and creative souvenirs of the painted plane and the city's tourism manual.
Yang Yongqun, a senior official from the bureau, said at the unveiling ceremony that the aviation industry is one of the foundations for the rapid development of tourism. In the future, the bureau will use Shenzhen Airlines' superior aviation resources to strengthen regional tourism cooperation, supply more tourism products, help airlines to develop more inbound and outbound routes and promote the city's tourism brand of "Innovative Shenzhen, Capital of Fashion" to the world.
According to He Changqing, deputy Party chief of Shenzhen Airlines, the main flight destinations of "Aircraft Shenzhen" are Beijing, Shanghai, Chengdu, Hangzhou, Singapore, Thailand, Malaysia and other major tourist sources for Shenzhen. "Shenzhen Airlines will utilize channels such as its in-flight TV, magazines, VIP lounges, and domestic and overseas agencies to promote the city's tourism resources," he said.