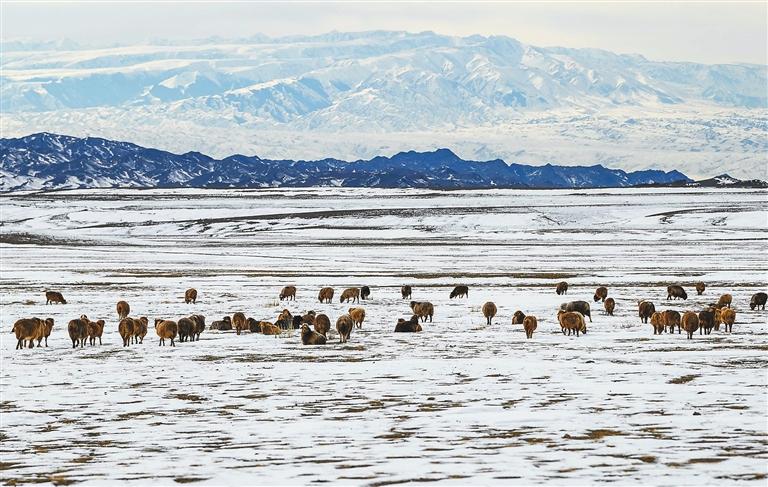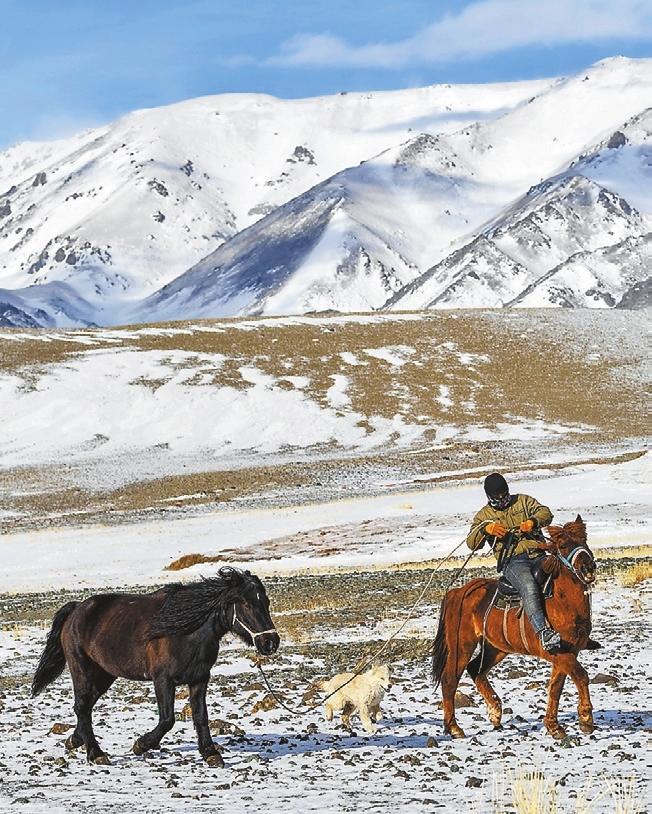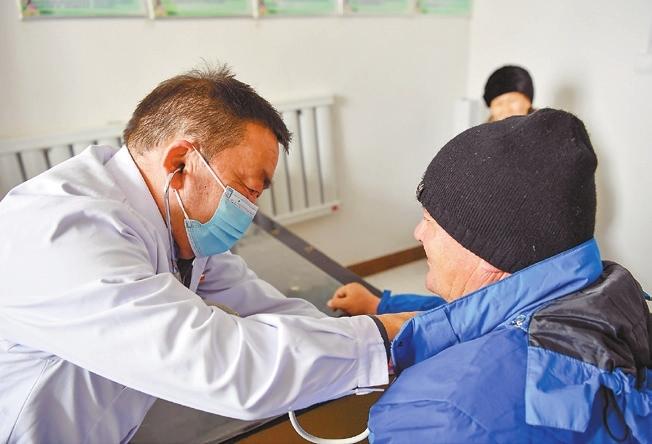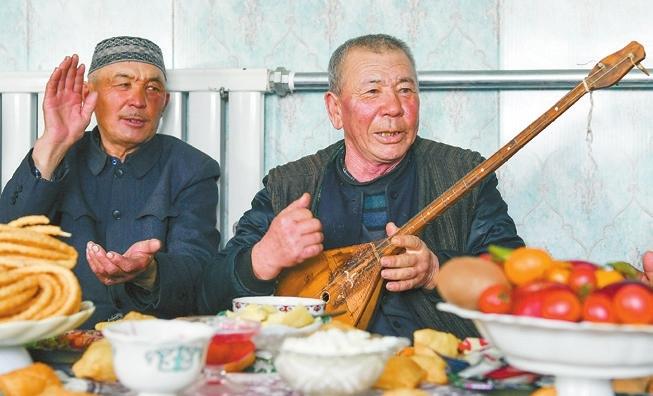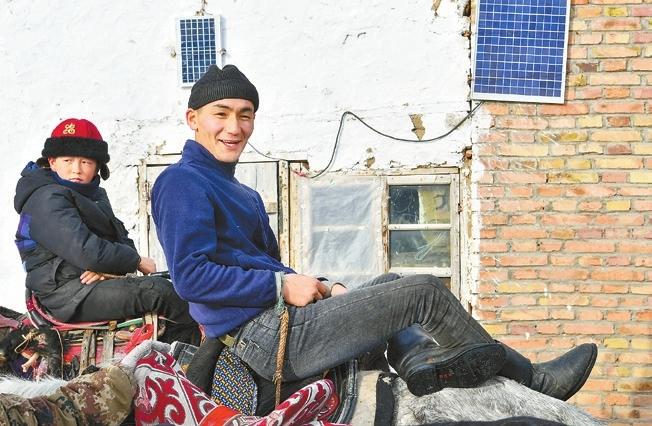 WHEN dawn breaks over the snow-capped Baluke Mountain, Selekbek Tokesi drives his sheep to pasture, before returning home to enjoy a cup of hot milk tea and some leisure time on his smartphone by the stove.
This is how a modern-day Kazak herder in Xinjiang Uygur Autonomous Region typically starts his day.
Today, life on the pasture land has changed a lot. Motor vehicles, satellite TV programs and smartphones have become daily essentials. Kerosene lamps and candles have been replaced by solar-powered devices.
For many nomadic families in the northwestern regions of China, the country's modernization drive has brought continuous benefits to their daily lives.
New life
Kazak herders move between the winter pastures, spring-autumn pastures and summer pastures throughout the year, earning the title "the most frequent migrants in the world."
About 130 kilometers from the county seat, the winter pasture in the Baluke Mountain is an important grazing place for some 109,500 head of livestock in Yumin County from October to March.
Thirty years ago, Selekbek's father built the family's first house here, using wood and stones. "It didn't look good, but at least it sheltered us from the wind and snow," said Selekbek.
After his father retired from herding, Selekbek took over the livestock and built the family's second house.
Last year, the government provided a subsidy of 10,000 yuan (about US$1,440) to help the family build the third house, which was made of brick and concrete. It was solid, spacious and well-lit.
Now, the first house is used as a pen for cattle and sheep, while the second one has been turned into a storehouse. The three houses have borne witness to the great changes in the living conditions of Selekbek's family.
In the past, herders had few things to do besides herding in the remote mountains. But now, with a telecommunication base station providing full mobile network coverage, they have access to various forms of entertainment on their smartphones.
"We can make phone calls at home, and watch videos on Douyin," Selekbek said of the Chinese version of TikTok. "The best thing is that you have updates of tomorrow's weather forecast."
The local meteorological department continually updates the weather forecast in the herders' WeChat group, so that they can respond to extreme weather in time and minimize potential losses.
In recent years, the local government has allocated funds to build a road to the pasture, reducing the travel time to the county seat to just two hours. This has made it easier for herders to visit each other and buy daily necessities in the cities.
Thanks to the improvement in transportation, motor vehicles are now widely used for the migration of the livestock.
"It used to take us several days to migrate with cattle and sheep, but now they can be transported to the destination in a day by vehicles," Selekbek said, adding that the new approach also helps reduce livestock losses during the migration.
According to data from the city of Tacheng, which has jurisdiction over Yumin, more than 30% of livestock migration was done by motorized transport by the end of 2022.
Better medical services
Yerjiang Kukan, a doctor from a hospital in Yumin, has been stationed in the winter pasture for six months of the year since 2004, providing medical services to the herders.
As the pasture is tucked deep in the mountains, seeking medical treatment used to be a big challenge for herders.
"Many years ago, when herders got sick, they were often reluctant to seek treatment until it got really serious," said 53-year-old Yerjiang.
Many a time, doctors had to visit the patients' homes on foot or horseback. It was not uncommon for patients to miss the best window for treatment.
"To our great relief, better communication and transportation have helped build a lifeline for herders," said Yerjiang, who saved the life of a herder this winter by driving him to the county hospital. The patient was suffering from carbon monoxide poisoning and nearly died.
Yerjiang also works with other doctors and disease control experts to pay medical visits to herders' homes and provide checkups.
Over recent years, the local government has increased investment in medical facilities. With better services available at the winter pasture, locals do not need to travel far to seek treatment for common diseases.
Settling down
Habudelashen Nusupbek began selling groceries in the winter pasture in 1998 and has expanded his business from a single shelf to a 40-square-meter store selling beer, beverages and daily necessities.
At night, the shop becomes the liveliest place in the quiet winter pasture, doubling as a bar where many herders hang out, drinking and chatting.
"Most of the elderly people and children now stay in their homes in the permanent settlements in the winter. They no longer have to endure wind and snow," Selekbek said.
In recent years, the Chinese government has launched projects to build permanent settlements for herders, where medical, educational and cultural services are available.
As a result, more and more elderly herders have retired from grazing and settled down to a modern way of life with their grandchildren.
With better prospects for higher education, many herders' children now have many more choices when it comes to their future careers.
In 2022, Habudelashen's third daughter was admitted to Xinjiang Medical University, which made him very proud. As the new semester began, 58-year-old Habudelashen accompanied his daughter to the college in Urumqi, the first time he has visited the capital of Xinjiang.
"My ancestors have been herders for many generations. My daughter is the first college student in our family. Her life will get better and better," he said with joy.
(Xinhua)