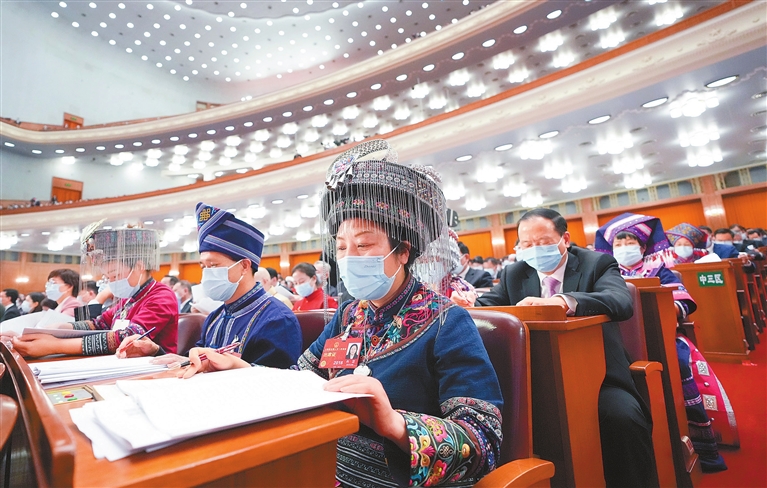 CHINA will expand domestic demand this year, according to a government work report delivered by Premier Li Keqiang to the National People's Congress, China's top legislature, which began its annual session at the Great Hall of the People in Beijing yesterday.
Priority will be given to the recovery and expansion of consumption, and incomes of urban and rural residents will be boosted through multiple channels, said the report.
Government investment and policy incentives should effectively drive investment, it said, adding that more private capital should be encouraged and attracted into major State projects and projects aimed at addressing areas of weakness.
It is proposed that 3.8 trillion yuan (US$550 billion) be allocated for special-purpose bonds for local governments this year, the report said.
China will intensify efforts to attract and utilize foreign investment, expand market access, continue to open up the modern services sector, ensure national treatment for foreign-funded companies, improve services for foreign-funded companies, and facilitate the launch of landmark foreign-funded projects.
The country will take active steps to join the Comprehensive and Progressive Agreement for Trans-Pacific Partnership (CPTPP) and other high-standard economic and trade agreements, and steadily expand institutional opening up by proactively adopting relevant rules, regulations, management and standards, according to the report.
"We will remain firm in pursuing a strategy of opening up for mutual benefit," it said.
China aims to achieve a faster economic growth of around 5% with better quality of development in 2023, as the world's second-largest economy gathers pace to build up recovery momentum and push ahead with its modernization drive.
The projected target, higher than the 3% growth recorded in the country's GDP last year, is one of the key objectives for development laid out in the report.
China's economy is staging a steady recovery, with marked improvement in consumer demand, market distribution, industrial production and business expectations, the premier said, noting that the economy is demonstrating vast potential and momentum for further growth.
The recovery can be seen and felt in the scenes of busy roads, crowded cinemas and restaurants, and shopping sprees both online and in stores, he said.
This year, China aims to create 12 million new urban jobs, with a surveyed urban unemployment rate of around 5.5%, according to the report.
A total of 2,977 NPC deputies from across the country are attending the session, which will conclude March 13.
The deputies will deliberate on a draft amendment to the Legislation Law and a plan on the reform of the State Council institutions.
Meanwhile, China's top political advisory body kicked off its annual session at the Great Hall of the People in Beijing on Saturday. The session will end March 11. (Xinhua)
(Continued on P2; More "two sessions" stories on P3)