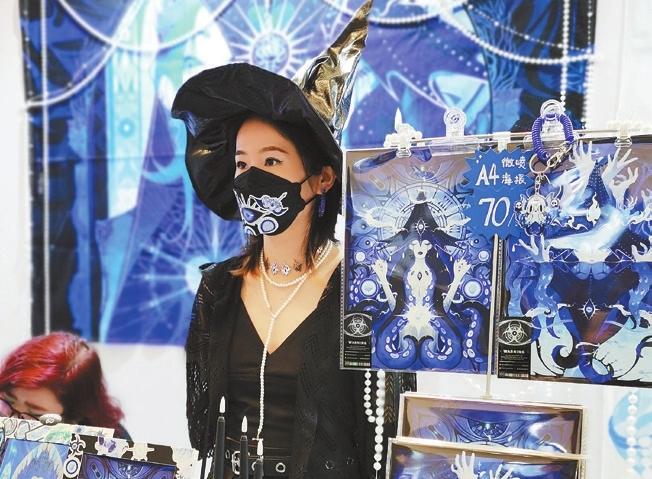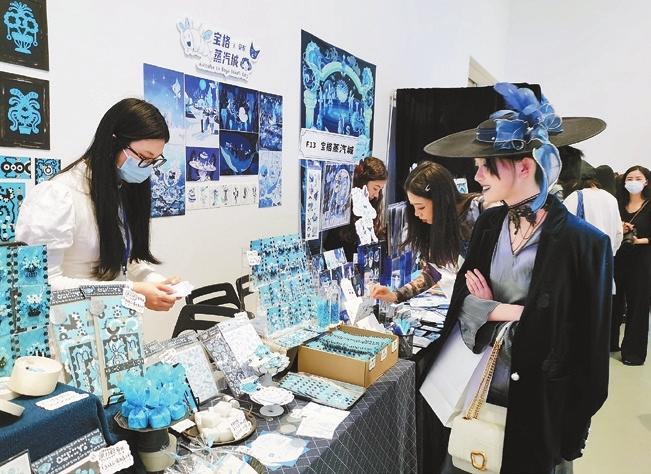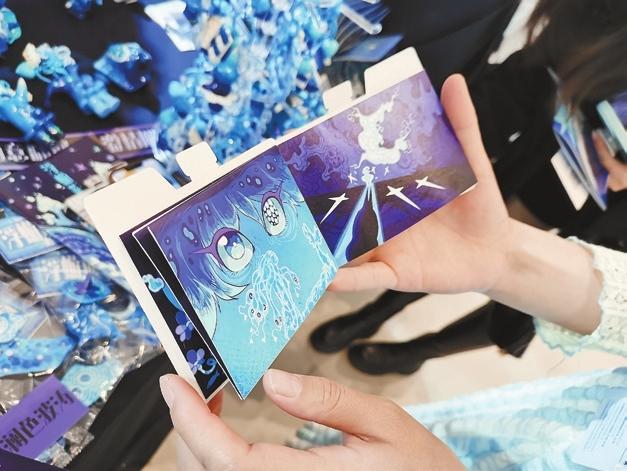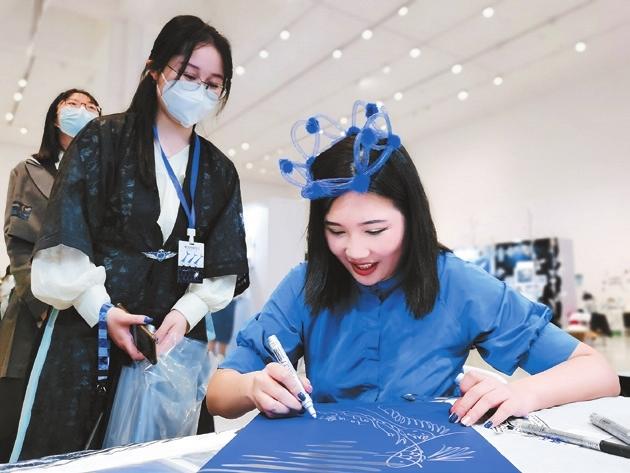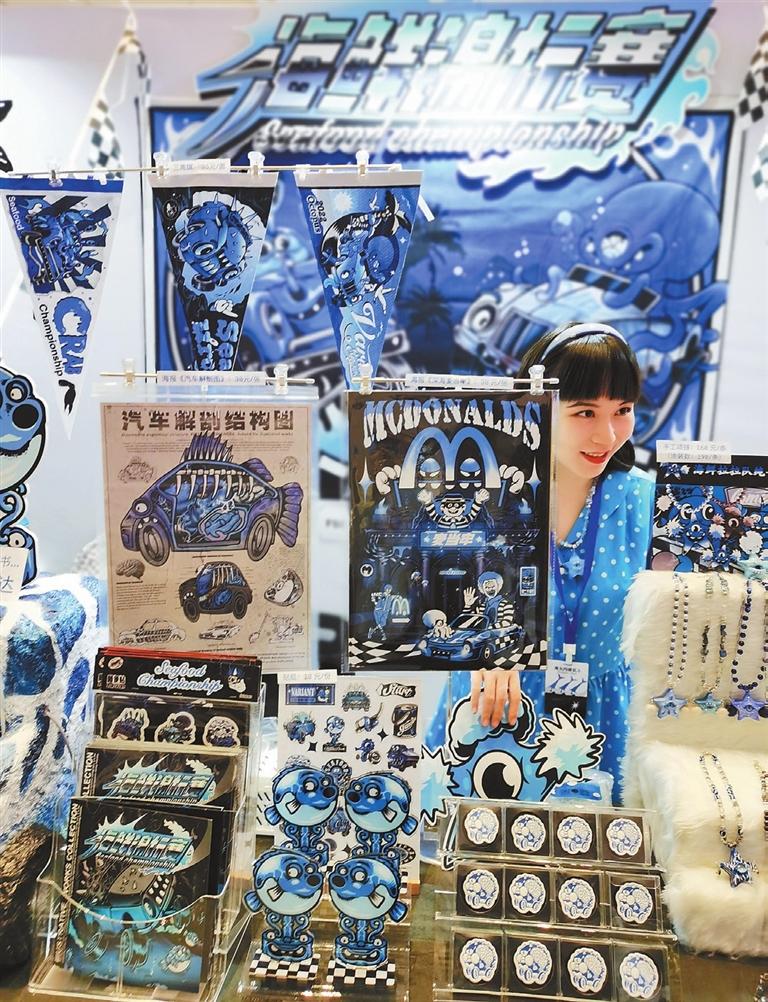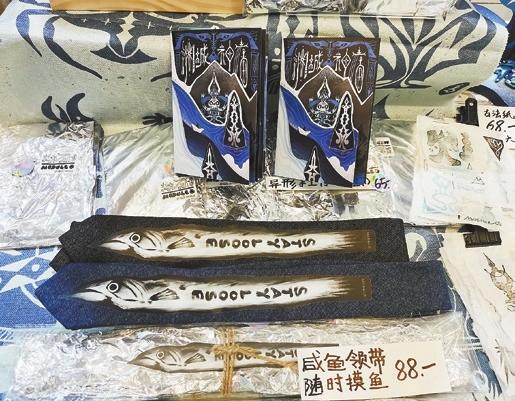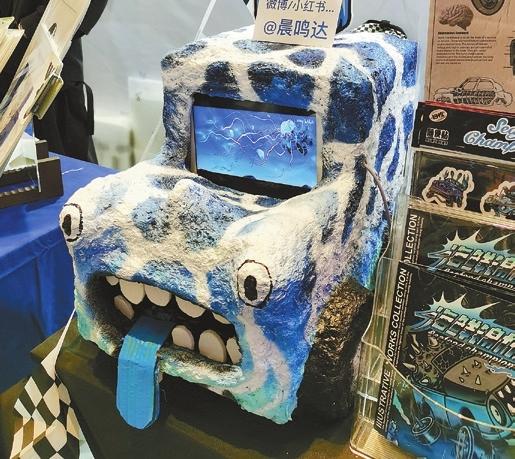 Cao Zhen
caozhen0806126.com
A GROUP of sea animal-turned vehicles are racing in the Seafood Championship, a weird creature named Siddons can't see, hear or talk, using its heart to communicate with the world, and a deliveryman is in his extremely slow mode to manage his business.
These crazy characters are from illustrations being developed by young Chinese illustrators who showcased their imaginative works and sold creative merchandise at the fourth "Magic Festival" event held from Friday to Sunday at the Sea World Culture and Arts Center in Nanshan District.
With "A Dreamy Aquatic World" as this year's theme, the carnival-like event set blue and black as its color tones. More than 100 illustrators and graphic designers from around China turned the exhibition hall into a blue ocean celebrating everything fun.
Although they were required to exhibit works customized for the blue-themed exhibition, their imaginations are not limited. Some visitors also drew illustrations at the booths and then obtained the illustrators' autographs.
"I created Siddons, a character who doesn't have humans' five senses, because I think people may not sense a real world with the five sense organs, so I let Siddons use its heart to communicate with the world," said a Guangzhou illustrator who calls himself KOO.
"I also created Xioxio, a cute bear, but it is actually a villain. I want to express that one should be careful of someone who looks adorable but is evil," said KOO.
Another illustrator whose online name is Chenmingda said he has been interested in car compositions for a long time, so for the ocean-themed exhibition, he created a group of sea creatures which are morphed into vehicles and competing in a car race.
Illustrator Xiao P at the exhibition introduced her deliveryman character who is as extremely slow as a tortoise. "I wanted to create a unique character, different from normal ones," she said.
Impressively, some of the illustrators at the exhibition are not fine art or graphic design graduates. A sociology graduate dressed in a nurse costume at the exhibition created a clinic that cures people's brains in her story. The illustrator from Chengdu said her works are inspired by George Orwell's novels, "Nineteen Eighty-Four" and "Animal Farm."
Many illustrators at the exhibition have posted their works on social media sites such as Xiaohongshu and Weibo, held online painting classes for fans, or printed their illustrations in creative booklets featuring stylized binding and designs to captivate readers.
Launched in 2018, "Magic Festival" set black and white, red and black, and green and black as the theme tones in the past three editions, respectively. "Using only one or two specific theme colors, the illustrators will focus more on storytelling and details," said Shenzhen illustrator and graphic designer Chen Zu'er, a founder of the event.
Better known as MY, Chen studied graphic design in France and MY are the pinyin initials of "ant" because her earlier matchstick characters are thin like ants.
MY's illustrations combine elements from both the East and the West, the traditional and the modern, with a clear sense of Oriental elegance tinted with Western expressiveness. In early 2020, in celebration of the Chinese New Year, eight windows of La Rinascente in Milan, Italy displayed MY's illustrations to welcome the Year of the Rat.
"Many illustrations at the 'Magic Festival' exhibitions also combine Western and traditional Chinese styles. Although their merchandise and illustrations look trendy, the illustrators are not internet influencers; they are dedicated to telling stories," said MY.
"Attending this event, they immerse themselves in the atmosphere filled with artists and fans; they get recognized and communicate freely," she added. "I hope one day to bring 'Magic Festival' abroad. We need to spread not only traditional Chinese culture, but also modern illustrations and graphic and visual designs to get close to more people," she said.