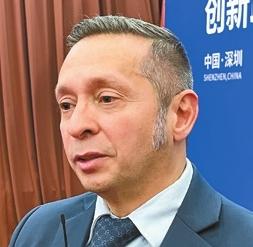 Zhang Yu
JeniZhang13@163.com
OVER the past five years, China has fully implemented the innovation-driven development strategy, Premier Li Keqiang said when delivering a government work report to China's top legislature Sunday.
The leading role of technological innovation was reinforced, the report said, adding that China has launched a number of major sci-tech innovation projects and stepped up efforts to secure breakthroughs in core technologies in key fields.
"Innovation is one of the most important engines for economic growth. The only way for China's future is innovation," said Alessandro Golombiewski Teixeira, a professor of public policy at Tsinghua University and a visiting professor at The Chinese University of Hong Kong, Shenzhen.
Teixeira, a former special economic adviser to Brazil's president and former tourism minister, is also confident of China's economic prospects.
According to him, the report has shown the resilience of China's economy and the faith in the leadership to move forward.
"I think China's economy is doing well. I would say it is resilient and its growth will continue," Teixeira told Shenzhen Daily.
"The report has talked about consolidating poverty alleviation achievements, and fostering the economy, Chinese modernization, and socialism with Chinese characteristics. All these elements are well done."
China's strength and self-reliance in science and technology is among the country's priorities in 2023, as per the report.
"President Xi Jinping mentioned that a lack of innovation is China's 'Achilles' heel.' As a great leader, he understands that innovation is the only way for China's future development," Teixeira commented, emphasizing the importance of education, R&D investments and innovative entrepreneurship.
"Shenzhen has a very important role to play in China's innovative endeavors. It is one of the most developed innovative hubs in the world and has a well-structured innovation ecosystem," he said.
He urged Shenzhen to continue to open itself to the world as innovation is an open source. "Shenzhen will probably lead the future of technological development in China in the next couple of years and it could play a vital role if it gets the right policies in the right place."
He hopes that the city government and local research institutions, universities and private businesses can keep up with the momentum of innovation.
"Digital technology is the center of any technological upgrade and Shenzhen has an edge in that window of opportunity."
He added that Shenzhen needs to continue promoting itself as an international innovation hub because it is fundamental for the city to attract more investments, and to support companies like Huawei, Tencent and DJI to help take Shenzhen's name abroad.