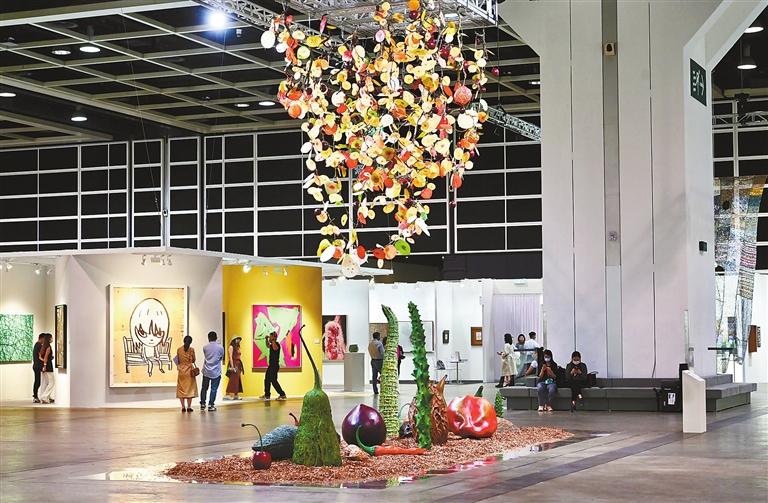 ART Basel Hong Kong is back in its biggest iteration since 2019, and will take place from March 23 to 25, now that restrictions for traveling and social gatherings have been lifted. More than 170 galleries from 32 countries and territories will present modern and contemporary works by emerging and established artists at the Hong Kong Convention and Exhibition Center.
Once again, Hong Kong will be strongly represented at the fair, with 32 galleries having exhibition spaces in the city. While galleries from other parts of China, Japan and South Korea will continue to have a strong presence at the show, this year's edition will also feature standout presentations by galleries from Southeast Asia and India.
The upcoming edition also marks the return of the fair's "Encounters" sector, dedicated to large-scale works, and curated for the sixth time by Alexie Glass-Kantor, executive director of Artspace, Sydney and the curator for the Australian pavilion at the 59th Venice Biennale with a project by Marco Fusinato. Curated by multimedia artist and producer Li Zhenhua, the "Film" sector also returns, in addition to "Conversations," the fair's renowned talks program on the evolving global art scene, curated by author and editor Stephanie Bailey and set to take place once again in person.
Angelle Siyang-Le, director of Art Basel Hong Kong, said: "I look forward to further strengthening the show's position as Asia's premier fair. I am excited to work closely with the city's vibrant cultural community to reinforce Hong Kong's position as a leading cultural hub. We are delighted to welcome back our international exhibitors and patrons to our show and to shine a global spotlight on the city." (SD News)