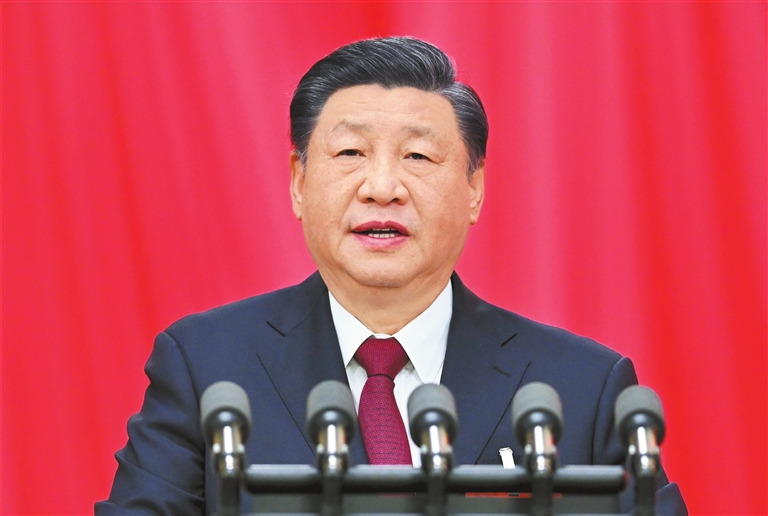 IT is a must to put the people first on the new journey of building China into a great modern socialist country and advancing national rejuvenation, President Xi Jinping said yesterday.
Addressing the closing meeting of the first session of the 14th National People's Congress, Xi said the people are the decisive force in building China into a great modern socialist country in all respects.
He said the people's trust is the biggest motivation that drives him to march on and a great responsibility he shoulders.
He said a people-centered philosophy of development must be implemented so that the gains of modernization will benefit all people fairly, and that more notable and substantive progress will be made in promoting prosperity for all.
China will make efforts to promote the building of a community with a shared future for humanity, Xi said.
Stressing that China will make concrete efforts to advance high-standard opening up, Xi said the country will not only leverage global markets and resources for its own development, but also promote the development of the whole world.
He added that China will play an active part in the reform and development of the global governance system, contribute its share to building an open world economy, advance the implementation of the Global Development Initiative and the Global Security Initiative, add more stability and positive energy to the peaceful development of the world, and foster a favorable international environment for China's development.
China will unswervingly advance high-quality development on the new journey of building a great modern socialist country and advancing the rejuvenation of the Chinese nation.
China should work to achieve greater self-reliance and strength in science and technology, promote industrial transformation and upgrading, advance coordinated urban-rural and regional development, and foster green and low-carbon economic and social development, Xi said.
He demanded efforts to advance the modernization of national defense and armed forces on all fronts, and build the people's armed forces into a "Great Wall of steel" that is capable of effectively safeguarding national sovereignty, security and development interests.
He stressed the need to fully, faithfully and resolutely implement the policy of "one country, two systems," under which the people of Hong Kong administer Hong Kong and the people of Macao administer Macao, both with a high degree of autonomy.
He stressed adhering to the one-China principle and the 1992 Consensus, actively promoting the peaceful development of cross-Strait relations, resolutely opposing external interference and "Taiwan independence" separatist activities, and firmly advancing the process of national reunification. (Xinhua)
(Special report on Premier Li Qiang meeting the press on P2)