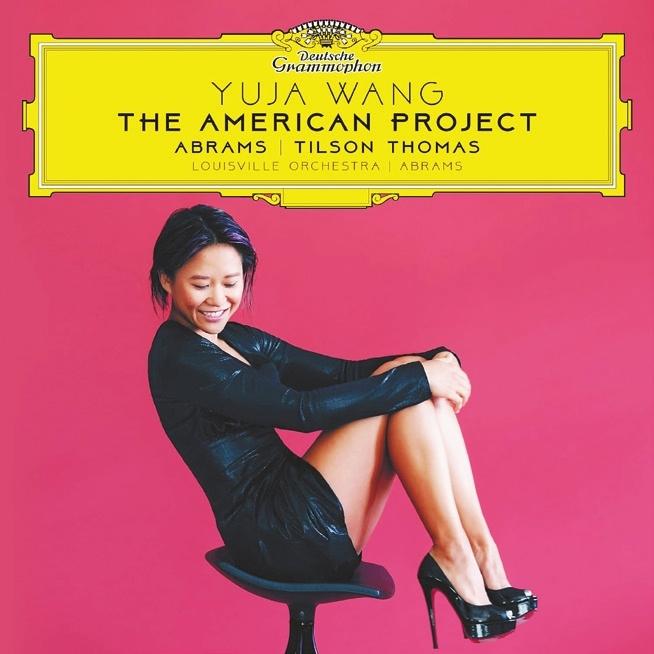 CHINESE pianist Wang Yujia (better known as Yuja Wang) released her new album via Deutsche Grammophon on Friday, giving dazzling performances of works by U.S. musicians Teddy Abrams and Michael Tilson Thomas.
Although originally conceived as a short companion composition to Gershwin's "Rhapsody in Blue," Abrams' "Piano Concerto" blossomed to become a 35-minute standalone showpiece. The work celebrates the richness of the U.S. musical culture and the sheer depth and breadth of Wang's virtuosity, according to Deutsche Grammophon's press release.
Also included in the "Yuja Wang • The American Project" album is "You Come Here Often?," created for the Beijing-born pianist by Tilson Thomas. The piece grows from a simple rhythmic riff into a jazz fusion number complete with reflective episodes and rock-fueled dash to the finish line.
Both were recorded live with the Louisville Orchestra, conducted by Abrams, its music director.
Abrams and Wang met when they studied at Curtis Institute of Music, one of the world's leading conservatoires. At 36, Abrams is a versatile pianist, clarinettist, composer and conductor.
Following his appointment as music director of the Louisville Orchestra in 2014, he began writing large-scale works for its musicians. "It was," he recalls, "the beginning of a really special relationship that we have retained to this day."
Abrams' list of Louisville compositions grew following a discussion with Wang about her performing "Rhapsody in Blue" with the orchestra. His "Piano Concerto" is constructed in 11 sections, including a swing-style big band overture, three solo cadenzas, a Gershwinesque "orchestra break," the Latin jazz-inspired "Solos" and passages that echo boogie-woogie, American gospel tunes or Broadway showstoppers.
Wang joined the Louisville Orchestra and Abrams for the work's world premiere at the Kentucky Center in January 2022 and stayed on to record the piece for Deutsche Grammophon.
"The piano, in particular, is a kind of wanderer that makes it through hundreds of years of musical history, and is so translatable to other styles," observes Abrams.
"I see this concerto as an opportunity for the piano to guide us through what I think is one of the strengths of American culture, its plurality, its interconnectedness. ... I think Yuja is one of the greatest pianists alive, and of all time. I always intended for her to be the one to take this piece and make it her own," he adds.
At 36, Wang recently was hailed at Carnegie Music Hall for her four-hour concert early this year. The repertoire she played covered all five of Rachmaninoff's piano works — four piano concertos and "Rhapsody on a Theme of Paganini." Conductor Yannick Nézet-Séguin, commonly known as Yannick, of the Philadelphia Symphony Orchestra even knelt down after her performance.
She was acclaimed as a superstar for her "once-in-a-lifetime" performance. Yannick noted that Wang was an "ideal pianist" for both her forceful and relaxed style of performance and that "she was born for this kind of music."
Wang is an internationally recognized concert pianist, giving recitals around the world. She has a recording contract with Deutsche Grammophon and tours internationally. (SD News)