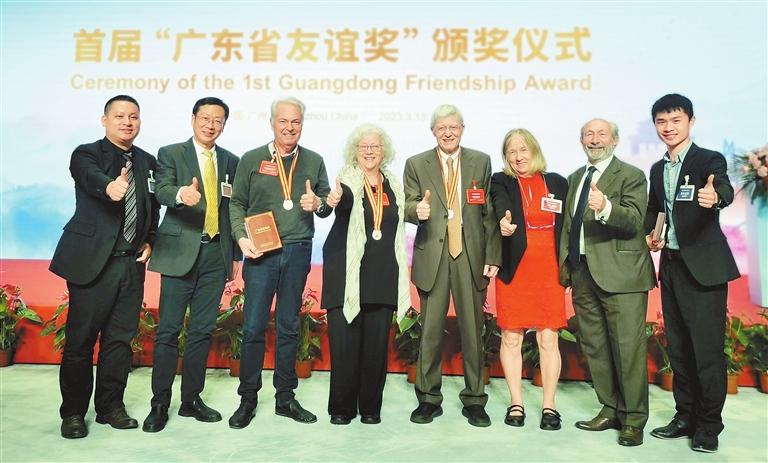 Han Ximin
1824295095@qq.com
EIGHT expats from Shenzhen won the 1st Guangdong Friendship Award on Monday for their outstanding contributions to the province's development and international exchanges.
They were among 49 foreign nationals from 23 countries who received the honor at a ceremony held in Guangzhou.
The 49 awardees have made significant contributions to Guangdong in various areas such as economic development, scientific research, city affairs and sports.
The award, established by the Guangdong Provincial Government, is the highest to be given to foreign experts for their remarkable contributions to the province's modernization drive. The award selection is conducted every three years.
Wang Ruijun, head of the United Front Work Department of the CPC Guangdong Provincial Committee, said: "All of the award recipients are close friends with Guangdong people, serving as an essential bond that connects Guangdong and the world. They are also an important force in Guangdong's modernization and high-quality development."
Four of the eight Shenzhen recipients are from the Shenzhen Institute of Advanced Technology, Chinese Academy of Sciences (SIAT), while the other four are from Peking University HSBC Business School, the Southern University of Science and Technology, and Shenzhen University of Technology.
The four SIAT honorees are Helmut Kettenmann, Horst Arthur Vogel, John Roger Speakman and Diana Boraschi.
Kettenmann, the principal investigator of the Brain Cognition and Brain Disease Institute at SIAT, focuses his research on the role of glial cells in the normal and pathologic brain.
Vogel is chief scientist of the Computer Aided Drug Discovery Center, which develops anti-cancer drugs through computational tools like biological computation, AI and innovative biological methods that can greatly reduce the process and cost of drug discovery.
Speakman, chief scientist of the Center for Energy Metabolism and Reproduction, focuses on energy balance — the factors that govern variation in food intake and energy expenditure, and the consequences for fat storage (obesity) and aging.
Boraschi, chief scientist of the Laboratory of Immunology and Nanomedicine, is an immunologist who built her experience both in academic institutions and industrial settings.
In 2020, Vogel won China's Friendship Award, the highest honor granted to foreigners by the Chinese Government. Speakman won the national award in 2021 and Boraschi also won the award in 2022.
SIAT has made solid progress in talent introduction in the last three years, with the number of high-level foreign talents reaching 50, according to the institute. So far, it has 13 full-time academicians from home and abroad and 153 State-level talents.