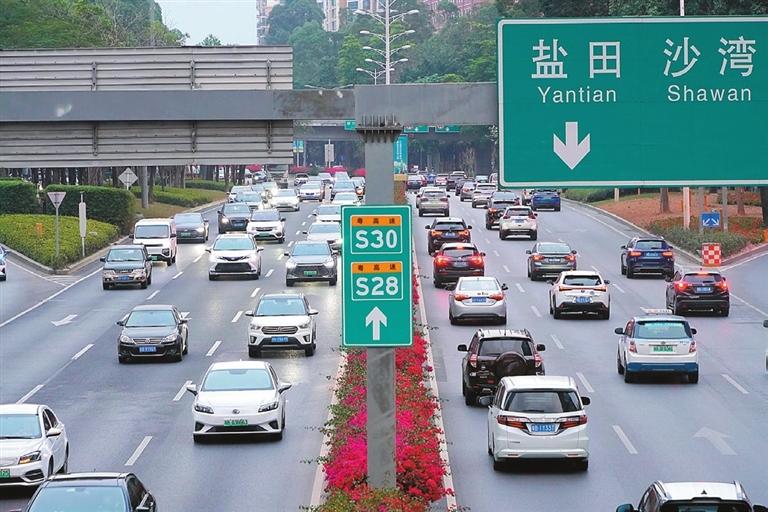 SHENZHEN has returned its hustle and bustle with crowded Metro passengers and heavy traffic during peak hours. The city's transportation volume has ballooned since late February as relevant data has surpassed that of the same period in 2019, sources from the city's transportation bureau said recently.
The average speed for vehicles on roads during peak hours on workdays stood at 24.8 kilometers per hour, down by 7.8% from the same period in 2019.
In terms of public transportation, the average passenger volume has reached 12.34 million per day, up by 1.5% than the same period in 2019. The average Metro volume stood at 7.76 million passenger trips, a 37.3% increase from 2019, while the average ride-hailing volume stood at 1.22 million passenger trips, up by 92.3% from 2019.
Data from Shenzhen Metro also showed that the city's Metro turnover reached a new record high March 3 with 8.69 million passenger trips, topping the Feb. 24 data of 8.57 million.
The city's transportation bureau predicted that in the following month, vehicles on the road will move slowly from 2 p.m. to 9 p.m. on weekends, with the peak hours between 4 and 6 p.m. The bureau suggested that citizens plan their transport options ahead of any outings and opt for taking public transport, especially to hot tourist attractions such as Wutong Mountain Forest Park, Futian River Greenway, Fairy Lake Botanical Garden and Dasha River ecological corridor.  (Chen Siqi)