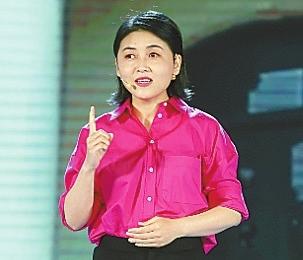 Han Ximin
1824295095@qq.com
WORLD-RENOWNED biologist Yan Nieng has been hired as head of Shenzhen Bay Laboratory (SZBL), also known as the Biological Information and Bio-Pharmacy Guangdong Provincial Laboratory.
The decision, made by the city's talent work leading group, was announced at a meeting held at the lab in Guangming District on Wednesday.
This is her new post after she was appointed head of the Shenzhen Medical Academy of Research and Translation (SMART), which was founded by the Shenzhen government in December last year.
While delivering a speech at the meeting, Yan said she would work hard along with her colleagues to build the lab into a world-leading research institute.
Located at Guangming Science City, SZBL is an academic health sciences lab established by the Peking University Shenzhen Graduate School and the city government in 2019. It is a key strategic facility for Guangdong and Shenzhen to build leading international and domestic science and technology innovation centers in the Guangdong-Hong Kong-Macao Greater Bay Area (GBA).
It strives to become a hub for world-class research at the forefront of health sciences and innovation, spurring novel solutions to grand issues challenging mankind. Areas of research include bioinformatics, biomedical engineering and the discovery of innovative drugs with the goal of prevention, early diagnosis and treatment of major diseases including but not limited to cancer, metabolic and cardiovascular diseases, neurodegenerative disorders and infectious diseases.
At the 2022 Shenzhen Global Innovative Talent Forum on Nov. 1, 2022, Yan announced she would step down as a professor at Princeton University in the U.S. and return to China to assist in establishing SMART.
At the forum, Yan called Shenzhen a city of dreams, where she wanted to realize her next career dream. In the next 10 to 20 years, she said Shenzhen would hold an important mark in the world of biomedicine.
She was appointed head of SMART in December 2022. The academy aims to become a world-class medical research institution by the mid-century.
Yan, born in 1977 in East China's Shandong Province, received her bachelor's degree from Tsinghua University and then went on to finish her Ph.D. at Princeton University in 2004. She is a Shirley M. Tilghman Professor of Molecular Biology at Princeton.