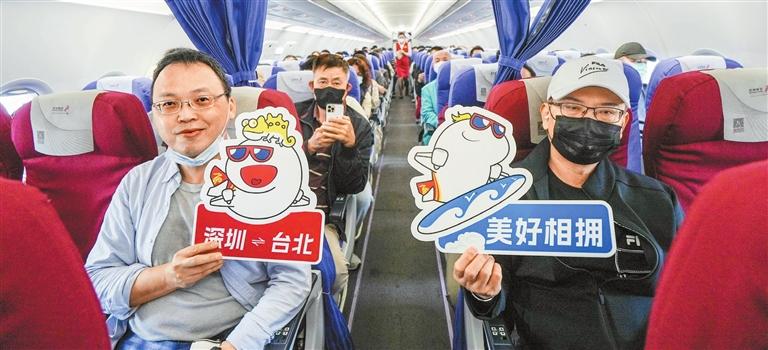 Han Ximin
1824295095@qq.com
SHENZHEN Airlines' flight ZH9071, carrying 143 passengers, most of whom were Taiwan compatriots, left Shenzhen for Taipei at 9:45 a.m. yesterday, marking the resumption of cross-Strait direct flights between Shenzhen and Taiwan after being suspended for nearly three years due to COVID-19.
At the boarding gate before departure, passengers took souvenirs marking the occasion and posed for pictures with the cartoon boards showing landmark architectures of both Shenzhen and Taipei.
Li Yun, captain of the flight, has flown on the Shenzhen-Taipei route for three years.
"I was excited over the resumption of the route and our crew have made thorough preparations for the maiden flight after a three-year suspension," Li said.
A passenger identified by his surname Fan, a Taiwan resident who is engaged in international trade, has been staying in Shenzhen for three years due to the pandemic. He didn't tell his family back in Taiwan about his trip home and wanted to surprise them.
"I hope the exchanges between Shenzhen and Taipei will be more frequent with the resumption of the flights," Fan said.
Before boarding, Jiang, a 67-year-old Taiwan compatriot, made a phone call to his 73-year-old sister, who is planning to pick him up at the Taipei airport. Jiang has been in Shenzhen for over 30 years since he started his business in 1991. During the pandemic, Jiang stayed in Shenzhen and kept contact with his family back in Taiwan through phone and video calls.
"I am very happy for the resumption of the direct flights as now I can go back home to sweep the tombs of my ancestors," Jiang said.
Taiwan's China Airlines also resumed the direct flight service to Shenzhen yesterday, with the first flight arriving in Shenzhen at 4:40 p.m. It will resume its flights between Shenzhen and Kaohsiung of Taiwan before the end of April, with flights operating twice a week.
Taiwan's UNI Air will also resume the nonstop flights between Shenzhen and Taipei starting from March 30, while the China Southern Airlines will resume the service starting from March 31. A total of 22 direct flights a week will go between Shenzhen and Taipei by the end of March.
Shenzhen Airlines opened the direct flights between Shenzhen and Taipei in 2008.
In 2019, the Shenzhen airport transported 654,000 passengers to and from Taiwan, ranking fourth in the country. Trade between Shenzhen and Taiwan reached 382.3 billion yuan (US$55.66 billion) in 2022, accounting for one-sixth of the country's total cross-Strait trade, according to official data.