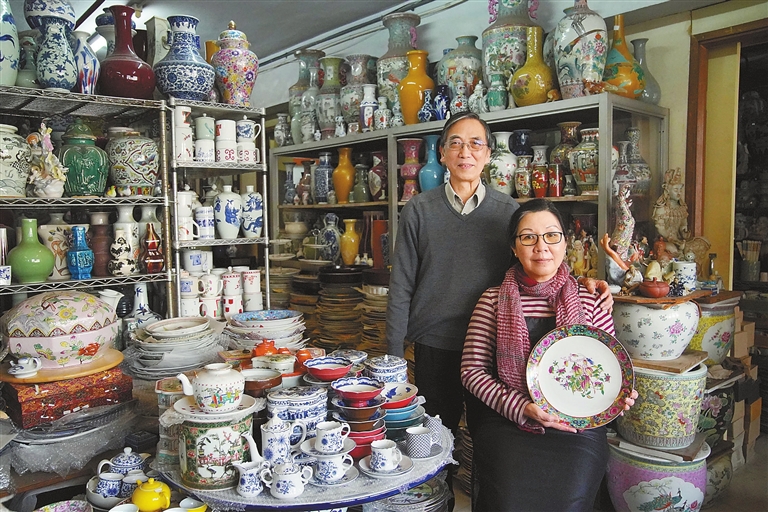 YUET Tung China Works, located in Kowloon Bay, Hong Kong, has been crafting porcelain pieces for nearly a century.
As visitors step inside the factory, they are greeted by the exquisite and unique Cantonese-style porcelain pieces that adorn the walls and shelves. Artisans can be seen painting or coloring on porcelain bodies, their hands steady and eyes focused.
The factory's collection ranges from designs featuring gardens in Qing Dynasty (1644-1911) novel "A Dream of Red Mansions" to modern Hong Kong landmarks, each a testament to the artisans' exceptional craftsmanship and dedication to their works.
At Art Central 2023, an annual international art fair in Hong Kong, the factory's collection of Guangcai porcelain drew much attention. Joseph Tso, the third-generation successor of the factory, takes great pride in the skills of Guangcai.
This traditional craft, born over 300 years ago, involves painting and firing various colored paints on white porcelain vessels. The pigment is delicately applied onto the porcelain body, imbuing it with subdued tones and a matte finish. After being fired at a scorching 800 degrees Celsius, the pigment is transformed into a permanent, vitrified state, revealing a stunningly transparent and smooth porcelain masterpiece that is a feast for the eyes.
"Becoming a Guangcai painter requires at least three years of apprenticeship," Tso said. According to him, the most crucial aspect of Guangcai is the composition of the image and the freehand drawing of lines. Aspiring artists must first learn to draw lines before being able to create more complex designs.
Using a box to support their hands, painters deftly wield a brush in one hand and a porcelain dish in the other, creating perfect circles like the smooth movement of a needle on a record player.
During the 1960s and 1970s, the ceramics factory flourished, with approximately 300 painters handcrafting and painting the delicate porcelain pieces.
Back then, the shop's products were mainly sold in Europe, the United States and Japan. Surging demand had also revealed problems: The hand-painted process was time-consuming and costly, and the plant had to cope with a shortage of skilled artisans.
Tso's father came up with introducing customized products through a "half painting, half filling" approach. The hand-drawn pattern is first screen-printed onto transfer paper, and then transferred onto the white porcelain for firing. This process enhances production efficiency and streamlines the manufacturing process.
On its social media pages, Yuet Tung described itself as Hong Kong's first, and last hand-painted porcelain factory. Similar to some traditional crafts, Guangcai porcelain in Hong Kong faces the challenge of passing down its techniques and knowledge to future generations.
"Times change, and we must adapt to persevere," said Tso, who introduced new designs to the porcelain products after taking charge of Yuet Tung's businesses in the 1970s.
No matter how much the company adjusts, Chinese traditional elements have always been the core of its products.
"As a Chinese, I am very proud that we have such a rich cultural heritage," said Ruby Tso, wife of Joseph Tso. She believes that Guangcai porcelain is one of the industrial gems of China, and they have a responsibility to let more people know that this craftsmanship is well protected in Hong Kong.
In recent years, there has been an increasing number of young apprentices who have come to the Yuet Tung China Works to learn the craft. "In the past three years, we have had approximately 2,000 students participating in our classes," said Ruby Tso. "We will persist in running our business and help Guangcai to continue to shine in Hong Kong."
(Xinhua)