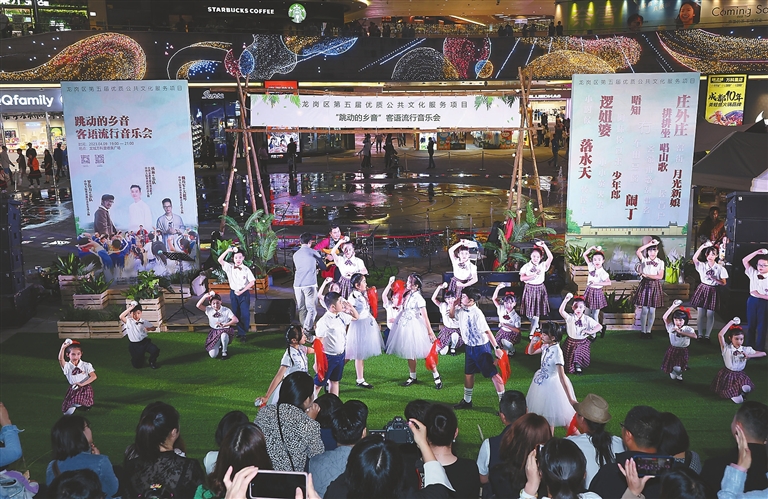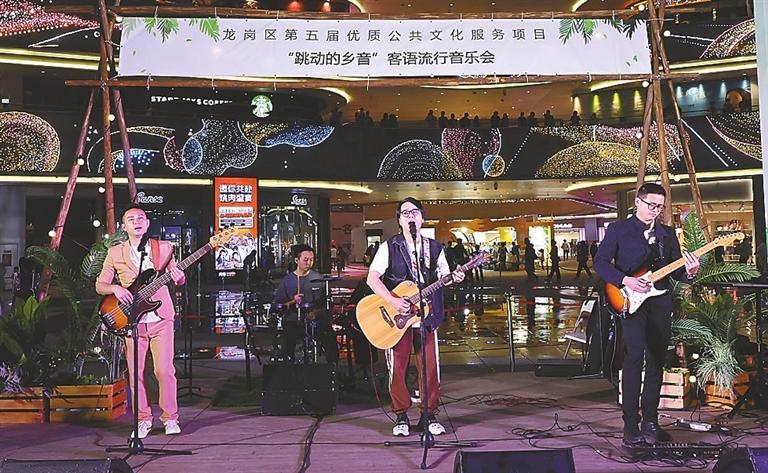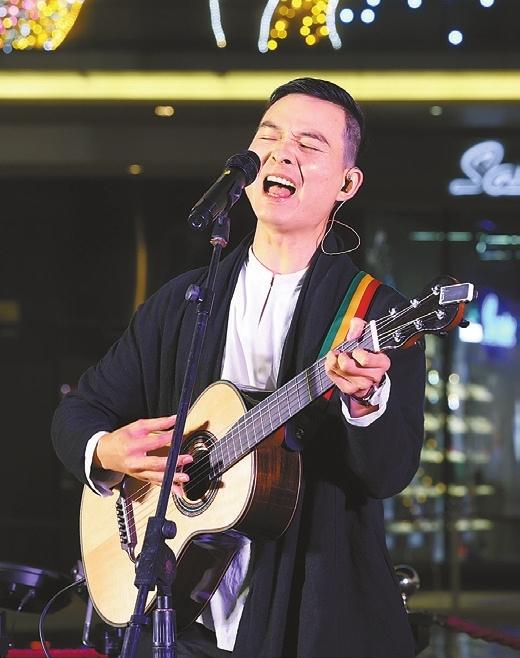 Debra Li
debra_lidan@163.com
WHILE Cantopop has been played and sung across China for decades and given birth to such legendary singers as Leslie Cheung and Anita Mui, Hakka pop is largely unknown to those who are unfamiliar with the Hakka dialect and traditions.
More than 200 attended an outdoor concert at the Vanke Mall on Sunday evening and enjoyed a 120-minute performance by Lai Weijun, Luo Weili, Qiulin and a Longgang children's choir.
Tourists to the mountainous areas in Heyuan, Shaoguan and other Guangdong destinations may have watched performances of indigenous Hakka mountain songs, but a group of Hakka musicians in Longgang are exploring new possibilities by merging pop elements with the Hakka dialect.
"It took us half a year to enlist members of the children's choir and train them to sing in the Hakka dialect," said Chen Shanbao, one of the founders of the Longgang Hakka Pop Music Association (LHPMA) who gave five training sessions to the kids.
The 27 children, many not of Hakka origin, sang a traditional Hakka folk piece and two original songs of distinctive styles in the Hakka dialect, accompanying their singing with bamboo clappers and the traditional Hakka percussion instrument which consists of two ceramic saucers adorned with red silk ribbons.
Longgang, home of Hakka people in Shenzhen, has witnessed repeated efforts in reviving their traditions. LHPMA founded in 2018 is one of them. The association has organized concerts such as Sunday's affair to promote Hakka pop, and arranged exchanges and gigs for Hakka musicians.
Hakka people, a Han Chinese subgroup, migrated from China's central plain to what is modern day's South China during the sixth to 13th centuries, and mixed with local non-Han ethnic groups such as the Miao people. Also influenced by the cultures of their new surroundings like the Cantonese, Hakka culture encompasses a shared dialect, various art forms, foods, folklore and traditional customs.
In 1981, Taiwanese singer Wu Shengzhi released the first pop album featuring songs in the Hakka dialect, starting the Hakka pop trend. In 2003, the Golden Melody Awards added a category to recognize Hakka singers, where Qiulin, one of Sunday's performers, won best Hakka album in 2018 with "Da Ling Jiao Xia" ("At the Foot of Daling Mountain").
In addition to the songs from his previous albums, which sing about the loneliness of a bride whose husband has traveled to Southeast Asia to earn a living and send money back to his family ("Moonlight Bride") and the joyful memories of a busy country fair ("Country Fair"), the singer also performed two recent songs.
"'Wu Bei Hu' reminisces about my childhood days playing with friends in the small woods near my family home. We tied our buffalo to a tree and hung out together until after hours," the singer said. Another song titled "Nao Ding" depicts the Hakka tradition of celebrating new births in the family by hanging up lanterns and setting off firecrackers during the Spring Festival holiday season, particularly on the day of the Lantern Festival.
With a keyboarder, a bass player, a flute and xun (a clay globular vessel flute) player and Qiulin himself as the frontman and guitarist, his music is rich in texture and has a unique melancholy beauty that pulls people's heart strings.
Luo, a native of Chetian, Heyuan City, immediately lit up the crowd with his heady rhythms and passionate singing. "I try to make my lyrics as simple as possible, so that those who don't understand the dialect won't find them hard to get. Music is always a better means to convey our thoughts and emotions than words, isn't it?" he asked.
With modest influence from Hakka folk music, Luo's songs paid tribute to Chetian tofu, a famous dish of his hometown and the childhood memory of tagging at the heels of his mom along the mountain path to visit his grandma. He also sang about the frustration felt by every young person who wishes to make it in the outside world away from their hometown.
Lai, accompanied by a cellist, sang about his longing for romantic love and nostalgia for his hometown while also playing a harmonica.
"Our cultural traditions will not die out only if our children can identify and resonate with them," said LHPMA chairman Zhang Jianfeng. "With melodious and catchy Hakka pop, we hope to revive the dialect, and get more people interested in our traditions."
Could it work? At least the audience at Sunday's concert was on board. "I don't understand a word," said a primary school boy in the crowd. "But I really like their music because I think it's cool!"