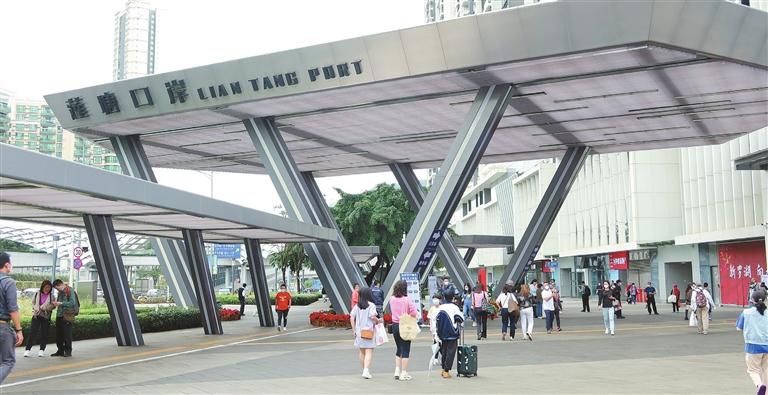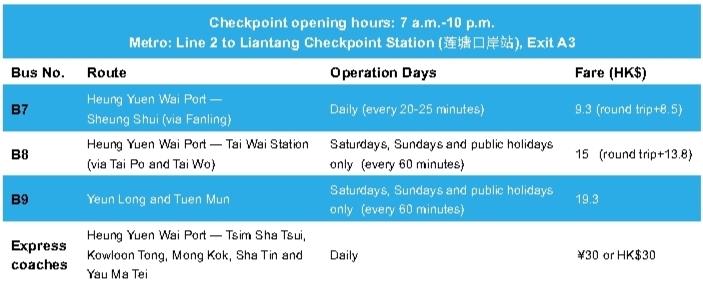 Chen Siqi
vankochensq@163.com
IT cost me only HK$9.3 (US$1.18) from Liantang Checkpoint/ Heung Yuen Wai Port to Fanling of Hong Kong by taking the public double-decker bus B7. With the brand-new sights greeting me — mountains, scattered villages and buildings along the road, the bus arrived at Fanling within 15 minutes.
My trip to Hong Kong via Liantang Checkpoint was smooth and highly efficient, taking me under 15 minutes from the checkpoint's entrance in Shenzhen to the bus station by the checkpoint in Hong Kong on a Saturday afternoon. Even if I was among several tour groups heading to the inspection machines, there were not many people standing in each line to go through the self-service machine, as the group tourists were guided to special lanes.
The facility is spacious and clean, and there are beautiful mountain views surrounding it when walking on a corridor connecting Shenzhen and Hong Kong.
The new checkpoint, on the boundary between Liantang Subdistrict, close to Wutong Mountain in Shenzhen, and the New Territories in Hong Kong, has now become a preferential choice for me to do cross-border travels.
New checkpoint offers a new choice
Liantang Checkpoint, which had only offered a freight clearance service since it was established in August 2020, started to welcome cross-border travelers Feb. 6, when the Chinese mainland fully resumed normal travel with Hong Kong.
Covering an area of 177,000 square meters with a floor area of 131,000 square meters, the new checkpoint has now opened 16 lanes for face-to-face inspections, 48 for self-service crossing and eight for vehicles.
The passenger flow at Liantang Checkpoint reached a new high April 16, exceeding 40,000 for the first time, sources from the Shenzhen Municipal Office of Port of Entry and Exit said. Data from the Hong Kong Immigration Department showed that in a fortnight from March 22 to April 2, Luohu Checkpoint handled 901,284 entries and exits, Futian Checkpoint handled 716,937, and Liantang Checkpoint handled 217,282. Even though Liantang's number fell behind that of Futian and Luohu checkpoints, it still had quite the quantity of travelers.
As the seventh land crossing between Shenzhen and Hong Kong serving both travelers and cargos, it helps relieve the passenger burden of Luohu Checkpoint and cargo transportation burden of Wenjindu Checkpoint.
Bus fares a bargain to downtown HK
Even there are no trains linking the checkpoint in Hong Kong, travelers can take a bus or coach to downtown Hong Kong.
Once a traveler crosses the border and arrives in Hong Kong one would see express buses waiting for passengers on the first floor. The coaches for multiple routes, each priced at 30 yuan (US$4.34), can lead travelers directly to Tsim Sha Tsui, Kowloon Tong, Mong Kok, Sha Tin and Yau Ma Tei.
I highly recommend going down to the ground floor to take the public double-decker bus B7 to Fanling Bus Station, just two minutes away from the Fanling MTR Station. The 15-minute journey is a bargain at HK$9.3, the same price as going to Sheung Shui.
Using the Hong Kong Octopus Card or Alipay, a roundtrip fare for the day would cost HK$17.8. This is cheaper than the HK$25.1 single-journey fare between Luohu or Futian checkpoints and Sheung Shui by MTR.
There are also buses B8 to Tai Po and Sha Tin, and B9 to Yeun Long and Tuen Mun, which only provide services on weekends and public holidays.
Visitors also have options to take a taxi or private car or even walk out the facility.
Techs empower journey
The checkpoint could be a good choice for cyclists, as this is the first checkpoint that doesn't require cyclists to disassemble their bicycles. The cyclists can benefit from the techs applied in the checkpoint that enable more convenient travel.
Shenzhen Customs uses technological solutions to screen high-risk passengers through facial recognition, big data analysis, intelligent declaration and infrared temperature checks. The building for traveler inspections has been covered by the 5G network.
The checkpoint also sets up an area for commuters to collect their personal information in order to go through the border via self-service machines with facial recognition technology.