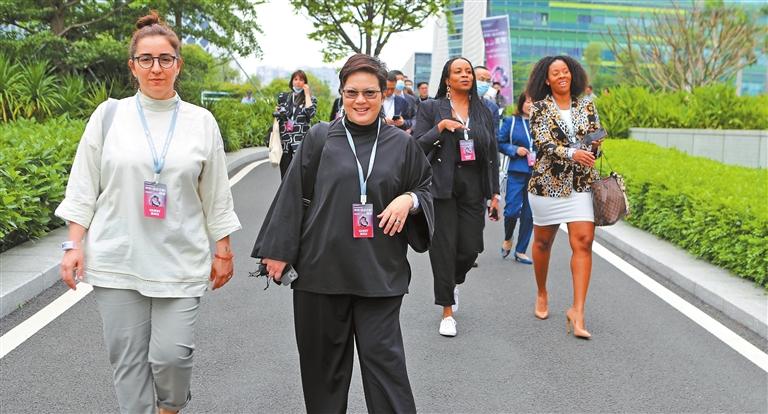 Han Ximin
1824295095@qq.com
AFTER graduation from garment design at the Hubei Institute of Fine Arts in 1996, Zhao Huizhou chose Shenzhen to start her career and created her own brand Eachway in 1997.
As of today, Zhao's business has expanded to Milan in Italy and she opened her first overseas flagship store in Italy, opposite to a Louis Vuitton shop, last October.
"In my career, 2008 was very special and significant because Eachway participated in the exhibition and performance to mark Shenzhen being designated a City of Design. I personally won the title of Top 10 Chinese Fashion Designers that year," Zhao shared with the audience at the launch ceremony of 2023 Shenzhen Design Week, which kicked off Thursday at the Bay Opera of Shenzhen in Bao'an District.
During the event, which will last until May 6, a series of summits, meetings and exhibitions that showcase the latest design frontiers, the fusion between design and technology, and the development of the design industry will be held. Well-known designers from more than 30 countries and regions are attending the event.
A visual epic "Dare to Explore" was premiered at the opening ceremony. Using sci-fi techniques and digital visual technology, the film tells a story of Shenzhen fearlessly forging ahead and exploring endless possibilities.
In an effort to discover new design talents and superior works, ceremonies for Shenzhen Global Design Award and Shenzhen-Hong Kong-Macao Design Competition for Young Talents were staged at the Bay Opera of Shenzhen on Thursday night.
"A good designer needs a good platform. Shenzhen, a city of dreams, offers me infinite opportunities and helps me realize my dream," Zhao said.
In Zhao's mind, design is a pioneering trip seeking innovation and making breakthroughs against time, while tracing back to its roots.
Having participated in world-renowned fashion exhibitions and shows, and launched designs in South Korea, Thailand, New York and Milan, Zhao said China's traditional culture was the source of her inspiration in art and fashion creation.
In 2015, Zhao launched her brand in Milan, a city which she thought had a lot in common with Shenzhen. She is very delighted that more and more foreigners fall in love with China through her designs.
"Shenzhen is a city that supports enterprises to go global. In the future, there will be more Shenzhen-made fashion brands in the world. The rise of the fashion design has just started," Zhao said.
Design going beyond fashion
This year's design week focuses on the integration of design into industrial production, scientific innovation, arts and fashion, and urban branding.
In a lecture themed Building an International Brand with A Familial Design Language, Wolfgang Josef Egger, director of BYD Design, introduced styling designs of BYD vehicles that are based on traditional Chinese culture and widely recognized in the global market.
When he first came to BYD in Shenzhen in 2016, he was amazed by the city and the company's industrial manufacturing capabilities and new energy vehicles that were already at the world's top level.
"Shenzhen is a free and efficient city. For designers, there is much room for imagination. On the other hand, the market response is fast. So in Shenzhen, our visions can be implemented quickly and problems could be solved with flexibility," Egger.
In a speech via video, Denise Bax, secretary of the UNESCO Creative Cities Network, said Shenzhen Design Week provides professionals and the general public with a meaningful platform for knowledge exchange and practice sharing. Over the past 15 years since it won the City of Design title, Shenzhen has been implementing design-driven policies and initiatives to promote the local implementation of the United Nations Sustainable Development Goals.
Johnathon Strebly, former president of the International Council of Design, said: "In Shenzhen, we can see the innovation and design methodologies that are working towards making a difference. Shenzhen design, technology and innovation contribute to a better world."
'Grand Design'
proposal
At the Global UNESCO City of Design Summit, Meng Jianmin, an academician from the Chinese Academy of Engineering on behalf of the Organizing Committee of Shenzhen Design Week and Global Design Award, proposed an eight-point initiative of applying a "grand design" concept to empower industry innovation, market city brand, lead fashion consumption, address urban governance challenges and promote sustainable development.
The Shenzhen Initiatives for Global Cities of Design announced at the summit called for more efforts to be made to increase policy support for the design industry, strengthen the transformation and application of design achievements, boost the transformation of traditional manufacturing industry and the growth of strategic emerging industries as design has become an important booster for urban industries' high-quality development.
The "grand design" concept should be used to optimize the overall planning of cities, enhance the design in key areas such as education, health care, elderly care, sports, leisure tourism, urban landscape, transportation and water affairs, and create a more livable urban living environment, the proposal said.