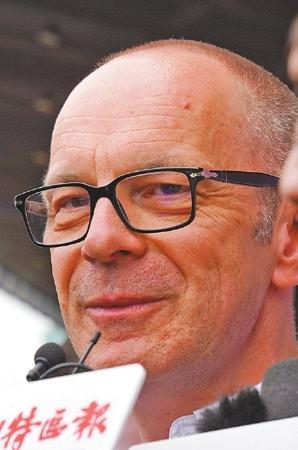 Wang Jingli
wangjingli0715@163.com
SIMON COLLINS, former dean of the School of Fashion at Parsons School of Design in New York, praised Shenzhen's commitment to and support for design during an interview after the opening ceremony of Shenzhen Design Week on Thursday.
Collins thinks that Shenzhen's commitment to design is a huge advantage for the city to play a bigger role in the design field, which also shows the world that Shenzhen is a great place for those who want to do something special.
"Design is happening anywhere. Shenzhen is smart enough to recognize that by celebrating designers, and by respecting them. We can draw more attention and give more value to what they do," Collins said.
Collins, who has attended Shenzhen Design Week three times, said that he is "very proud to be here and to be part of it."
Collins added that Shenzhen is a city that supports design so there is no surprise that companies such as China's leading automaker BYD and drone maker DJI have been successful in Shenzhen.
Speaking of Shenzhen's designation as a City of Design, Collins believed that what matters most is what cities really do about it. Collins gave an example of how Shenzhen has made efforts in this regard.
"Yesterday, I was walking around Shenzhen and enjoying the way that parks are being expanded and linked to shopping centers so that people can actually enjoy trees… I want to see better shops with trees. I want the quality of life to be improved, and that's what design can do if you respect design and thankfully Shenzhen does," Collins added.
Shenzhen Design Week is not only a fantastic example of showing what people can do to celebrate design, but also an event to help the public understand what design means, according to Collins.
"Most people think design is a big picture or an expensive beautiful object, which it could be… but, it could also be something very basic that just works brilliantly," Collins said.