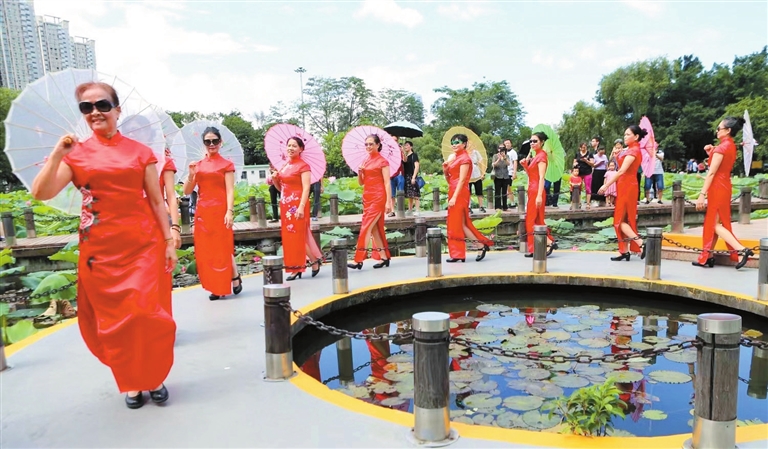 Zhang Yu
JeniZhang13@163.com
WHEN it comes to Shenzhen, the word "young" is often used to describe the thriving metropolis. It is an apt description beyond doubt, as the city is young in terms of both its development history and population.
According to the seventh national population census conducted in 2020, 32.5 was the average age of the city's permanent population of 17.56 million, with the population of people aged 60 or above accounting for 5.36%.
Similar to that of many developed cities, Shenzhen's aging population is fast-growing, which increases the demand for elderly care services.
By 2029, the permanent population of seniors aged 60 and above in Shenzhen is predicted to reach 1.49 million, or 10.52% of the city's total population, according to a recent Xinhua News Agency report. That figure also suggests that by then, the city will formally usher in an aging society.
Shenzhen, despite its reputation as a young city, is preparing for the demographic shift by taking early action and planning for an aging population, with the goal of creating an elderly-friendly city and helping senior citizens live well as they live longer.
Extensive service network
"My wife and I are usually the only two people at home. The elderly canteen allows us to have delicious meals every day," said a senior citizen surnamed Lu, who lives at Ludancun Community in Luohu District.
Li Na, director of Ludancun Community's elderly service station, said that the community has an aging population. "At present, there are over 100 people dining in our elderly canteen every day. Many of the elderly living alone and empty nesters come here every day," Li said.
The community's elderly service station was completed in September 2021, when the elderly canteen was also put into operation.
According to Li, the elderly canteen offers a meal of four dishes and soup for lunch, which costs 18 yuan (US$2.6). Those over 60 who are in extreme poverty and living on subsistence allowances can pay 15 yuan for each meal, and those over 70 with registered residence in the district can only have to pay 13 yuan.
So far, Shenzhen has 400 elderly canteens and food assistance locations. Each food assistance location provides not only on-site meals, but also door-to-door delivery services for elderly people who are sick, disabled or unable to go out, according to the city's civil affairs bureau.
Data showed that Shenzhen currently has 76 elderly care institutions and 14,000 elderly care beds (of which 70% are nursing beds), 149 community-based elderly day care centers and 337 elderly homes.
Since 2012, Shenzhen has gradually formed a multilevel elderly care service system guided by the Shenzhen Special Economic Zone Elderly Care Service Regulations and established a unified intelligent elderly care service management platform, according to the bureau.
Meanwhile, the three kinds of services provided by the government, communities and the private sector help make up an elderly care service network covering the municipal, district, subdistrict, community, residential compound and household levels.
By the end of 2025, all subdistricts in Shenzhen will have an elderly care service center and all communities with an aging population will have service stations for the group, the bureau said.
Meanwhile, all residential compounds with an aging population or a certain number of elderly people will be equipped with service points.
Smarter services
In Shenzhen, a technology hub, the empowerment of science and technology has been manifested in various elderly care scenarios, from the Yinian Card — an electronic ID card for the city's elderly care service — to smart home applications and home modifications for the elderly.
For aging adults, a home designed for optimal accessibility, convenience and safety is imperative to avoid falls or serious injuries. Walk-in tubs, handrails, wireless call systems, hospital beds and wheelchair ramps are among the many home modifications and devices keeping the city's seniors safe.
Since 2020, the city's civil affairs bureau has piloted home modifications for the elderly and offered a subsidy of no more than 10,000 yuan per household.
Shenzhen also encourages enterprises to innovate and develop tech products for senior citizens and intelligent elderly care devices.
A total of 12 batches of products from eight Shenzhen companies have been listed in the national smart health and elderly care products and services promotion catalogue, covering nine categories, including blood pressure monitoring, community self-service physical examination equipment and smart elderly care equipment.
Last August, the Shenzhen Aging Smart Technology Industrial Park in Futian District was put into operation. The park focuses on the industrial and supply chains of home-based elderly care services, and uses cloud services and big data solutions to upgrade services.
Wu Zebin, manager of the park, said the park houses over 50 alliance enterprises covering the entire cycle of community elderly care, and will serve over 1,000 community elderly care centers and nearly 2 million seniors in the Guangdong-Hong Kong-Macao Greater Bay Area.