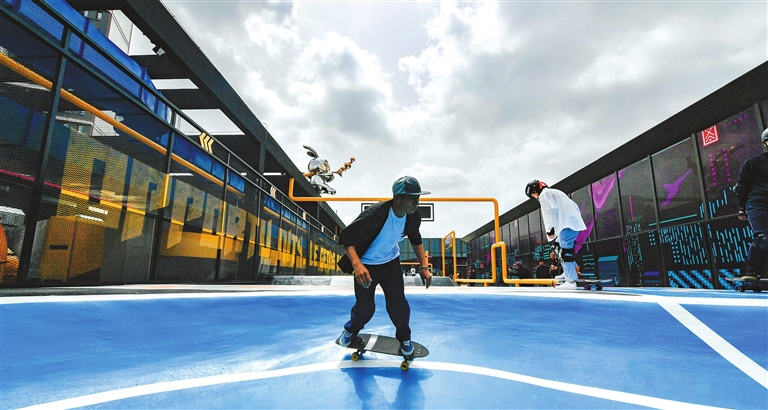 DURING the recent May Day holiday, Chinese tourists opted for sports venues and fitness tracks as a refreshing alternative. In Northeast China's Jilin Province, the first National Balloon Volleyball Invitational was held Saturday, featuring over 1,000 participants from 21 provinces, autonomous regions, and municipalities. Wang Jinghua, captain of the Jilin team that competed in the middle-age category, expressed that "for balloon volleyball enthusiasts, this competition is just like a holiday celebration with a bustling atmosphere."
Additionally, a vertical marathon took place last Saturday at the Juyongguan section of the Great Wall, attracting both domestic and international participants who relished the ancient grandeur throughout the competition. This event was part of a series of local activities for the May Day holiday. As marathon events resumed in 2023, marathon races were held every day across the country during the holiday, with 17 competitions scheduled for the previous weekend and more than 100,000 people participating.
Marathons serve as an ideal platform to showcase local cultural features. For instance, the Shiping Yilong Lake Marathon held in Shiping County, southwestern Yunnan Province, combined the competition with culinary specialties like tofu and waxberry, as well as local culture such as a dragon dance, to better highlight the county's appeal to both domestic and foreign participants.
In recent years, the Guizhou "Gorgeous Countryside" Basketball League has gained widespread attention among Chinese netizens as "CunBA," with "Cun" meaning "village" in Mandarin. Similar basketball competitions featuring only farmers have also piqued the interest of tourists. During the May Day holiday, the Farmers' Basketball Invitational began in Yinchuan, Northwest China's Ningxia Hui Autonomous Region, with basketball enthusiasts from nine provinces and autonomous regions along the Yellow River competing; over 100,000 spectators watched on site.
Despite it being a few hours before the competition's curtain-raiser and still chilly outside in late April, a section of the audience had already taken their seats in the stands at Yinchuan Lanshan Park for better viewing.
"Combining sports and tourism is an ideal way for me and my family to celebrate the May Day holiday. The farmers' basketball games are both down-to-earth and engaging," said Gu Yingjie, a basketball enthusiast from central Henan Province, who explored some scenic spots while also witnessing his hometown team's impressive performance in the Yinchuan tournament.
Last Saturday, a fitness walking event held in Qinghe County, Hebei Province drew over 1,500 participants. According to Tian Jun, vice head of the Hebei Administration of Sport, six cities staged fitness walking activities along the Hebei section of the Grand Canal around the May Day holiday, with more than 30,000 people expected to participate.
"We aim to better promote the Grand Canal culture and encourage public fitness through these events," Tian stated, adding that Grand Canal sports tourism exhibitions and other activities will be held simultaneously.
In Shenyang, a city in northeastern Liaoning Province, skateboarders are performing tricks in a pump track park that recently opened to the public.
"I've been practicing this sport for three years. Previously, I would ski in winter but had nothing to do in summer. Now, with the newly opened pump track park, skateboarding and BMX enthusiasts have a home base," said Liu Yaoqiang, a skateboarding enthusiast.
According to the General Administration of Sport of China, more than 6,000 public fitness activities took place nationwide during the holiday, with an estimated participation of over 3 million people.
Sports provide a new way for people to celebrate holidays.
"Spending on sports is becoming increasingly popular among consumers because it is considered a rewarding investment. Sports consumption not only promotes national fitness but also offers a new drive for the economy," explained Chen Lifen, a researcher with the Development Research Center of the State Council.
(Xinhua)