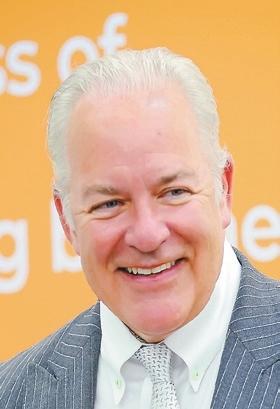 Zhang Yu
JeniZhang13@163.com
RX will seize the immense opportunities and work with the Shenzhen government and local partners to foster more large-scale international exhibitions with greater industry influence, according to Hugh M. Jones IV, CEO of RX ( formerly known as Reed Exhibitions), a world leading event organizer.
"Shenzhen is one of the most important exhibition cities on the planet for any exhibition company. It is rapidly becoming a must-go place if you need to do business," Jones told Shenzhen Daily in an interview recently.
Win-win partnership
With over 40 years of rapid growth in China, RX owns a fleet of wholly owned companies and joint ventures that host more than 70 trade fairs in China every year.
The U.K.-headquartered company serves customers in 12 sectors in China including automobiles, electronics, smart manufacturing, gifts and retail, medical and health care, printing and packaging, catering and entertainment.
Back in 2007, RX founded a joint venture in Shenzhen, RX Huabo, which has continuously expanded its brand influence with the Shenzhen Gifts Fair as its core event. Last year, the company founded RX (Shenzhen) Exhibitions Co. Ltd., a wholly owned RX company in Shenzhen, which underscored the firm's confidence in Shenzhen and the Chinese market.
"The exhibition industry in Shenzhen appeals to us because there are a number of really trusted and highly professional partners whom we've worked with for a long time," Jones said, acknowledging the mutual trust, professionalism and understanding they have built with their local partners.
According to Jones, Shenzhen represents a unique economic opportunity for any exhibition company. "We're going to seize it. We benefit from the fact that we have some great partners in China for decades."
Intl. exhibition hub
Shenzhen has become one of the most famous cities for conventions and exhibitions in China after decades of rapid development. The city is accelerating its pace to become a top international exhibition city.
Statistics show that Shenzhen boasted an area of 5.03 million square meters for exhibitions in 2021, an increase of 27.34% compared with 2019.
In 2023 , the exhibition area of the city's three major professional exhibition centers, namely the Shenzhen Convention and Exhibition Center, Shenzhen World Exhibition & Convention Center, and Yanzi Lake International Convention and Exhibition Center, is expected to increase 2.6 times year on year, and the number of exhibitions is expected to increase 3.6 times on a yearly basis.
"We are well known in China as a global exhibition company that can be trusted. We create shows and then curate them for decades, and Shenzhen is rapidly becoming a natural home for many shows that we would consider," said Jones.
The executive said he greatly admires Shenzhen's ambition to build an international exhibition hub, as the city boasts the world's "largest and best" exhibition venue — Shenzhen World Exhibition & Convention Center.
"It is world-class, one of the very best in the world and one of the greenest, which is very important. As an exhibition organizer, we care deeply about the places where we choose to exhibit, and large, well-managed, green venues are significantly advantaged," Jones said.
According to him, the company is actively planning to launch large-scale exhibitions in the fields of automobiles, smart manufacturing and new materials in addition to the staple exhibitions it organizes in the city. For example, it will launch Automotive World China in Shenzhen in October and will bring WEPACK back to Shenzhen next year.
"We have a long list of shows that we'd like to consider partnering with Shenzhen," Jones said, adding that Shenzhen has an astonishing amount of economic viability with a very young and educated population and convenient transportation perfect for exhibitions.
Going green and smart
Shenzhen's pursuit of green and high-quality development also dovetails with RX's green and low-carbon strategies.
"Shenzhen itself is a green city. When we bring a show here, we are committed to making it a net-zero carbon platform," he said. "You may notice all the taxis and buses are electric here. It makes the carbon footprint much lower, so it's a huge advantage of Shenzhen."
For RX, the company will use more recyclable materials and has started to collect very specific and systematic data on the emissions of the exhibition hall, such as the carbon emissions generated during each construction and waste cleaning process, as well as the energy consumption of the exhibition hall itself.
"It won't just be us; it'll be the whole industry. The entire exhibition industry will be going in that way," Jones said when talking about how the industry will get involved in the carbon neutrality drive.
"I've never seen a city that grew so quickly but so brilliantly. Shenzhen is going to be a destination for decades to come and it will be the model for other cities," Jones said.