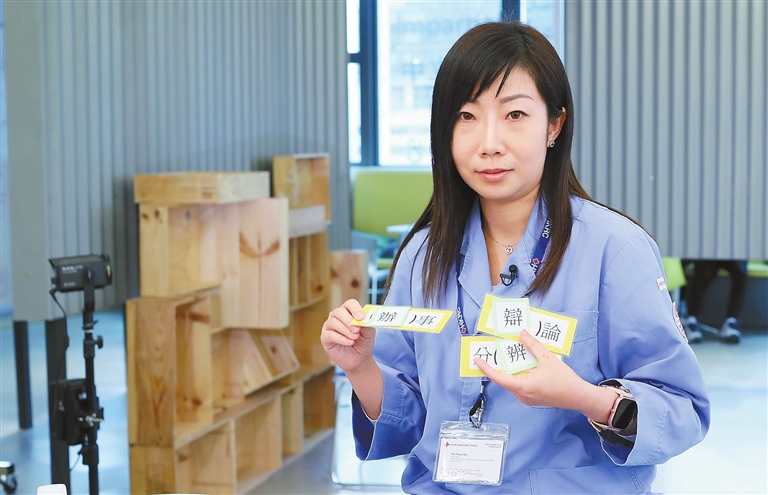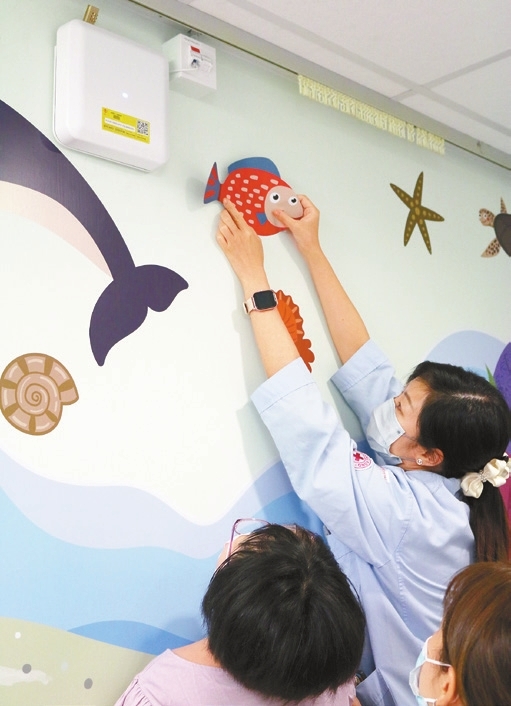 May 8 is World Red Cross and Red Crescent Day, a time to pay tribute to volunteers and staff around the globe who put amazing efforts into making the world a better place.
AT the school where Ko Cheuk-kiu works, there are neither school bells ringing nor students running around the playground.
"You look good today. Shall we review the text together?" After greeting her student Hei Hei, Ko, in a light blue uniform, turned on her tablet computer and began to teach at the bedside.
Ko is a teacher of the Hong Kong Red Cross Hospital Schools, the only school in Hong Kong that provides education services for hospitalized children.
Teaching with
a mission
"Teaching children in a hospital? I was curious and keen to know more about it," Ko recalled, explaining she first learned about the school from a newspaper report in 2009 when she had just finished her master's degree in language.
Ko, who also studied special education, applied for a teaching position in the school and was successfully hired as a Chinese language teacher.
Founded in 1954, the Hong Kong Red Cross Hospital Schools initially provided services in only one public medical institution. Now, it is a special education institute funded by the Hong Kong Special Administrative Region (HKSAR) Government, with 26 school units attached to 19 public hospitals across Hong Kong.
The services of the Hospital Schools are mainly divided into three fields — general specialty, psychiatry and home-bound teaching program. The first two provide services for hospitalized students to reduce their difficulties in returning to their own school after being discharged, while home-bound teaching targets students who need to stay at home to recuperate for a long period. Teachers are assigned to different hospitals or students' homes and rotate at regular intervals.
"Every morning, the first thing we do is to check on each student in the ward and see if they are physically well enough to attend classes," Ko said, adding that their students come from different backgrounds and even speak different languages. "Some faces are familiar and some are new."
The special school caters for students aged between 6 and 18. Most teachers need to teach both primary and secondary school-age students, so they are always well prepared to take care of students at different levels. Depending on the situation, teachers will carry out small-group or one-on-one bedside teaching and each session lasts about 30 minutes.
Teachers from the school not only pay attention to teaching but also give extra time and energy to taking care of students' physical and mental needs.
"We care for students with disabilities and illnesses by providing them with comprehensive education so as to help them build self-confidence and positive values, and develop their potential," Ko said. "This is the philosophy of our school and also the mission of our fellow teachers."
Companion of
hospital-bound kids
Over the past years, Ko has taught in different hospitals and also participated in home teaching. She is currently a teacher-in-charge at the school and working at the Hong Kong Children's Hospital.
Compared with ordinary schools, teachers in hospitals are faced with myriad and unique challenges, and this can be extremely testing at times.
Giving classes to students suffering from mental illness could be tough, she said. "Fortunately, our school gives subsidies to us taking mental health-related courses, so we can better understand the needs of students."
Teachers in hospitals have to meet students with different medical conditions and face all kinds of challenges every day, but Ko said these experiences have led her to a deeper appreciation of life.
Ko has witnessed many students overcame ordeals and made unremitting efforts to live full lives. She was deeply impressed by a teenager who had cancer and needed to receive home-based education.
"This girl was clever and diligent. Every time I finished class with her, she would ask me to stay a little longer and listen to her playing the piano. She wanted me to give her some encouragement before attending the piano exam," Ko said, adding with a smile that the girl finally passed the exam.
Years later, the girl entered university and became the pride of her family.
Pooling resources
to improve service
The school has always attached importance to students' right to receive education. Nearly 70 years since it was founded, the school has been striving to meet different learning needs of students.
In recent years, the school has offered diversified activities for students to enrich their learning experiences.
"The HKSAR Government has increased resources for our school, which has been very helpful," Ko said. "We now cover more elective subjects to match the Hong Kong Diploma of Secondary Education examination [Hong Kong's university entrance exam], which will help students better pick up with the original school curriculum when they return to their own school after recovery."
Since 2015, the school has taken the three core concepts of love, perseverance and self-improvement as its motto, and encourages teachers to endeavor to carry forward the humanitarian spirit of the Hong Kong Red Cross to help students grow.
Ko hoped to add color to students' lives so that they can learn with dignity even in sickness and find a fuller meaning in the hospital learning experience.
Over the years, Ko has received a lot of greeting cards from parents and students showing their appreciation and encouragement, with comments such as, "Miss Ko, thank you for your patience" and "Wishing you a good start in the new school year."
"I hope they can soon recover and go back to school, and continue to pursue their dreams," she said.
(Xinhua)