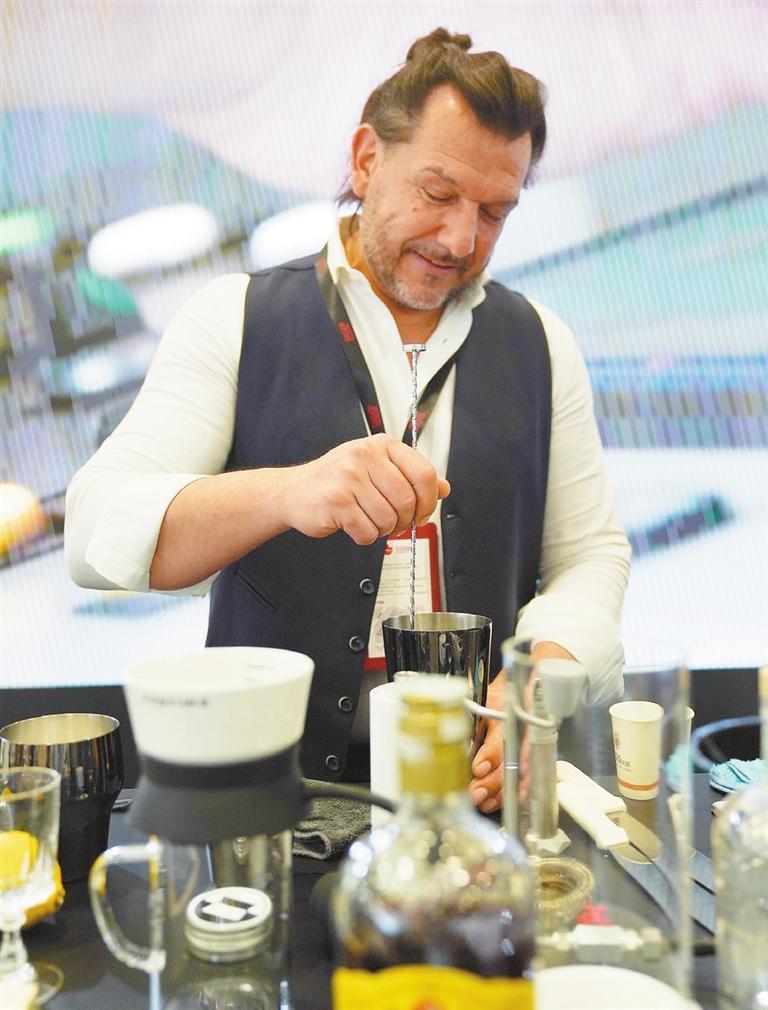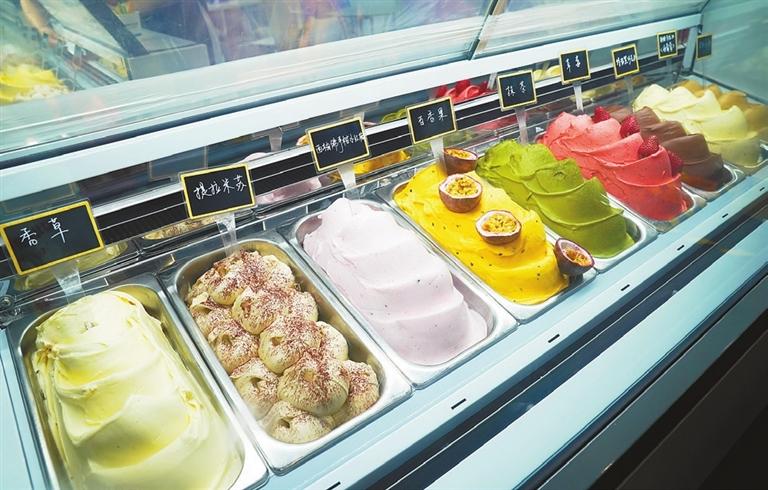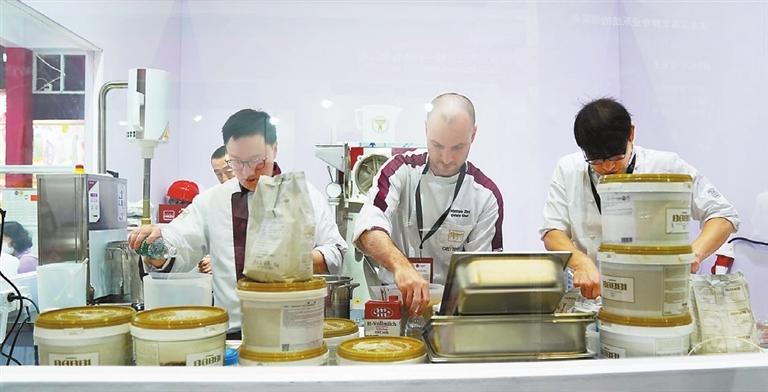 Debra Li
debra_lidan@163.com
FORGET about the free ice-cream handed out at the Shanghai Auto Show last month. At the SIGEP China, you can try all flavors of freshly made gelato — pistachio, lime, raspberry, matcha, ram with raisin — for free. Only you have to be quick, because the three-day B2B show dedicated to the food service industry with its focus on desserts and coffee, held at Hall 6 of the Shenzhen World Exhibition and Convention Center in Bao'an District, will conclude later today.
Co-presented by Italian Exhibition Group (IEG) and Koelnmesse, SIGEP China aspires to provide a complete overview of novel ice cream, bakery, and coffee trends, including ingredients, equipment, packaging, and services, in the dynamic city of Shenzhen, according to Flavia Morelli, the Food and Beverage Director of IEG.
SIGEP, which has been held for more than 40 years in Rimini, Italy every spring except 2021 due to COVID, is held for the first time outside Italy this year.
"China and Italy have a lot in common," Morelli said. "Both feel proud of their long culinary traditions, and both have a firm belief in innovation and the quality of food."
Held alongside SIGEP is ANUFOOD China, a high-end food and beverage expo serving import and export trading firms now in its second edition. Together, the two expos cover an exhibiting space of 35,000 square meters.
A foothold in the S. China market
Exhibitors from over 30 countries and regions participated in the fair, lured by the prosperous South China market, hoping the expo would help them gain a foothold in it.
Richard Xu, General Manager of Carpigiani China, was busy meeting with prospective clients at his company's booth Wednesday morning.
The Chinese branch of the top ice cream, soft serve, and gelato equipment manufacturer from Italy has made its presence known in the Chinese market since 2007. It has ballooned from a small assembly business to a large factory in Zhongshan, Guangdong Province, and a sales and marketing branch in Shanghai, according to Xu.
"We are at the tip of the pyramid in the gelato equipment business," he proudly proclaimed. The Italian brand also has gelato universities and a museum dedicated to this freshly made Italian soft-serve tradition. "Our business prospered with the fast-growing Chinese economy, recording a steady 10%-15% annual growth since we first opened in China, even higher in some years. The Shanghai branch now also offers various training programs in gelato, starting with 3-5 day courses. Those who have completed senior courses will be able to design their gelato with creative ingredients."
The Gelato World Tour made its first stop between Aug. 5 and 7, 2016, in Shenzhen at the OCT Harbor, attracting more than 100,000 visitors to try the Italian dessert. "The Chinese first got acquainted with ice cream after the reform and opening up, with the first products brought by fast-food chains such as McDonald's," Xu said. According to a China Catering Industry Association survey, China surpassed the United States to become the world's largest consumer market for ice cream in 2019.
Xu said his company had also made continuous efforts to adapt to the local market. "We have Synthesis, a compact machine developed especially for the local market so that any small convenience shop or bar can begin their business selling fresh gelatos." Xu's optimism is echoed by Simon Wang with Delion, a brand operator and supply chain business merged into Yihai Kerry.
"We newly introduced Prova, the top global vanilla supplier from France," he said. "We are also plunging into the ready-made dessert market, offering ice cream, cakes, and macaroons. The pandemic certainly took its toll on the catering industries, but bakery and desserts were an exception. We are attending Bakery China in Shanghai on May 22 and will meet with clients in Europe and the Americas after that."
Healthy and hi-tech
Rhea, a leading Italian manufacturer of tailor-made coffee and vending machines, immediately draws visitors' attention with two spacious booths facing each other. At one booth, brand ambassador Andrea Lattuada, a celebrity barrister and trainer, prepares coffee on Rhea's time-honored coffee machines, while at the other, award-winning limited-edition machine Kairos is ready to play music on its 49-inch screen while preparing coffee.
"We hope to find opportunities to work with local tech companies and perhaps develop co-branded products," said Claudio Valdetara, Rhea's marketing director. As an Italian proud of his home nation's coffee culture, Valdetara believes that his company has know-how and a lifestyle to share centered around coffee, "just like we can learn from you about tea."
Emanuele Franchi, resident manager with Iceteam 1927, a company associated with the Ali Group, briefed clients about their prized brand Caltabriga, a professional gelato machine. "We have brought to this expo a new model that can reduce water consumption by up to 80%," he said, adding that with the Chinese market demanding more quality products and the country focused on sustainability, this would be a great opportunity for the company.
Not just big foreign companies, many domestic companies showcased healthier snacks processed with high-tech at the fair, including gluten-free rice noodles, sugar-free lollipops designed as delicate animation figures, and dried fruits and vegetables with no artificial additives.
The three-day expo also arranged colorful events such as forums, whiskey tasting, CTI Latte Art Duel, and Brewing for Fun.