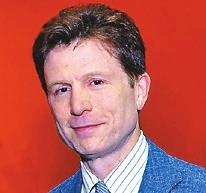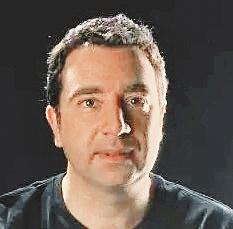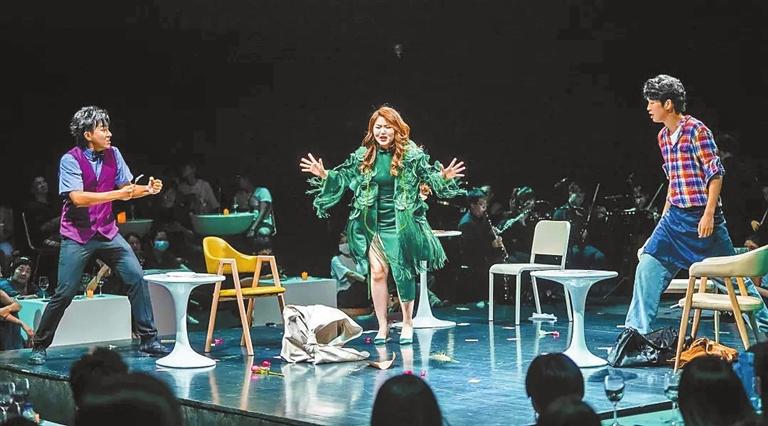 A THEATER bar in Guangzhou was packed with opera lovers from April 28 to May 1 as it staged a comedy about two men fighting over a woman.
The opera "Rita" tells the story of its eponymous main character, a bar owner who mistakenly believes that her first husband, Gasparo, has died in an accident and decides to embrace a new life with her second husband, Beppe. When Gasparo returns out of the blue, he enters a battle with Beppe for his wife, presenting the audience with a spectacular farce.
The Guangzhou version of "Rita" was specially adapted for the city by Italian opera director Peter Gordon and Italian composer Marco Iannelli.
Gordon traveled to Hong Kong for work in 1985 and has become increasingly involved in cultural projects in the fields of literature, theater and opera since 2000.
"Opera in Hong Kong has traditionally focused on 'grand opera' — large and quite expensive productions. These are very nice, but the number of such productions that can be put on each year is quite limited," he said.
"I felt that it should be possible to produce smaller operas in a cost-effective way, thus allowing an entirely new set of productions, while not sacrificing the quality of singing or music," Gordon said.
To that end, Gordon began producing operas on a chamber-music scale a few years ago, together with Marco Iannelli, an award-winning Italian composer living in Hong Kong. "Rita" is one of the duo's joint projects.
In 2022, with the introduction of tenor Chen Yong, Gordon and Iannelli produced a new version of "Rita" for a Guangzhou audience and formed an excellent team, recruiting theater talent from the Guangdong-Hong Kong-Macao Greater Bay Area to perform and produce it.
"Guangzhou is of course a bit different from Hong Kong, and the Guangzhou Opera House wished to localize the story within the opera house itself — to set it in the theater's own bar, which we thought is a very good idea," Gordon said.
"In addition, they wanted to expand an idea we had used in an earlier Hong Kong production of integrating the audience into the performance. What we also wanted to do was to integrate the orchestra into the performance, in this staging as if they were actually playing in the bar," he said.
The cast in Guangzhou is composed of college students, whose voices are young and fresh. Xing Xinyuan, who plays Rita, is a sophomore at the Xinghai Conservatory of Music's Vocal and Opera Department. She is the youngest performer in the show, and Rita is her first lead role in a stage performance.
Coordinating with the band and interacting closely with the audience during the performance posed great challenges to her. "We rehearsed the play in less than half a year before staging it, which was unprecedentedly fast and I've learned a lot from it."
Less than a year after its debut last July, the 70-minute opera was a hit, with tickets selling out as soon as they were released. Opera is generally regarded as a stage art with a relatively high appreciation threshold, but "Rita" has brought more young people into the theater.
"We were all very happy to see so many young people in the audience and having a good time too," Gordon said. "Rita" is a fun story, he said, and he hopes that people who enjoy what could be the first opera they have ever seen will now consider going to see "La Traviata" or "Don Giovanni."
Gordon is full of expectation and has confidence in the Chinese market. "What I do know is that China has both an increasing number of modern theaters as well as ever-increasing numbers of good, young opera singers," he said. (Xinhua)