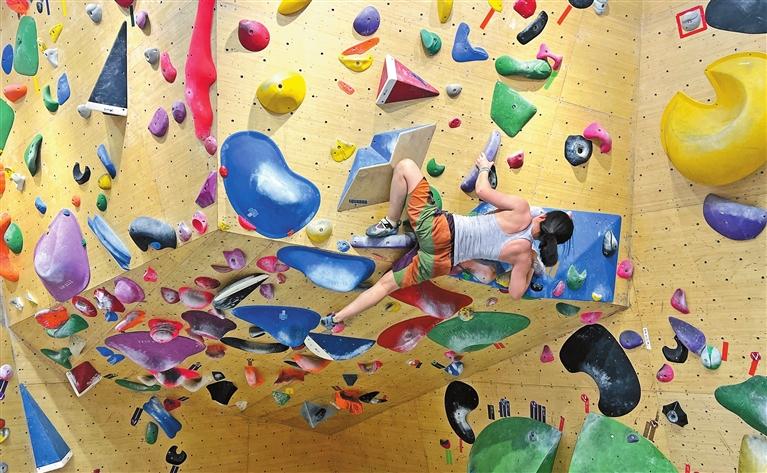 Lin Songtao, Guo Huan'er
254238712@qq.com
ON May 2, just a stone's throw away from Shenkang Metro Station in Futian District, bustling sounds emanated from an inconspicuous house. Xu Chao was explaining climbing safety instructions to a newcomer, and beside them is a leisure space with adults and children watching a national rock climbing competition.
Xu's climbing gym is one of the earliest in Shenzhen, which has been operating for over three years.
After its Olympics debut, climbing, the once niche sport, is becoming more and more popular in Shenzhen. Data from on-demand service platform Meituan in April showed climbing trended upward in weekend search and order volumes.
Brisk business
When climbing was officially approved by the International Olympic Committee (IOC) as an Olympic sport in 2016, Xu began to try climbing.
Xu met friends at a climbing gym and later they decided to open their own. "Due to limited space and the large investment to build the climbing wall, the business was initially not so profitable. Fortunately, we survived the pandemic and it will be better in the future," Xu said.
"Since rock climbing made its debut in the Tokyo Olympics in 2020, climbing gyms have been sprouting up not only in Shenzhen but also in other parts of the country," he said.
Many of Shenzhen's climbing gyms are bouldering gyms. Compared to traditional rock climbing, bouldering features less steep and not very high routes, does not require safety harnesses or ropes, and just needs landing pads for protection.
Xu said some visitors, upon entering his gym, may not feel the climbing type what they desire and leave soon. However, once people get interested in bouldering, they come more frequently to the gym. "We develop routes for people to climb frequently," he added.
Helpful community
"Gyms have a friendly and helpful community. Everyone supports each other in figuring out routes," said Zhang Bin, who was introduced to climbing when he took part in an activity organized by his college's outdoor club 10 years ago.
"Climbing provides a rare chance to keep intense focus for a certain period of time," Zhang said. "It's also a great way to meet like-minded people and get used to the concept of being ready for the worst-case scenario."
Zhang reckoned government support, such as subsidies for the construction of climbing facilities, had a huge impact on the sport's development. "There are notable improvements in the quality of facilities and routes, as well as in the climbers' skill level."
Yang Cui's first attempt at climbing was back in 2015 during an exchange program in Finland. "I was formally introduced in 2019 when a gym owner hired part-time climbing coaches through my alumni network at Shenzhen University. At that time, I went gyms three times a week."
Apart from gyms, Yang also does outdoor climbing. "I explored awesome spots like Shenzhen's Maluan Mountain and Zhuhai's Wanshan Island."
Through climbing, she met her future husband, and for her, climbing is a form of relaxation. "Whenever work stress gets to me, I use climbing as a way to clear my mind."
Climbing brings together people of all ages. "Quite a few senior climbers participate, even my dad has given it a try. The ratio is quite balanced between men and women," Yang commented.
She learned that some investors have done angel funding for gyms. "The market will become more diversified and specialized, leading to promising outcomes in the coming years."
Becoming
professional
Xu said many climbing athletes train at different gyms in the city. The gyms have various routes and coaches to guide them.
Guo Hua's daughter won a second prize at a national climbing competition in Chongqing in early May. The daughter saw her peers rock-climbing in a Nanshan mall four years ago and became interested. The teen then started climbing every weekend.
"She has achieved good results in various national competitions and is preparing for higher-level competitions such as the Asian Youth Sport Climbing Championship. We hope she can aim for the World Cup and Olympics," the mother said, adding that her daughter has entered 10 competitions since February, including three abroad.
Her daughter trains four times a week, with three in gyms. "She may lose confidence if she falls due to physical exhaustion. The coach prepares tailored training plans that require her to think and learn to manage her stamina effectively."
"In formal climbing competitions, children have the opportunity to discuss routes, share opinions and even review their performance together afterwards. This fosters constant interaction among children, which leads to their rapid growth," Guo said.
She said Shenzhen athletes achieved impressive results at the competition in Chongqing.
"However, the athletes largely depend on their families' support. Compared to other provinces and cities, there was a significant gap in the building of local professional sports teams and reserve talent groups. I hope this will improve in future."