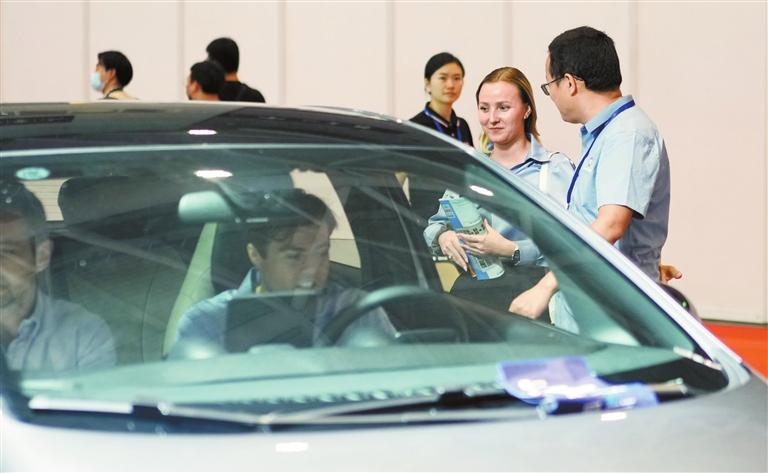 Han Ximin
1824295095@qq.com
EXHIBITION, a bellwether and an accelerator of economic development, plays an important role in gathering resources and core elements of industrial chains and showcasing cutting-edge technologies.
Since China lifted its COVID-19 restrictions at the end of last year, Shenzhen's exhibition industry has seen a full recovery, with 50 exhibitions held from January to March, or an exhibition every 1.8 days on average, according to the city's commerce bureau.
Large scale, high frequency and high level have become the key words of the city's exhibitions this year.
At the Shenzhen World Exhibition and Convention Center in Bao'an District, visitors gathered to seek business opportunities at the 31st China (Shenzhen) International Gifts, Handicrafts, Watches & Houseware Fair, and Chinaplas 2023 held in April, and the Shenzhen International Garment Supply Chain Expo in May.
At the Shenzhen Convention and Exhibition Center in Futian District from May 11 to 13, visitors to the Shenzhen International Fisheries and Seafood Expo 2023 had a chance to take a bite out of a 450-kilogram tuna fish from the deep Atlantic Ocean, shrimps from Ecuador and king crabs from Russia.
Return of intl.
exhibitors
From April 17 and 20, Chinaplas, a leading plastics and rubber trade fair in China and a global top 100 exhibition event, was held at the Shenzhen World Exhibition and Convention Center.
Chinaplas is the largest exhibition since the center started operation in September 2019. The organizer opened all the 18 halls covering 380,000 square meters to 3,900 exhibitors, including 300 from overseas.
It was the eighth time for Andy Postlethwaite, senior vice president of Performance Materials of BASF Asia Pacific, to attend the fair.
"A couple of years ago, the exhibitors focused on how to use plastics in optimizing our designs and products. At this year's fair, the exhibitors set sights on green development, sustainability and low carbon," Postlethwaite said.
On May 16, eight exhibitions simultaneously started at the center, receiving a total of 180,000 visits on the day alone.
The exhibitions included the 15th China International Battery Fair, Shenzhen International Smart Home Exhibition 2023, Shenzhen International Semi-conductor Technologies and Applications Expo, and Shenzhen Automation and Robotics Exposition.
"Overseas buyers are confident about the development of the city's high-end manufacturing industry. The exhibition center will continue building a platform for trade cooperation and technology exchanges," Liang Yaqi, manager of Edsale Exhibition Service Co. Ltd., said during an interview.
"In terms of the exhibition area and visitors, the city's exhibition market has recovered to 90% of the 2019 levels," Jin Qiao, manager of Shenzhen Zhaohua International Convention and Exhibition Operation Co. Ltd., said. "The situation will be even better in the latter half of this year and reach the pre-pandemic level by the end of this year."
According to Shenzhen's commerce bureau, the total size of exhibitions is expected to reach 8 million square meters this year. The size of exhibitions in the city's three major exhibition centers — the two exhibition centers in Futian and Bao'an, and the Yanzi Lake International Convention and Exhibition Center in Pingshan — will increase by 2.6 times in 2023 over 2022. The number of exhibitions will increase by 3.6 times, a record in the city's exhibition history.
Policy support
On May 15, the commerce bureau unveiled a raft of measures to support the development of the exhibition industry in an effort to build Shenzhen into a capital of exhibitions.
The city will support introducing world renowned exhibitions that are related to the city's 20 industrial clusters and future industries. It will offer a reward of 5 million yuan (US$714,000) for introducing world top 500 exhibitions, and 3 million yuan and 1.5 million, respectively, for introducing the country's top 100 exhibition events and international conferences.
For exhibitions that meet the requirements for the development of Shenzhen's 20 industrial clusters and eight future industries, the city will provide up to 500,000 yuan in subsidies a year for three years if the exhibition area exceeds 10,000 square meters.
The city will also give a rent subsidy of 2 yuan per square meter per day, at a ceiling of 50,000 square meters, to exhibitions held at the city's certified exhibition venues.
Shenzhen is planning the construction of the Shenzhen Science and Technology Expo Center, Phase II of the Shenzhen World Convention and Exhibition Center, and Shenshan Auto City Exhibition Center.