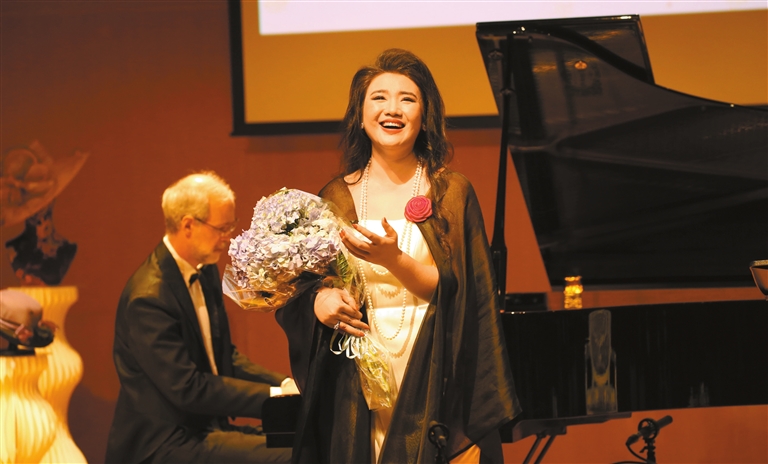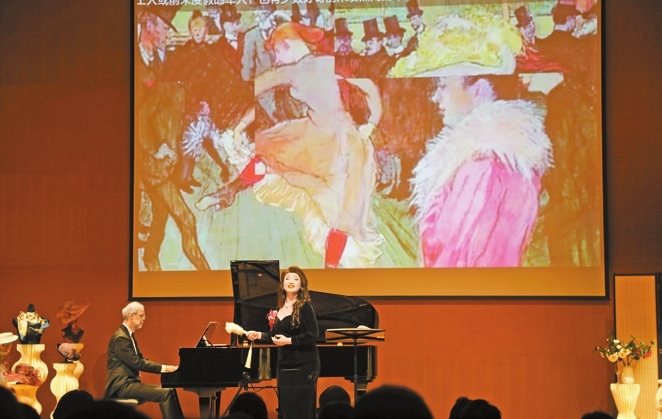 Cao Zhen
caozhen0806@126.com
SHENZHENERS were immersed in a romantic and relaxing concert Saturday night (May 20), a special Chinese occasion as "520" is a homophone of "I love you" in Chinese.
The concert, titled "The Playlist of Fashion Queen," featured two piano pieces, 15 French art songs and chansons, a German song and two encore songs performed by Chinese mezzo-soprano Li Ying and Guangdong-based Belgian pianist Renaat Beheydt at the Shenzhen Concert Hall. Intertwining music and stories, the concert took the audience on a journey reviewing French fashion icon Coco Chanel's life and the music in her time.
Chanel (1883-1971) had a strong connection with music throughout her life. She was known to be an avid lover of music and while working as a seamstress in her early years, Chanel often sang in local cabarets in her free time, as well as at the Moulin Rouge and other Parisian clubs. After building her fashion empire, Chanel was also known for her support of the arts and often invited artists and musicians to her social gatherings.
Saturday's concert consisted of six sections: "Melodies of Childhood," "Cafe Concerts in Moulins," "Mr. Balsan and 'Boy' Capel," "Rue Cambon in Paris," "Afternoon Tea Salon in 1922" and "The Fighting Lion Queen Returns," echoing different moments in Chanel's life.
Bach's "Flute Sonata in E-flat Major, BWV 1031" may have reminded the audience of Chanel's humble childhood in the orphanage of Aubazine Abbey; Satie's "La Diva de l'Empire" and Poulenc's "Travel to Paris" took the audience back to French salons and the La Belle Époque period; and songs around the time of Chanel's romances and fashion career presented the audience with a sense of old Paris.
At Saturday's concert, Li used various moods to render Chanel in her different life periods: at the orphanage, in her romances, in her fashion empire, when her business suffered and in her old age, conveying Chanel's independent and upbeat spirit.
Sometimes holding a wine glass, a vintage ladies fan or a luggage bag, Li used her delicate and mellow singing, lighthearted acting and joyful interaction with the audience to make the music come to life at the concert. Pianist Beheydt perfectly articulated each note and phrase to create a cohesive and seamless whole, demonstrating a remarkable sensitivity to the mood and character of the music.
Through a combination of technical virtuosity and creative interpretation, the performance was infused with a sense of grace, passion and vitality that captivated the audience. The stage decorated with vintage hats recreated the cozy atmosphere of French bars and salons. Authorized old photos and videos of Chanel shown on a big screen during the concert added to the overall emotional impact of the performance.
"The concert gave me a brand-new artistic experience with a rich content, and the visual effect was also dazzling," said an audience member surnamed Yu.
Another audience member surnamed Luo was impressed by "La Vie en Rose" sung by Li during the encore. "The concert showed us Chanel's life which was like a rose. The performance incorporated culture, music and evolution of fashion, which was a pleasant experience for me," said Luo.
In an earlier interview with Shenzhen Daily, Li said she studied piano in her childhood but later shifted to vocal study at the Shandong University of Arts in China, and vocal and chamber music at Ecole Normale de Musique de Paris in France, because she loves to communicate with the audience through singing and eye contact.
Holding two masters' degrees and a Diplôme de Concertiste, Li recalled that tenor Robert Dumé, one of her teachers, once told her to forget techniques and instead focus on natural and true expression on stage.
Saturday's concert is part of the 17th Festival Croisements and the only vocal concert in this year's festival celebrating cultural and artistic exchanges between China and France.