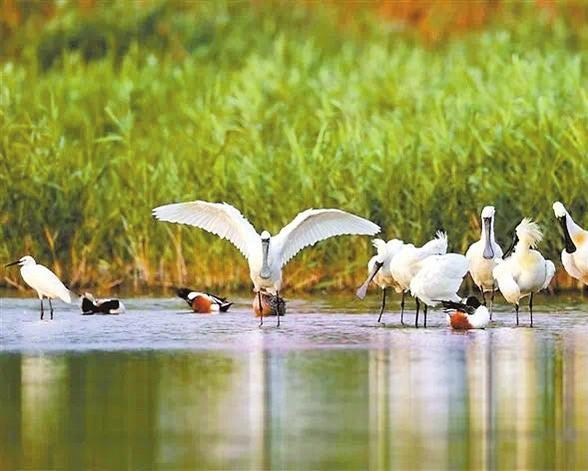 SHENZHEN'S biodiversity conservation has achieved remarkable results, with a wider distribution of national key protected wild animals such as Chinese pangolins and small Indian civets, according to a biodiversity evaluation report unveiled by the Shenzhen Municipal Ecology and Environment Bureau on Monday, the International Day for Biological Diversity.
As of the end of last year, Shenzhen had 2,173 species of vascular plants in its natural mountain areas and a total of 651 species of terrestrial vertebrates. The city now boasts 34 species of national key protected wild plants and 113 species of national key protected animals, showcasing an encouraging increase in species diversity, according to Shenzhen Special Zone Daily.
Vegegraphy of Shenzhen, which contains important results based on the survey and assessment of the terrestrial ecosystem in Shenzhen, was unveiled recently, providing valuable insights into the vegetation types and distribution patterns within the city for the first time. The survey was carried out by the municipal ecology and environment bureau.
Shenzhen has long been at the forefront of biodiversity conservation efforts. Over the years, the city has established 27 nature reserves, setting aside 24% of its land area and 19% of its sea area as ecological redline areas.
Recognizing the importance of education and awareness, Shenzhen has taken a leading role in China in constructing a nature education service system, establishing 38 nature education centers and 22 nature schools. With an impressive 180,000 environmental volunteers and 141 environmental organizations actively participating in urban planning, park management, and ecological surveys, Shenzhen has fostered a strong sense of community involvement in its conservation efforts.
In December 2022, Shenzhen was awarded the title of "Biodiversity Charming City" by ICLEI-Local Governments for Sustainability, a global network of over 2,500 local and regional governments committed to sustainable development. The accolade was presented at the seventh Summit for Subnational Governments & Cities in Montreal, Canada. The summit was a parallel event to the 15th meeting of the Conference of the Parties (COP15) to the U.N. Convention on Biological Diversity.
(Wang Jingli)