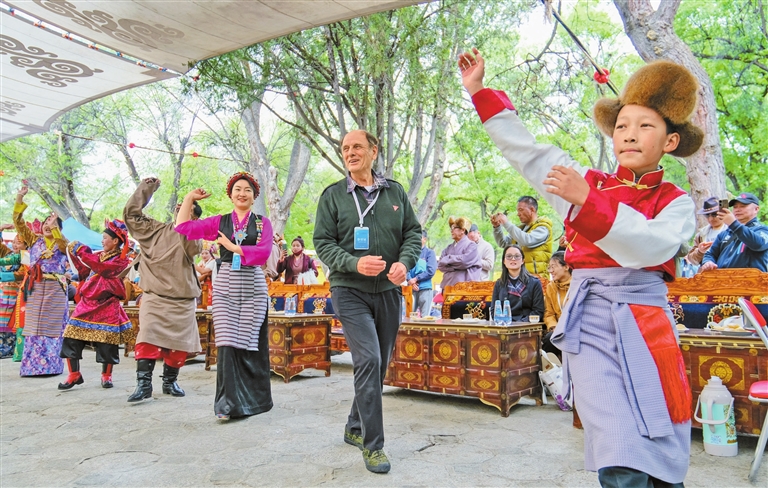 GUESTS from home and abroad gathered in Beijing on Tuesday at a forum on Tibet's development, and hailed China's efforts in the conservation and development of the Tibetan traditional culture.
The one-day forum, hosted by the State Council Information Office and the People's Government of the Tibet Autonomous Region, gathered 150 officials, experts in various fields, and representatives of enterprises and media organizations from home and abroad.
Prior to the forum, they were also invited to tour Lhasa and Nyingchi in Tibet, visiting places including villages, schools and communities.
"There are different approaches to human rights protection. Cultural protection is also an important part of human rights protection and China has done a lot to respect and protect the cultural heritage of Tibetan people," said Alexander Birle, chief representative of Hanns Seidel Stiftung in China.
Since 2006, the Central Government has spent more than 200 million yuan (US$28.35 million) on the protection of intangible cultural heritage in Tibet, according to the China Tibetology Research Center (CTRC).
The region now has three items (Gesar, Tibetan opera, and Lum medicinal bathing of Sowa Rigpa) included on the UNESCO Intangible Cultural Heritage List. There are 106 items on the national intangible cultural heritage list with 96 State-level representative bearers, data from the CTRC shows.
The use and study of the Tibetan language is protected by law, and the language has been widely used in fields including justice, health, communications, transportation, finance, science and technology, said Zheng Dui, director-general of the CTRC.
The preservation and inheritance of fine traditional culture are also about facilitating better lives for people of all ethnic groups, according to Zheng.
Zheng's view echoes with Ambassador of the Republic of Fiji to China Manasa R. Tagicakibau, who visited the region recently. "They keep this culture alive by showcasing their culture and tradition to the tourists. They keep the culture traditionally, and they earn some money from it," he said.
Tagicakibau was also impressed by how local people managed to retain their traditional culture, especially their way of living and dressing, while achieving rapid economic development.
The achievements of poverty alleviation in Tibet have also been praised at the forum.
Describing the achievements in Tibet as a feat that "almost nobody in the world could achieve in only a few decades of time," Guibe Guillaume, a French employee of China Petroleum & Chemical Corporation, said he is impressed by the quality infrastructures during his first trip in the region.
"At 5,200 meters high, I could get my emails and chat on my mobile," Guillaume said, adding that roads are modern, safe, and comfortable to drive on.
Maria Gustava, Mozambique's ambassador to China, said that the practical experience of China in poverty alleviation and rural development in Tibet proved that effective and holistic planning is needed to realize poverty reduction.
China's success in alleviating rural poverty through leveraging technology-led farming methods constitutes a source of inspiration and valuable guidance for developing countries like Mozambique in their efforts to fight against poverty and promote sustainable development, Gustava said.
Tibet had shaken off absolute poverty by the end of 2019. The regional GDP reached 213.3 billion yuan in 2022, representing a giant leap from the 1959 figure of a mere 174 million yuan, according to official data. (Xinhua)