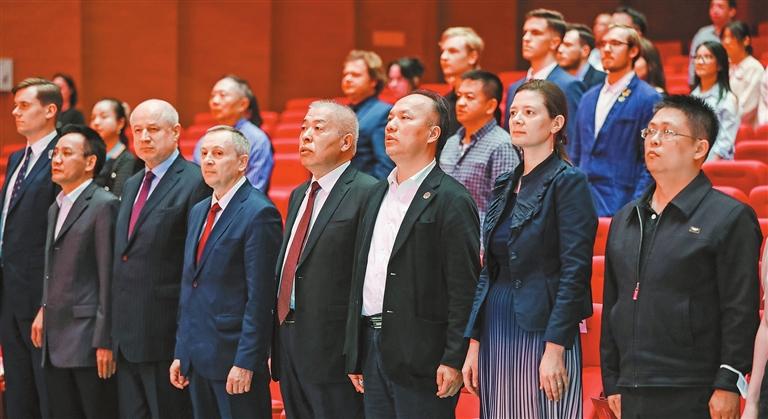 SHENZHEN MSU-BIT University (SMBU) held a ceremony March 23 at the school hall to celebrate the 10th anniversary of Chinese President Xi Jinping's first state visit to Russia in 2013, during which he made a keynote speech at the Moscow State Institute of International Relations (MSIIR).
The ceremony, witnessed by distinguished guests including Consul General of Russia in Guangzhou Alexandr Chernousov and Cao Shihai, minister counsellor of the Chinese Embassy in Russia, was held both online and offline.
SMBU leadership, including rector Li Hezhang, Party chief and vice rector Zhu Dijian, first vice rector Ivanchenko Sergei, and vice Party chief and secretary for discipline inspection Chen Chaofeng, and representatives of teachers and students attended the offline event.
The ceremony began with the solemn national anthems of China and Russia. Chernousov said in his speech that the two heads of state recently held talks in Moscow and signed two joint statements, emphasizing the importance of improving the quality and efficiency of education, encouraging universities from the two countries to deepen cooperation and exchanges.
Chernousov said SMBU is a cooperative university endorsed by the leaders. It is not only a "cultivator" of high-quality talents, but also an important platform for promoting multifaceted collaboration between the two countries.
Cao sent a video message saying that 10 years ago, during a speech at MSIIR, President Xi proposed for the first time the concept of building a community with a shared future for humankind, providing a Chinese solution to unprecedented challenges in the world.
Cao said SMBU has signed an agreement of intent with MSIIR to carry out extensive cooperation in scientific research, joint education, and the commercialization of scientific research. The strong alliance between the two universities has continuously yielded fruitful results, injecting new impetus into cultural exchanges between China and Russia.
Cao hoped that SMBU students could study hard, reach out to their Russian peers, build friendships, and make their contributions to deepening the comprehensive strategic partnership between the two countries.
Igor Pozniakov, first secretary of the Russian Embassy in China, said via a video link that education exchanges and cooperation between China and Russia have become increasingly close in recent years. Chinese and Russian universities have carried out various forms of cooperation and achieved fruitful results.
Anatoly V. Torkunov, MSIIR rector, also delivered a speech via a video link. He said the agreement of intent signed between the two universities aims to promote the scientific, educational, and cultural exchanges between them, enabling them to carry out joint research projects.
Torkunov hoped that the two universities can integrate high-quality educational resources and carry out broader exchanges according to the agreement, cultivating the talents needed in both countries.
Demidov Yevgeny, a commissioner at the Consulate General of Russia in Guangzhou, had attended President Xi's speech at MSIIR then as a representative of graduates from the university.
According to Yevgeny, President Xi's speech gets China heard by the world, and let the world have a better understanding of China and its contribution to the international community. He believed that the cooperation agreement reached between the two universities concerning science education will benefit both parties greatly.
Zhang Zhiwei, a student representative from SMBU's Faculty of Philology, shared with the guests her experience of introducing traditional Chinese festivals to Russian teachers.
Zhang believed it is the responsibility and mission of every Russian language major at the university to let the voice of China be heard and tell Chinese stories well. She called on her schoolmates to actively engage in cultural and academic exchanges between the two countries.
In his speech, Rector Li Hezhang thanked the guests for attending the ceremony, and the leaders and colleagues who have supported SMBU all along.
Li said Sino-Russian cooperation in higher education has steadily advanced over the past decade under the strategic guidance of President Xi and Russian President Vladimir Putin. More than 800 universities and educational institutions from the two countries have signed over 3,000 cooperation agreements, forming a most extensive bilateral university cooperation network in the world.
Standing at a new starting point, SMBU will work hard and seize the opportunities of further deepening exchanges and cooperation with Russian peers, strive to cultivate high-quality innovative talents, and build world-class joint research centers, Li said.
After the ceremony, Professor Kirill Barsky, director of the Department of Diplomacy at MSIIR, and Kuang Zengjun, a professor at the Wuhan University China Institute of Boundary and Ocean Studies who acquired his Ph.D. degree in law from Lomonosov Moscow State University, delivered exciting lectures on international relations and received warm applause from teachers and students.