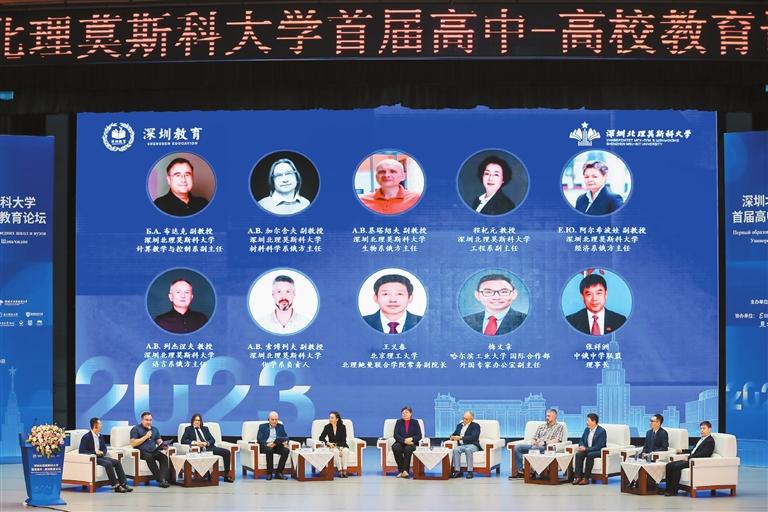 THE Shenzhen MSU-BIT University (SMBU) held the first high school-university education forum from April 21 to 24. During the four days, educators gathered together, focusing on the cultivation of top innovative talents and the high-quality development of education. The forum was jointly organized by SMBU and the Shenzhen Municipal Education Bureau.
A ceremony was held at the auditorium of the SMBU's campus in Longgang District on April 22 to officially kick off the forum, with over 200 participants including Zhao Li, deputy director of the Shenzhen Municipal Education Bureau, Shi Ningzhong, former president of Northeast Normal University, Stepan Kalmykov, chairman of the Board of Directors of SMBU, Li Hezhang, rector of SMBU, Ivanchenko Sergei, vice rector of SMBU, and Chen Chaofeng, deputy Party Secretary of SMBU, university experts, and leaders from key senior high schools across the country. Zhu Dijian, vice rector of SMBU, presided over the forum.
Zhao welcomed experts, scholars and educators participating in the forum. He said that the outstanding results achieved by SMBU are inseparable from talented students cultivated by high schools, which has jointly promoted the development of Shenzhen's education. The Shenzhen Municipal Education Bureau is willing to support the development of SMBU as always, and hoped that the forum will promote cooperation, explore the construction of a bridging mechanism between higher education and basic education, create a collaborative training mechanism, and explore a new path for educational development, according to Zhao.
Kalmykov introduced to guests that both the Russian Academy of Sciences and Moscow State University (MSU) have a long tradition of establishing close cooperation with high schools, including participation in the compilation of textbooks, special training and information exchange for high school teachers and students among other cooperation items, which is of great significance for stimulating students' interest in science and academia and cultivating talents for the country.
Li delivered a keynote speech entitled "Exploration and Practice of Talent Training in Sino-Russian Cooperative University" where he introduced SMBU's practices on school-running and shared the experience of high-quality talent training, the building of the teaching faculty team, and the talent training system. Li also thanked the high schools for providing high-quality students for SMBU and hoped to take this forum as an opportunity to better promote communication between educators and promote cooperation and exchanges.
During the forum, the appointment ceremony of the chief expert of the SMBU Sino-Russian Education Comparative Research Center was held where Li issued a letter of appointment to Shi. After the appointment ceremony, Shi delivered a speech featuring high school mathematics for university education. He made suggestions on the learning methods and examination methods of high school education, and called for strengthening interdisciplinary integration.
Shao Aiguo, president of Shenzhen Senior High School Group, shared the thought and practice of future-oriented innovative talent training. He said that innovation is Shenzhen's DNA, and educators and administrators of basic education schools should fully inherit and carry forward this tradition to form a joint force, to teach according to students' aptitude, to cultivate students' curiosity, and to form a strong internal drive for students.
Huang Jianwei, associate vice president of The Chinese University of Hong Kong, Shenzhen (CUHK-Shenzhen), recommended cultivating students' cross-cultural communication skills by optimizing the teaching curriculum and building an international teaching environment and living atmosphere. He hoped that SMBU and CUHK-Shenzhen can strengthen communication and carry out more academic exchanges and student activities.
Dong Yuhua, president of Haian Senior School of Jiangsu Province, suggested that there is no fixed cultivation model for top innovative talents, and everything should be oriented to the fullest development of people. Zhang Qinyu, vice president of Harbin Institute of Technology, Shenzhen, hoped to take this forum as an opportunity to explore the talent training model that covers middle schools, universities, and enterprises with educators across the country, and carry out school-enterprise cooperation with more leading enterprises in Shenzhen's emerging industries.
Alexander Gaifullin, deputy rector of the Affiliated High School of MSU, pointed out in his speech that in order to strengthen the connection between university education, high school education should pay attention to students' career development planning, provide personalized guidance, cultivate their scientific research and academic ability, and provide competitiveness for students to continue their studies.
Kirill Simonov, rector of the Scientific Education Center Affiliated to MSU, said via video link that students from urban and rural areas are of the same important resources to universities and called on universities to take social responsibility to help students living in less developed areas, provide them with more scientific and research opportunities, and offer talented students an opportunity to study at universities.
Long Teng, president of Beijing Institute of Technology, said via video link that he looks forward to working with middle schools to build an innovative talent cultivation model and achieve win-win cooperation results.
Du Hui, Party secretary of Changsha Changjun High School, said that high-quality education resources of universities can bring students a higher platform and a broader vision, strengthen students' practical ability, and combine the all-round culture education in middle schools to establish students' firm beliefs, help cultivate students' core literacy, and contribute to the cultivation of innovative talents.
Mikhail Kirpichnikov, director of the Faculty of Biology of MSU, said that secondary education has a significant impact on enlightening students' interest and shaping their character and emphasized the consistency of basic education and higher education.
Wang Xu, president of Changsha Yali High School, said that at present, education is undergoing profound changes, which requires top teaching teams and first-class teaching facilities to help students develop comprehensively and individually, and provide a steady talent support for the country to win international competition.
Ivanchenko Sergei was the last to deliver a speech. He summarized several key points highlighted at the forum and emphasized the importance of educational articulation and the importance of industry-university-research cooperation. Then, he took the experience of Russian engineer training as an example to elaborate on how high schools, universities and enterprises should carry out effective interaction, pool resources from all sides, improve students' scientific research and practical abilities.
Another three round-table forums were held during the forum period, where experts and scholars exchanged views and shared experiences on topics such as promoting the effective connection between higher education and basic education, building a long-term mechanism for the selection and training of international talents, promoting the deep integration of industry, education and research, and enhancing international influence and competitiveness.