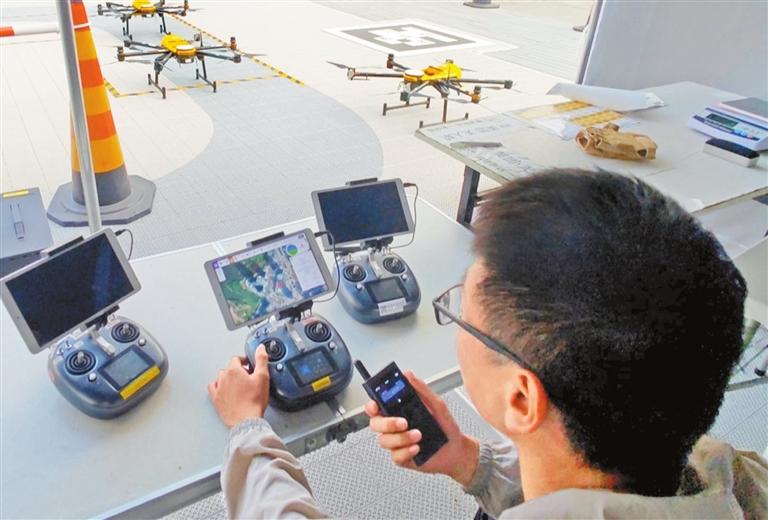 Han Ximin
1824295095@qq.com
IN Shenzhen, home to a mature drone supply chain, its drone delivery service, for some residents and vendors, is no longer a novelty; it's part of their daily routine.
From iced tea and meals to daily necessities, orders can be completed within 30 minutes by drones that navigate the city's towering skyscrapers, according to a report published in MIT Technology Review on Tuesday.
A reporter personally tested the drone service by ordering iced tea over the phone through the Meituan app. The app noted that it would arrive via drone delivery at 2:03 p.m., and it arrived exactly as scheduled.
Unlike its American counterparts like Amazon and Wing, which primarily focus on less dense areas, Meituan opted to offer drone delivery in what is potentially the most challenging environment: dense urban environs, the report said.
"It's an approach that makes sense in China, where most people live in high-rise apartment buildings in populous cities, and many of them order food for delivery on a daily basis," the report said.
In 2022, Meituan made 120,000 drone deliveries in Shenzhen.
Meituan has a centralized control room in Shenzhen, where staffers can take control of drones in case of emergencies. The company launches its drones in Shenzhen from five delivery hubs, some of which are on the rooftops of gigantic shopping malls, linking 18 communities and office buildings with 11 routes.
The workflow is a mix of human and automated labor. After the drone delivery system gets an order, a runner goes to the participating restaurants or other product sources, all located a few flights down in the shopping mall, picks up the order and takes it to the launchpad. The runner packs the food and drinks in a standardized cardboard box, and hands it off to a worker who manages the drones.
There are now over 100 drones that can be deployed for deliveries in the city. On average, one operator is watching 10 drones at the same time.
Mao Yinian, director of drone delivery services at Meituan, told MIT Technology Review that the drones' movements were controlled by a central algorithm, and the routes were predetermined.
"You can know in advance, at every precise second, where each drone will be and how fast its speed is, so the customers can expect the arrival time with a deviation of two seconds, instead of three minutes or even 10 minutes," he said.
The businesses that MIT Technology Review interviewed preferred drone delivery as it was "predictable, convenient, faster and sustainable," as the cardboard packages can be recycled.