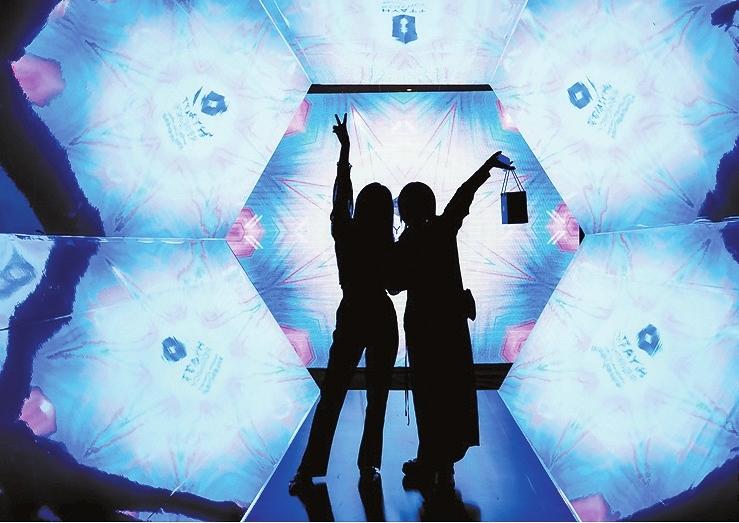 Debra Li
debra_lidan@163.com
WHILE Shenzheners have a lot of things they can take pride in, one of them is the state-of-art international airport in Bao'an District, which was recently listed for the third time among the World's Top 10 Most Beautiful Airports. The airport also won the Skytrax World's Most Improved Airport this year.
Not by coincidence, Hyatt Regency Shenzhen Airport, a five-star hotel conjoined to the airport's Terminal 3 building, ranked second in this year's list of the World's Best Airport Hotels according to a Skytrax survey, which rated the candidates by their location's convenience, cleanness, facilities, services, food and value for money.
A flight-themed dinner and gala, curated by the hotel last Friday to mark its fifth anniversary, gave curious guests a glimpse of why it wins accolades from clients and industry insiders.
More than 100 guests were invited to the occasion. A leisurely 10-minute walk from the airport station on Metro Line 11 took them to the hotel lobby, where a corridor designed as a giant kaleidoscope stood as a centerpiece inviting guests to pose for photos. Behind the corridor lit up by a dazzling lighting design was a reception counter where guests "checked in" for the gala experience. The invitation was, of course, designed as a boarding pass.
In the cocktail party area, colorful photos and graphics adorned the walls, briefing people on the milestones the hotel has achieved in the past five years.
During the gala, an artist gave a live performance of sand painting; a pop singer crooned familiar Chinese and English songs with her band; and lucky guests were treated with gifts in the form of free air tickets and free hotel stays through lucky draws.
If you are puzzled as to how the hotel has grown and prospered during the past three years when air travel and catering businesses were hard-hit by the COVID pandemic, the secret, perhaps, lies in the fantastic food the hotel could offer. The tables were elegantly set, with shiny silvery tableware, delicate porcelain plates and fresh flowers; but what wowed the guests were the top-quality dishes that were nutritious, tasty and Instagrammable. Chopped lobster and caviar with mushrooms were presented in the form of a mini cake as an appetizer; there was sea cucumber and fish maw brewed in a coconut chicken soup; freshly sauteed cod; tender wagyu beef; and a raspberry mousse cake served with vanilla and mango — perfect and classic.