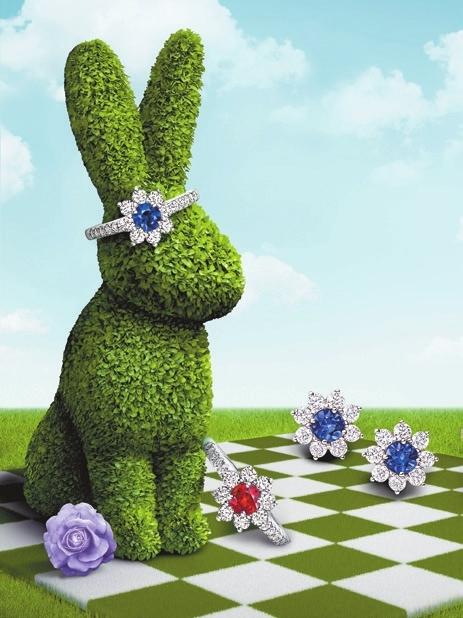 Yang Mei
yangmei_szdaily@163.com
FROM now through June 11, local customers can visit Harry Winston's salon at MixC Shenzhen Bay to find out about brilliant bejeweled blooms within the "Winston Garden."
The Winston Garden, in full bloom with lilies, sunflowers, forget-me-nots and lotus blossoms, exudes a delicate and timeless beauty.
The Sunflower gems are timeless pieces first created by the luxury brand's designers in the 1950s, reflecting their appreciation for the beauty of nature. Recalling the perfect symmetry and fiery petals of its namesake bloom, the iconic design features a frame of accent diamonds radiating from a round brilliant center stone.
Led by the late Maurice Galli, Winston designers reimagined nature's most captivating wildflower through the enchanting Forget-Me-Not Collection, featuring an exquisite medley of round brilliant, pear-shaped and marquise diamonds. This year, the Winston Garden has included the Forget-Me-Not Diamond Necklace and the Forget-Me-Not Sapphire and Diamond Rings.
The Lily Cluster presents a charming bouquet of everyday jewels, from pendants, earrings, bracelets, and rings, to new and unexpected pieces, such as diamond barrettes. Set in platinum, yellow or rose gold, intricate interlacing diamonds capture the graceful movements of petals.
Also presented are special selections from the Winston Gates, Winston Candy, Winston Kaleidoscope, and Majestic Escapes collections.
Harry Winston is a luxury watchmaker and diamond-oriented jewelry house operating as part of Swatch Group since 2013. Based in New York City since its founding, the company grew to be a huge name in the jewelry industry. Over the years, the jeweler acquired various famous gemstones, including some of the largest diamonds in history.