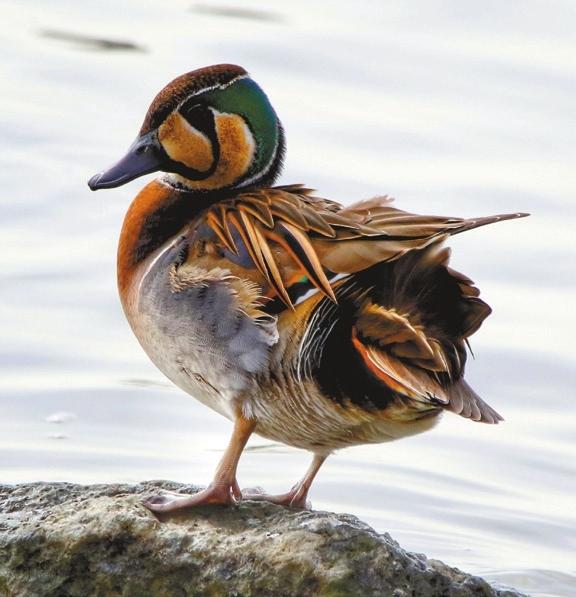 THE Baikal teal (Sibirionetta formosa) is a small duck measuring 37 centimeters long. The males have a distinctive green head with a white crescent on the face and a chestnut-colored breast. The females are more muted in color, with a brownish-gray head and a spotted breast. Both males and females have a grayish body and wings.
Baikal teals breed in the northern parts of Mongolia, China, and Russia, and they typically nest in grassy areas near freshwater ponds and lakes. They lay around seven eggs per clutch, which hatch after about three weeks. The ducklings can swim and forage for food soon after hatching.
These fascinating ducks are omnivores, which means they eat both plants and animals. They feed on a variety of aquatic plants, as well as insects, crustaceans and small fish. They are also known to eat snails and seeds.
A migratory bird, they travel long distances yearly to find food and suitable breeding grounds. Last year, we had the pleasure of having them arrive on the shores of Shenzhen Bay for a couple of weeks.
The Baikal teal is currently considered a species of least concern by the International Union for Conservation of Nature (IUCN), which means it is not endangered. However, their numbers have declined in some areas due to habitat loss and hunting. We must continue to learn about and appreciate the Baikal teal and take steps to ensure that it can thrive for generations to come.