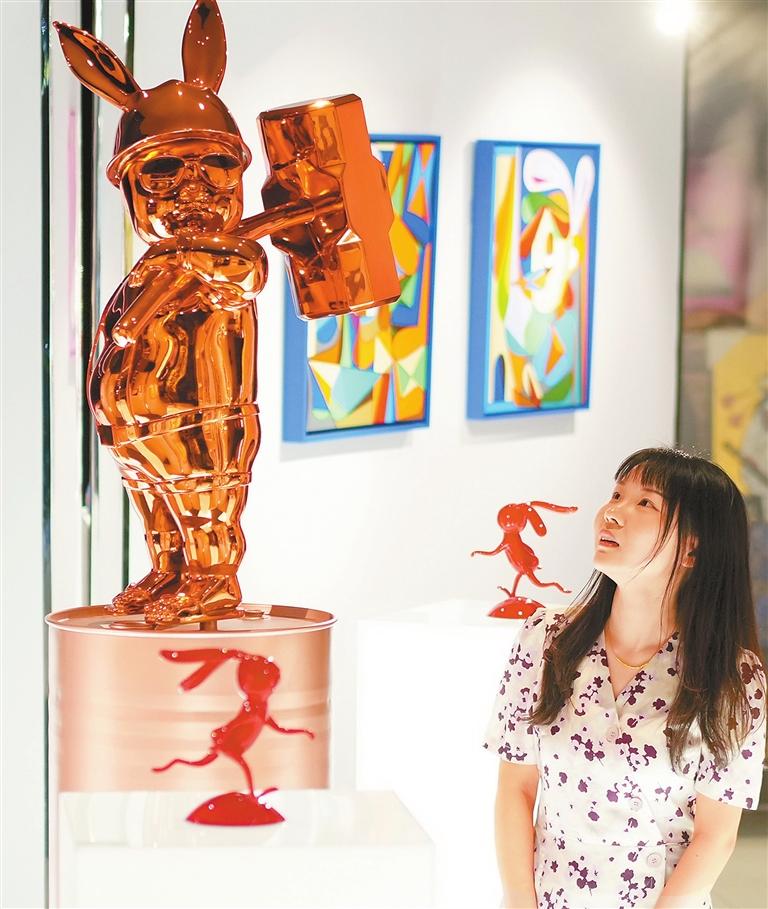 Han Ximin
1824295095@qq.com
IN Shenzhen, there are a number of State-level large-scale exhibitions, such as the China Hi-Tech Fair and the China (Shenzhen) International Cultural Industries Fair (ICIF). These exhibitions and enterprises support each other for mutual growth. As a benchmark cultural industry fair, ICIF has incubated many high-quality enterprises and become an important accelerator for the development of the city's cultural industry.
At this year's fair, which covers 120,000 square meters in total exhibition area, over 100,000 cultural products will be displayed and 4,000-plus cultural investment and financing projects exhibited and traded, with about 3,600 government delegations, and cultural institutions and enterprises set to participate.
Exhibitors'
anticipation
Shenzhen Absen Optoelectronics Co. Ltd. will display its latest LED products to show the power of culture and tech combined.
Chen Yang, vice president of Absen, said large visitor flows and various exhibitors from different sectors will be a good chance to advertise the company.
It will be the fifth time for Shenzhen Damoda Intelligent Control Technology Co. Ltd. to participate in the fair.
"We will organize a drone performance for the fair and introduce more of our products to the exhibitors," Qin Haiqun, manager of the company, said.
Shenzhen-based Silk Road Vision Technology Co. Ltd., established in 2002, is among the first batch of companies in China that engaged in applications of visual technologies.
In cooperation with Byte Dance, it will use the VR technology to help visitors explore the discovery of ancient books at this year's fair.
"Thanks to the ICIF platform and the development of Shenzhen's cultural industry, our company realized a revenue of 200 million yuan (US$28.1 million) in 2013 and 1 billion yuan in 2020, with an annual growth of 20%-30%," Xiang Landi, chairman assistant of the company, said.
Statistics showed the added value of Shenzhen's cultural industry totaled 260 billion yuan in 2022, accounting for 8% of the city's GDP. The number of cultural enterprises in Shenzhen reached 100,000 and the cultural industry has maintained an average annual growth rate of 20%.
At this year's fair, the organizer will use big data and cloud computing technologies to match exhibitors with online and offline buyers, and cooperate with leading platforms such as TikTok, Tmall and Taobao to stimulate online cultural consumption through livestreaming and online marketing.
This year's fair is expected to see deals worth over 3 billion yuan inked, 150 million yuan more than the number of the 18th ICIF.
Subvenues
While ICIFs only last for a few days at main venues, subvenues for the fair remain open year-round. Setting up subvenues is regarded as a great innovation in the history of ICIF and the development of Shenzhen's cultural industry.
The first ICIF had only one subvenue. The number rises to 64 this year, most of them being cultural industry parks and enterprises that have grown with the fair.
Dafen Oil Painting Village was ICIF's first subvenue when the fair was incepted in 2004.
"There will be no today's Dafen Oil Painting Village without ICIF, which has greatly improved the local and global influence of the village," Peng Gang, director of the Longgang Digital Creation Industry Corridor Management Center, said.
OCT-LOFT has been a subvenue for 12 years. Over the course of 17 years, OCT-LOFT had grown from an old factory area into an influential creative industry park with nearly 300 institutions having settled in, and a model of an industrial park for creative design in China.
This year, the fair's subvenues will be more digital and creative as the development of digital economy has become a priority of the city.
For example, the Global Digital Corp. subvenue in Nanshan District will focus on the theme of artificial intelligence to promote cross-boundary cooperation in AI, metaverse and digital movies.
The F518 subvenue in Bao'an District will focus on digital creation and its applications in cultural products commercialization, distribution and consumption.
This year, subvenues specializing in gold, jewelry, paintings and curios are encouraged to organize promotions, and government delegations from other provinces and regions are encouraged to host cultural and tourism promotions at the subvenues.