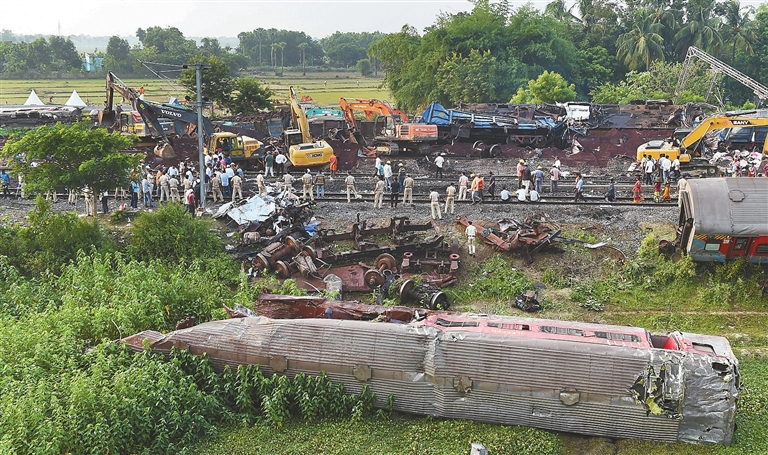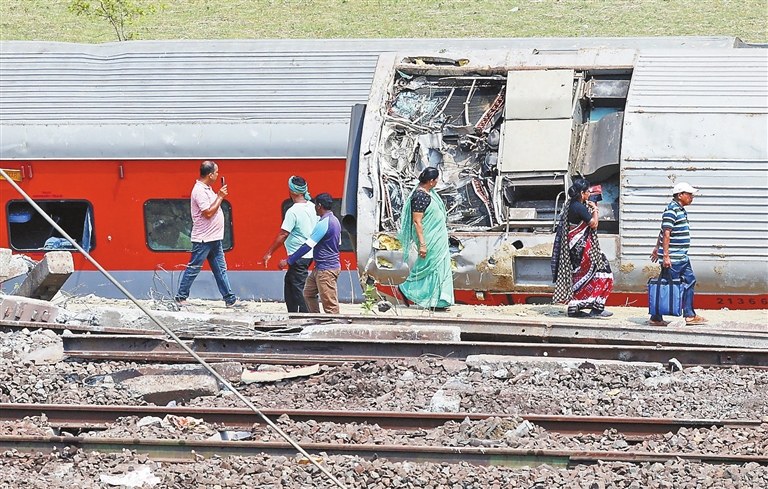 MANTO KUMAR was traveling on the Coromandel Express with six of his friends when his train compartment began to violently shake like in an earthquake.
"Suddenly something crashed into us. Some of the coaches rolled to the other side," the 32-year-old restaurant worker said from a hospital in India's eastern Odisha state.
"I got up and wrapped my shirt around my bleeding head. Then, I started looking for my friends. Everyone was shouting 'save us… save us.'"
One of Kumar's friends lost both his legs in the crash and was rushed to hospital. He did not survive his injuries.
Their story is just one of hundreds unfolding across the country as India deals with one of the worst train crashes it has ever seen.
At least 288 people were killed and hundreds were injured in the horrific three-train collision, officials said Saturday, the worst in more than 20 years.
India's Railway Minister Ashwini Vaishnaw said Sunday the cause and people responsible for the train crash had been identified, pointing to an electronic signal system error.
Indian Prime Minister Narendra Modi held a meeting in New Delhi on Saturday morning to address the accident. Later on, he traveled to Balasore and visited a hospital where the injured were staying.
Modi said those responsible for the accident will be "severely punished."
"It's a serious incident for the government. Instructions have been issued to probe the incident from every angle. Those found guilty will be severely punished," he said.
The federal government has assigned a probe into the crash by the country's ace investigating agency, the Central Bureau of Investigation (CBI).
The authorities also announced compensations of about US$1,200 each to families who have lost loved ones.
A horrific accident
The accident took place Friday evening near Bahanaga Bazar station in Balasore district, about 171 kilometers northeast of Bhubaneswar, the capital city of Odisha state.
According to senior railway officials, the Coromandel Express, a high-speed train that was traveling from Kolkata to Chennai, was diverted onto a loop line and slammed into a heavy goods train idled at Bahanaga Bazar railway station.
Its carriages derailed onto the opposite track, where they were hit by an oncoming high-speed train, the Howrah Express, which was traveling from Bangalore.
Many of the travelers were migrant workers, en route to Chennai, an urban metropolis in the southernmost Indian state of Tamil Nadu, where jobs are more freely available.
Survivors recalled seeing crowded coaches, packed with travelers, when it began flipping and rolling from the crash.
Officials said the impact of the collision was so severe that compartments of the two passenger trains climbed atop each other causing deaths and injuries. A large number of passengers were also trapped inside the mangled carriages.
"Everything was shaking and we could feel the coach toppling," said Sanjay Mukhia, a daily wage worker traveling to Chennai on the Coromandel Express who was injured in the collision.
Rescue efforts
Rescue teams, health workers, police, and fire service and disaster response personnel rushed to the scene immediately. Among them were nine teams of India's National Disaster Response Force (NDRF).
The Indian Air Force sent Mi-17 helicopters to aid the rescue efforts, which continued until late Saturday afternoon.
A video showed rescuers carrying bodies covered in white bedsheets on stretchers and placing them along the tracks.
Officials said the rescue work at the site has ended and cleanup has started, with cranes used to move the train carriages and clear the rail tracks.
The personnel worked throughout the night to pull survivors from the derailed coaches, using gas cutters and other tools to cut through the compartments.
More than 200 ambulances were sent to the spot in Balasore to transport the injured to hospitals. Local bus companies also joined the rescue fleet.
State authorities in Odisha recruited additional teams of doctors and health workers to aid the hospitals treating the injured.
According to Dr. Jayant Panda from the SCB Medical College based in Cuttack, hundreds of people have donated blood for the injured.
At local hospitals, doctors were working around the clock to treat injured patients.
In Balasore, a 15-year-old boy was among hundreds of survivors that arrived at the Government Medical College for treatment.
"People who were alive were shouting for help, praying to god," he said, adding the train was so full, there was barely any room to stand. "Rescue teams were doing their best to save people. A lot of people were crying," he said.
Media reports said over 3,500 people were travelling in the two ill-fated passenger trains.
All Sunday, workers toiled in the scorching heat to clear the wreckage, as rail cars remained rolled in a ditch and passengers' belongings were seen strewn across the ground. Suitcases, bags, shoes and personal items lined the tracks, alongside wrought metal and charred coaches.
By late evening, the first train resumed movement at the impacted section.
Vaishnaw, the railways minister, and others waved as the train rode down the tracks.
"All the teams did a great job. But there is a lot of pain in our mind and hearts," Vaishnaw said. "We will find out the root cause (of this incident)."
Unsafe tracks
Anger is growing in India, now the world's most populous nation, renewing calls for authorities to confront safety issues in a railway system that transports more than 13 million passengers every day.
India's extensive rail network is one of the largest in the world and built more than 160 years ago under British colonial rule.
Today, it runs about 11,000 trains every day over 67,000 miles of tracks.
For Prime Minister Modi, who swept to power in 2014 on a promise of future greatness, upgrading the country's transport system has been a key priority in his push to create a US$5 trillion economy by 2025.
In the fiscal year that started in April, Modi's government raised capital spending on airports, road and highway construction and other infrastructure projects to US$122 billion, or 1.7% of India's GDP. But years of neglect has left many tracks to deteriorate.
India's deadliest railway accident took place in the Bihar state in 1981, killing at least 800 people when an overcrowded passenger train was blown off the track during a cyclone and plummeted into a river.
(Xinhua-Agencies)