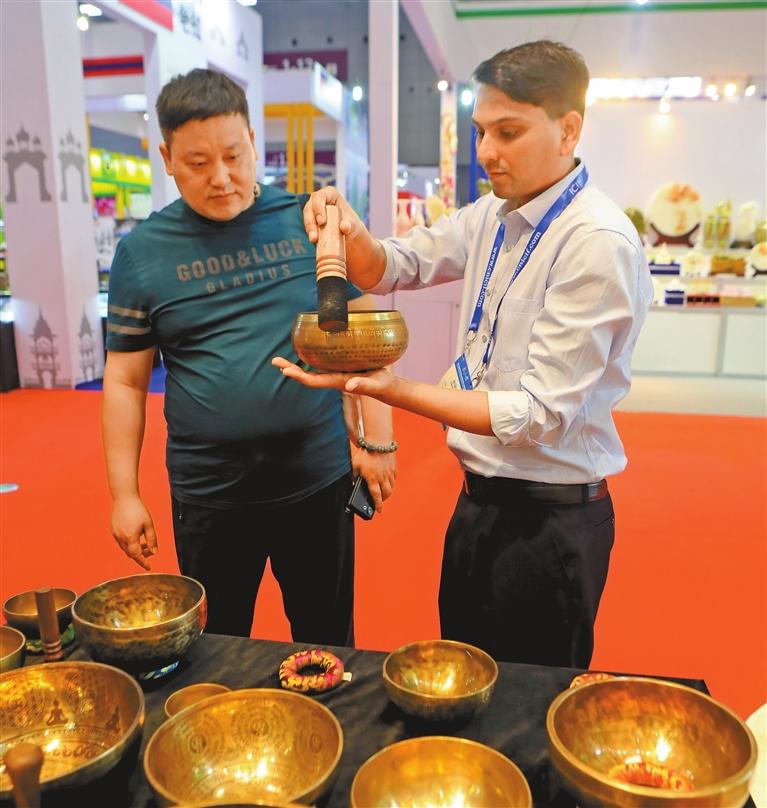 Zhang Yu
JeniZhang13@163.com
THE Shenzhen World Exhibition & Convention Center in Bao'an District is bursting with cultural vibes, with tens of thousands of exhibitors and visitors coming from around the world to attend the 19th China (Shenzhen) International Cultural Industries Fair (ICIF).
The five-day event, featuring mainly offline events, officially opened at the center yesterday, its main venue.
Dubbed as the No. 1 cultural industries fair in China, the ICIF is not only an annual grand gathering that connects and engages with global cultural and creative resources, but also provides market outlets for cultural goods and services.
"I feel a lot of energy for creativity [at the fair]. I appreciate very much what it wants to show us," Anne-Marie Sargueil, president of L'Institut français du design (IFD), told Shenzhen Daily yesterday.
Sargueil believes that both China and France enjoy a long history with valuable cultural heritage and unlimited creativity. She hopes to strengthen exchanges and cooperation in the field of cultural industries between the two countries, and jointly explore the value of design with China's design community through ICIF.
Sargueil said she is looking forward to initiating a Sino-French design award in Shenzhen next year, as 2024 will mark the 60th anniversary of the establishment of diplomatic relations between France and China.
"If you say to [French] designers that you're going to Shenzhen, they will say you're very lucky," Sargueil said, adding that Shenzhen's reputation as a city of design has made it well known in France's design community.
Yun Jun-ho, a South Korean pottery artist, is attending the ICIF for the first time, joining the South Korean delegation organized by the Korea Traditional Culture Industry Research Institute.
"I didn't expect the fair to be in such a large scale with so many visitors," said Yun, who is presenting his handmade pottery works at the fair. He said ICIF showcases diversity of cultures and he looks forward to seeking development opportunities in China through the fair.
For Iranian exhibitor Hamid Olyaei and Imran Shair who is from Indian-controlled Kashmir, ICIF is a must-go place full of business opportunities.
At the Cultural & Tourism Consumption Hall and Belt & Road International Pavilion at Hall 13, Olyaei's booth showcases diverse Iranian products and food, while Shair's booth displays various handmade cashmere and wool scarves, silk carpets and tapestries with Kashmiri styles.
"I've been coming to this fair since 2016. It always connects us with some good buyers," Shair said.
During this year's ICIF, which has 64 subvenues across the city, forums, conferences, contract signings and creative contests will be also held.
Since its founding in 2004, ICIF has seen expansions in its exhibition scale, visitor number and degree of internationalization. It has become an important platform to promote the development and opening up of the Chinese cultural industries.