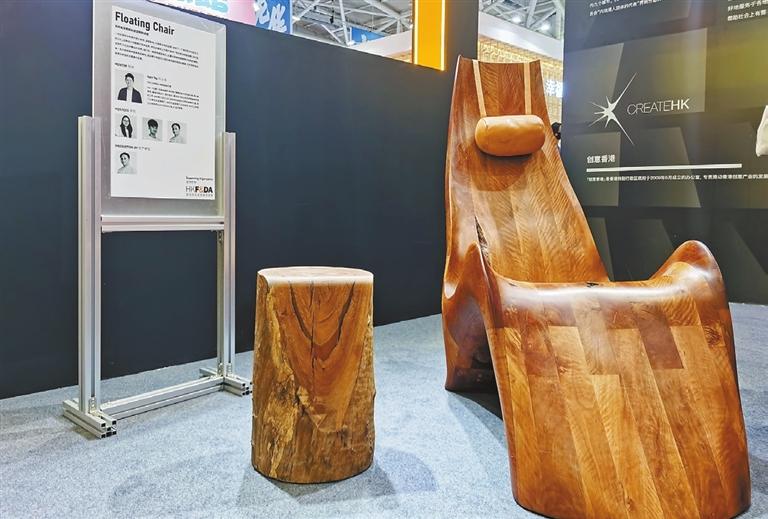 Chen Siqi, Yu Meixi
vankochensq@163.com
A WOODEN ergonomic chair received praises from visitors for their comfortable experience at the Hong Kong Creative & Design Pavilion at the Guangdong-Hong Kong-Macao Greater Bay Area Hall (Hall 11) of the 19th China (Shenzhen) International Cultural Industries Fair (ICIF) in the Shenzhen World Exhibition & Convention Center in Bao'an District yesterday.
"The chair was well designed to give the users a comfortable experience. Good designs provide people a better life," Kent Wong, a Hong Kong designer and the superintendent of the Hong Kong Creative & Design Pavilion, said. "The chair was made from a fallen tree when a typhoon hit Hong Kong. It also conveys the design concept of sustainable development."
A total of 11 furniture designs from different Hong Kong design teams were on display at the pavilion. "The furniture was manufactured in the Guangdong-Hong Kong-Macao Greater Bay Area, including Dongguan and Jiangmen," according to Wong.
An elephant statue with a long but rolled-up trunk and a pair of giant heart-shaped ears standing amid the pavilion caught visitors' attention as well. Wong cooperated with Shenzhen Project Care Foundation to launch the intellectual property (IP) named Fly to Love, which aims to convey a theory of love. The flying elephant conveys love and happiness through its rolled trunk, Wong explained the theory behind his design.
Aside from the furniture designs and the flying elephant IP, the 180-square-meter pavilion also showcases a textbook for creative design and broadcasts videos of Hong Kong's creative cultural products designed after the intellectual properties of the National Museum of China.
The Macao Creative Pavilion is presenting a total of 10 cultural and creative product brands, showcasing a diverse collection of artifacts, toys, jewelry and other captivating items created by local artists.
Among the talented designers at the fair is Sam Kin Hang, founder and designer of Mung Animation. This marks his third attendance at the ICIF; and this year, he unveiled his original creation "Ho Siu Chung," a red-eared turtle born without a shell. The character is also made into bags, toys and clothes and is being presented at the show.
Hang stated, "The fair can gather friends from both the mainland and other places in a short period of time, quickly exposing and promoting products with high qualities and potential. Through this platform, we hope to bring Macao's cultural influence to even more places and share its unique heritage with more audiences."