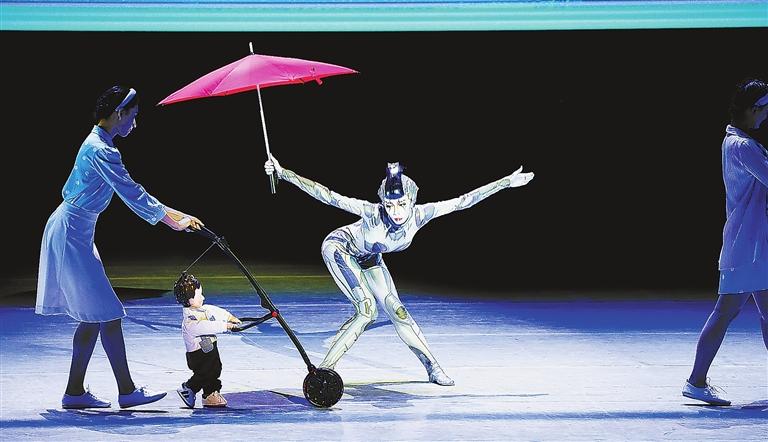 SHENZHEN-MADE dance drama "AI in Love" was staged in the finals of the 13th Lotus Award Competition, one of the highest awards in Chinese dance, at the Shanghai International Dance Center on Tuesday.
The dance is presented by the Publicity Department of the Shenzhen Municipal Committee of the CPC and the Culture, Radio, Television, Tourism and Sports Bureau of Shenzhen Municipality.
It was co-produced by Poly Performing Arts Co. Ltd., Jiangsu Performing Arts Group Co. Ltd., Shenzhen Federation of Literary and Art Circles and the publicity departments of Luohu District Committee of the CPC and Bao'an District Committee of the CPC, and executive-produced by Shenzhen Theater.
Directed by Tong Ruirui, a top director and choreographer of the China National Opera and Dance Drama Theater, "AI in Love" centers on Xiaohai, a boy who loses his mother in an accident. In a state of loneliness, he forms a bond with an artificial intelligence (AI) robot designed to adapt and evolve like a human being. As he becomes more and more attached to his robot "mother," the AI ponders leaving him. This unconventional family story explores the nature of love and the ways that technology isolates and connects us all.
Featuring technological elements such as robots and the naked-eye 3D LED display, the show incorporates street dances, electronic music, futuristic costumes and choreography. As China's first AI-themed dance drama, "AI in Love" focuses on the vigorous development of Shenzhen's AI industry.
Costume designer Yang Donglin said he chose shiny metallic fabrics for the costumes to make the futuristic world look flowing and alien on the stage. Audience members of Tuesday's performance were immersed in the futuristic world and were impressed by the emotion and connection between humans and robots portrayed in the dance.
"We hope robots can be humans' friends, sensing humans' love, and we live harmoniously with them," Tong said. "Shenzhen is a new frontier for China's AI development. This dance work was created in response to this development, and also as an expression of the city's future culture," she added.
"AI in Love" premiered at the Bay Opera of Shenzhen in late March and toured the cities of Foshan, Nanjing, Chongqing, Ganzhou, Taizhou and Zhangjiagang.
A total of eight out of 27 dance works have been shortlisted in the finals of the dance drama category of the 13th Lotus Award Competition. Five more works from Shenzhen have also been shortlisted in the finals' contemporary and modern dance categories.(SD News)