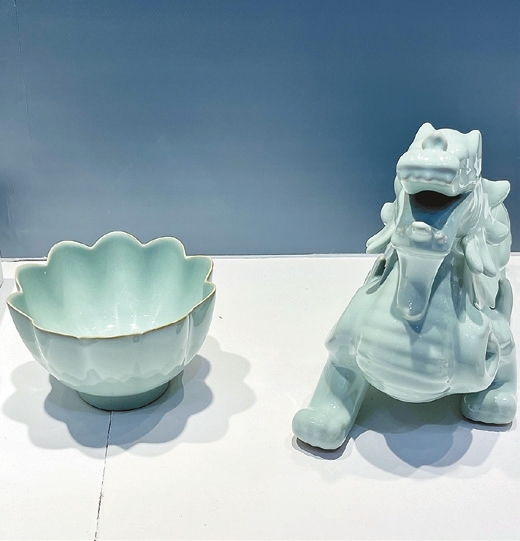 Wang Jingli
wangjingli0715@163.com
PORCELAIN has been widely deemed as a calling card of Chinese culture. A Ru porcelain ware collection on display at Hall 14 of the Shenzhen World Exhibition & Convention Center has attracted the attention of many visitors to the 19th China (Shenzhen) International Cultural Industries Fair (ICIF) on Thursday.
Major pieces of the collection were handmade by Chinese ceramic artist Li Tinghuai. Born in Ruzhou, a city known for its ceramic industry in Henan Province, Li is also a representative inheritor of the national intangible cultural heritage — Ru porcelain. Li's porcelain collection is called Tinghuaiyao. Ru porcelain ranked first among top five kilns in the Song Dynasty (960-1279), as craftsmen integrated philosophies into their firing techniques.
Over 100 Tinghuaiyao pieces are on display at ICIF. While porcelain is regarded as a model of China's traditional aesthetics and a symbol of taste, which is more like an artwork for collection, it is also an instrument used in daily life.
"We brought many Tinghuaiyao tea sets. We use ground agate to give Ru ware exceptional crazing patterns on the surface. It also makes the ware look shinier," a staffer surnamed Chen said.
Chen said Li has kept innovating to create Ru ware of different colors and of practical functions in a bid to attract more customers, especially the younger generation.
"Our porcelain tea sets are now very popular among consumers. We have met many potential buyers," Chen said.
According to Chen, machines are also used along with handicraft skills to make some Tinghuaiyao pieces in order to embrace a wider market. This kind of porcelain products are priced cheaper than those made purely by hands.