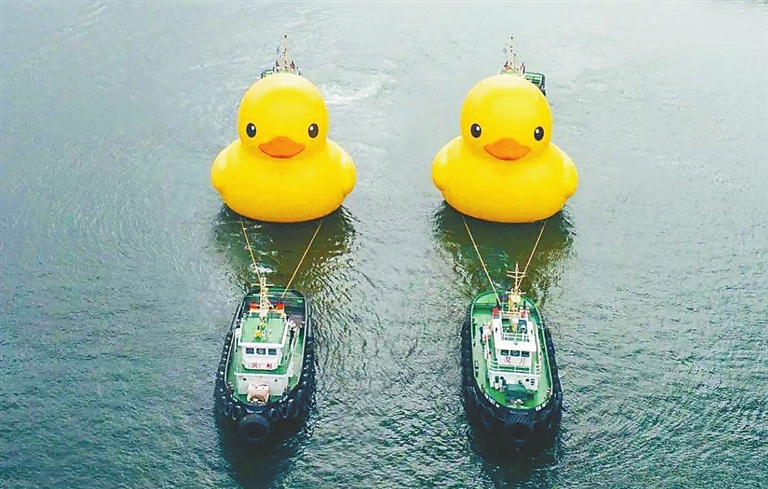 A DECADE since it famously appeared in Victoria Harbor, Dutch artist Florentijn Hofman's "Rubber Duck" sculpture has returned to Hong Kong. And this time it has a friend.
AllRightsReserved, a creative studio that often orchestrates public art displays in the city, announced early June that a pair of Hofman's inflatable ducks will float in Hong Kong's waters for two weeks later this month. The company dubbed the new installation "Double Ducks."
In a test run for the installation, the two outsized bath toys were spotted being tugged by boats in the waters off Tsing Yi, the city's fifth largest island in May. At 18 meters tall, they are slightly larger than the one that made headlines when it was installed in Hong Kong 10 years ago.
In a press release announcing the project, organizers compared the inflatable duo to the symmetrical Chinese characters "xi" (known as "double happiness") and "peng" (friend), which feature two identical components next to one another.
"Double duck is double luck," Hofman said in a statement. "The work emphasizes friendship and getting connected … 'Double Ducks' is about enjoying the moment together!"
Conceived in 2001 before debuting in France six years later, "Rubber Duck" appeared in cities including Osaka, Sydney and Sao Paolo before arriving in Hong Kong in May 2013. Although Hofman's ducks all look alike, he makes a new one for each location.
In the years since first arriving in Hong Kong, "Rubber Duck" has appeared in the waters of cities such as Seoul and Los Angeles. The artwork unexpectedly deflated in Keelung, Taiwan Province, while in Santiago, Chile, it burst after accidentally crashing into a sign.
Hofman is known for producing other large-scale art installations reimagining everyday objects at unexpected scales — not only bath toys, but also toy rabbits, paper boats and a wooden hippo named HippopoThames, which he installed on London's River Thames in 2014.
The "Double Ducks" will return to Victoria Harbor on Saturday. Ahead of the installation, images of the pair have been pasted on the side of the city's trams and at subway stations. (SD-Agencies)