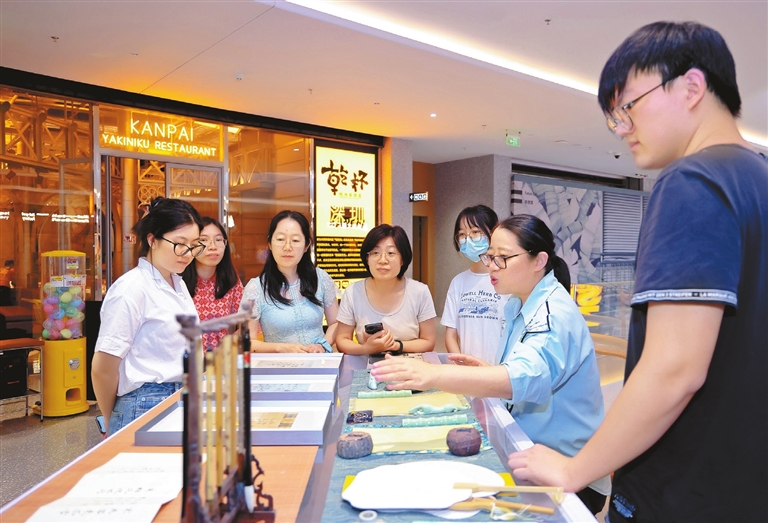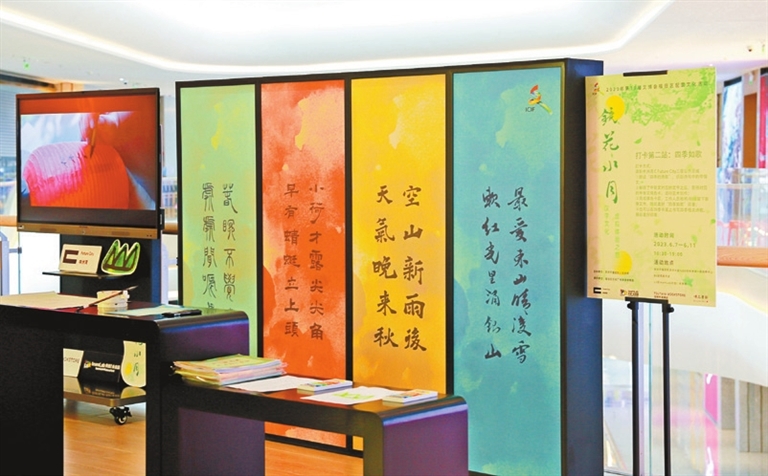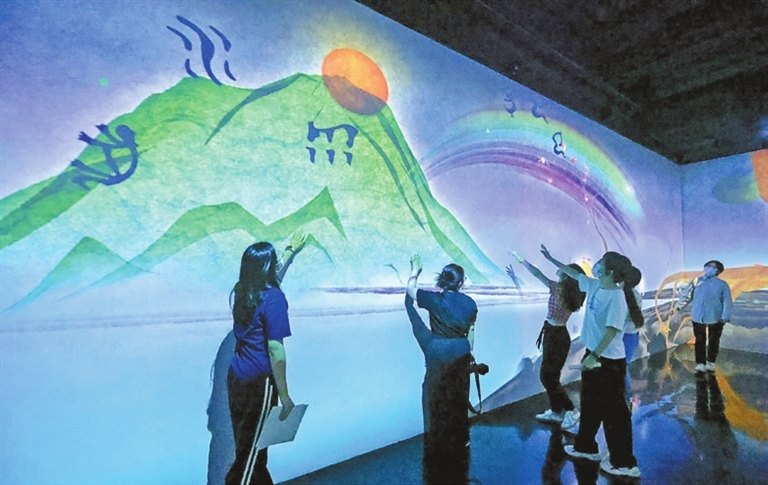 Cao Zhen
caozhen0806@126.com
AN essential part of Chinese culture and identity, Chinese characters have been admired for centuries not only for their aesthetic appeal but also for their cultural and historical significance.
During the 19th China (Shenzhen) International Cultural Industries Fair (ICIF) running from June 7 through Sunday, C Future City in Futian District held Chinese character-themed events in its public area, at Tsutaya Bookstore and at the teamLab exhibition.
A poetry activity invited visitors to appreciate the elegance and magic of some ancient Chinese poems that portray the four seasons with vivid and nuanced words. The event was held in a public space that was remodeled as an ancient Chinese study room with brushes, ink, paper and inkstones. A traditional Chinese screen printed with poems was painted in green, red, yellow and blue to symbolize the four seasons.
Local artist Tang Ping led participants to read poems, write calligraphic works and discuss Chinese character knowledge. Children were invited to guess oracle-bone characters and color them. Through this event, the participants perceived how Chinese characters embody the essence of Chinese culture through their symbolism, form, structure and meaning, making them an irreplaceable and valuable aspect of Chinese cultural heritage.
During the ICIF, visitors enjoyed a fun Chinese character game, "Story of the Time When Gods Were Everywhere," at the teamLab exhibition. In the game, when people touched the ancient Chinese pictographs that represent mountains, trees, birds, etc. that were projected on the wall, images appeared and stories were born. The objects that emerged from the symbols influenced one another and were influenced by the actions of participants.
At Tsutaya Bookstore, readers were invited to write notes to experience the charm of Chinese character writing. Visitors also claimed bookmarks or keyrings with Chinese pictograph patterns.
Through participating in these light-hearted events incorporating traditional practices and high-tech games, visitors attained new understandings of Chinese characters and became inheritors of Chinese character culture.