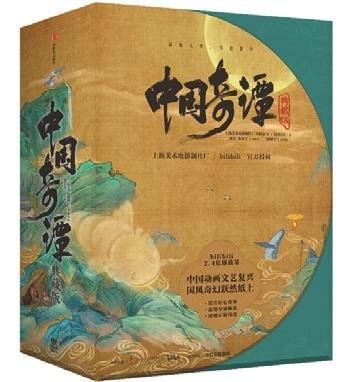 A PICTURE book series of the hit animated work, "Yao — Chinese Folktales," has been launched at the ongoing Shanghai International Film Festival.
The collector's edition for adults and teenagers included all the eight stories presented in the animation, which combines traditional methods like ink-and-water, paper-cutting and stop-motion with updated computer graphics technology.
Chief director of the animation Chen Liaoyu shares in the picture book the stories behind the scenes and his interpretation on the plots.
The eight-episode Chinese fantasy, whose characters involve various monsters inspired by ancient legends, mythology and folklore, tells universal stories about human nature and reflects on homeland nostalgia, past and future, childhood and adulthood, life and society.
For example, the first episode, about a pig monster's workplace challenge, borrows plot settings from the classic novel "Journey to the West" and strongly echoes contemporary young people's career stress as ground-level employees and their struggle to balance parents' expectations for a stable life and a desire for adventure and self-fulfillment.
The animated work has drawn 270 million clicks on video sharing and streaming site Bilibili, co-producer of the work, since its launch in early January.
There are also elements that remind the audience of classic animations created by the Shanghai Animation Film Studio, another producer of the work, that have nourished their childhood, such as "Uproar in Heaven" and "Calabash Brothers."
Another picture book series of the animation, specially made for children and parents, has also been published recently, while the production notes and a pop-up book of the animation will be released later this year, according to the CITIC Press Group, publisher of aforementioned book series.
(China Daily)