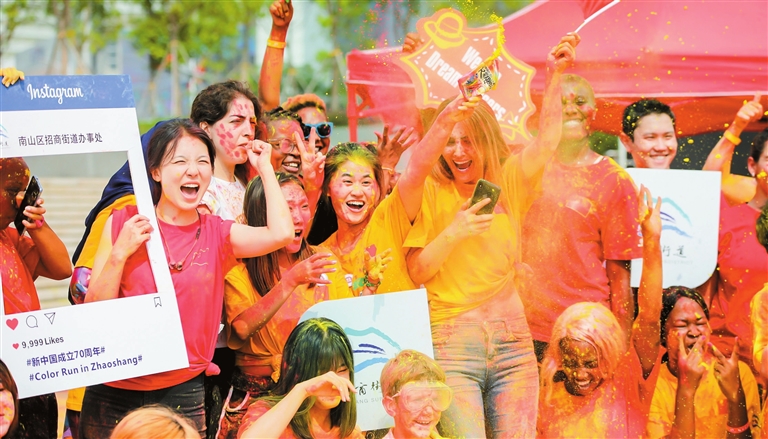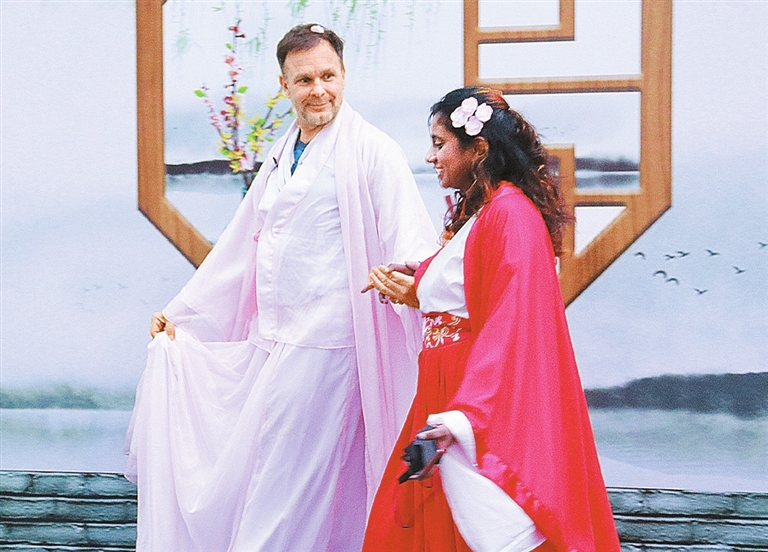 Yang Mei
yangmei_szdaily@163.com
IN terms of the city's international block building drive, Zhaoshang Subdistrict in Nanshan District seems to be endowed with unique advantages. In 1979, China's reform and opening up started at Shuiwan Village in Zhaoshang Subdistrict. In the 1980s, foreign petroleum workers and crew members of ships would hit the bars at night after a day's work, which gave birth to the famous bar street you see in Zhaoshang today.
On Feb. 28, 2023, Zhaoshang International Block was recognized as a demonstrative international block for having favorable conditions for comprehensive development by the Shenzhen Foreign Affairs Office. It was also lauded for excellence in international commerce exchanges.
Guan Wei, director of Zhaoshang Subdistrict Office, noted that since 2019, the subdistrict has taken great efforts to build an international block.
Pioneer in exploring intl. services
Since 2014, the subdistrict has set up Zhaoshang Subdistrict Management and Service Center for Expats, Nanshan International Cultural Exchange and Service Center (NSIC) and Zhaoshang International Community Club.
In addition, the subdistrict joined hands with South Wind International, a social work service organization in Nanshan, to build a team of nearly 20 foreign-related social workers. The social workers are fluent in English and/or other foreign languages and provide a wide range of services, such as legal consulting and translation.
"Almost everything here is translated into English. I am 100% confident that what I am doing is on the right path, because I can consult with the people here," Bruno Schuyten, a Belgian who used to live in the subdistrict for many years, said.
Community with
diverse cultures
As one of the most international areas in Shenzhen, Zhaoshang Subdistrict is home to 6,547 expats from more than 100 countries, according to the subdistrict. To make foreign residents feel connected to local communities and have a sense of belonging, the subdistrict has organized a variety of multicultural activities.
So far, Zhaoshang's foreign-related service platforms have organized over 900 various kinds of cultural exchange events, which have recorded 68,000 visits.
City's largest intl.
volunteer team
As an old Chinese saying goes, "When everybody adds fuel, the flames rise high." In Zhaoshang, expats are foreigners, but by no means outsiders. The subdistrict is building an international block through collaboration and co-governance.
In 2012, the subdistrict formed the city's very first international volunteer team. Currently, there are 400 international volunteers engaged in areas such as demographic census of foreign nationals, charity work, blood donation, and language training.
Romanian Duiu Onofrei is a martial arts instructor and a volunteer at NSIC, and he has been teaching Qwan Ki Do for free to both teenagers and adults at the service center for several years. Qwan Ki Do is a type of martial art that combines Chinese kung fu and Vietnamese martial arts. In 2021, he organized a team to represent China to attend the seventh Qwan Ki Do martial arts world championship and won five medals.
1st subdistrict
VC alliance
There are 555 foreign-invested enterprises, including 199 wholly foreign owned enterprises, in the subdistrict.
To help foreign startups thrive, the subdistrict has founded Zhaoshang Venture Capital Alliance, which is the country's first of its kind at a subdistrict level.
"The alliance is what distinguishes Zhaoshang from other subdistricts. We want to make Zhaoshang not only an area where expats can live, but also a promising place where they can start businesses and make a fortune," Liu Li, who was then a senior official with the subdistrict, said in an interview in 2019.